2017 Winter Star Party
February 20, 2017

-

February 26, 2017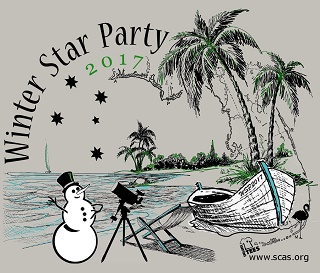 The Winter Star Party (WSP) is a serious event designed for amateur astronomers. WSP is held annually, usually during the new moon in February. The event is unique in that it occurs mid-winter during the height of the Florida Keys tourist season. The warm weather, coupled with dark skies, and possibly the steadies skies in North America attracts attendees from all over the frozen United States, Canada, and Europe giving the event an international flavor.
The amateur astronomical "get-to-together" allows participants to meet and share observing ideas, astro-imaging techniques, as well as find out what's new in the hobby. WSP offers a stellar daily line-up of speakers who are experts in their particular field. WSP is held under the auspices of the Southern Cross Astronomical Society of Miami. This not -for-profit organization funnels proceeds from this event toward public education projects, scholarship programs, humanitarian needs and Girl Scout Camp improvements.
Established in 1984, the Annual WINTER STAR PARTY is held in the Florida Keys, and hosted by the Southern Cross Astronomical Society (SCAS), Inc., of Miami, Florida.
During a new moon week each February, approximately 650 amateur astronomers from around the world travel to the warm subtropics of the Florida Keys to enjoy nightly observing in 360º of clear steady night skies, exchange information and advice on the hobby, meet SCAS members and distinguished guest speakers, shop for astronomical equipment from the finest vendors in the country, participate in photo contests & workshops, go sightseeing in the "Conch Republic", and record the awesome beauty sparkling in the southern night skies.
TO REGISTER: Please contact the Winter Star Party Registrars at registrar@scas.org or call 386-362-5995 if you have any questions about registration. The 2017 WSP Registration Notification Postcards will be sent out in early September 2016
Cost: $125 Registration@, + $85@ camping, if you are staying on site + $130 for RV's,