ALPO Annual Conference
October 3 @ 1:00 pm

-

6:00 pm

EDT

|

Recurring Event

(See all)

An event every day that begins at 1:00 pm, repeating until October 3, 2020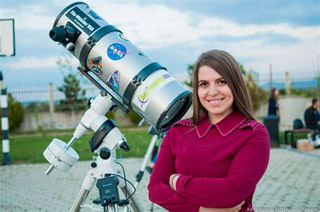 Plan Now for the ALPO Annual Conference, Oct. 2, 3
Due to the continuing nearly worldwide quarantining caused by the Corovid-19 pandemic and a possible second wave of infections, the 2020 Conference of the Assn of Lunar & Planetary Observers (the ALPO) will be held online via Zoom on Friday and Saturday, October 2 and 3, 2020. The ALPO Conference is free and open to all.
Our keynote speaker this year will be Ms. Pranvera Hyseni of Kosovo; now working on her master's degree at San Jose State University in California, Ms. Hyseni is a global science popularizer, and the founder and director of "Astronomy Outreach of Kosovo". She is dedicated to rebuilding her nation through the stars along with her organization's team, consisting of two hundred volunteers.
The conference times will be from 1 p.m. to 5 p.m. Eastern Time (10 a.m. to 2 p.m. Pacific Time) on Friday, October 2, and from 1 p.m. to 6 p.m. Eastern Time (10 a.m. to 3 p.m. Pacific Time) on Saturday, October 3. Ms. Hyseni's appearance will follow presentation of the annual Walter Haas Observer Award after the last talk on Saturday afternoon.
All presenters must be current members of the ALPO. Digital memberships start at only $18 a year. To join online, go to http://www.astroleague.org/store/index.php?main_page=product_info&cPath=10&products_id=39 , then scroll to the bottom of that page, select your membership type, click on "Add to Cart" and proceed from there.
Besides access via Zoom, the ALPO conference will also be live-streamed both on the ALPO Facebook page at https://www.facebook.com/search/top?q=2020%20alpo%20virtual%20conference and on the ALPO YouTube channel at https://www.youtube.com/channel/UCEmixiL-d5k2Fx27Ijfk41A
Zoom attendees must already have it installed on their computer prior to the conference dates. Zoom is free and available at https://zoom.us/ The Zoom ALPO conference links will be posted on social media and e-mailed to those who wish to receive it that way on Thursday, October 1. There will be a separate Zoom meeting set up for each day. The Zoomvirtual (online) meeting room will open 15 minutes prior to the beginning of each day's activities.
Conference participants are encouraged to submit research papers, presentations and experience reports concerning various aspects of Earth-based observational solar system astronomy. Suggested topics for papers and presentations include the following:
• New or ongoing observing programs and studies, specifically, how those programs were designed, implemented and continue to function.
• Results of personal or group studies of solar system or extra-solar system bodies.
• New or ongoing activities involving astronomical instrumentation, construction or improvement.
• Challenges faced by Earth-based observers such as changing interest levels, deteriorating observing conditions brought about by global warming, the SpaceX "Starlink" artificial satellite program, etc.
All who plan to attend via Zoom or present a paper should contact Tim Robertson at cometman@cometman.net no later than Monday, September 21. Presenters should submit a brief bio and summary of their presentation. Microsoft PowerPoint is the preferred method of visual presentation along with an audio explanation.
Related Events