ALPO meets with Georgia Regional Astronomers Meeting (GRAM)
October 27, 2017

-

October 28, 2017

Free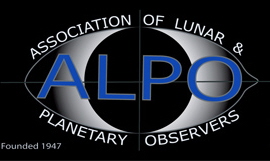 The Assn of Lunar & Planetary Observers is proud to announce that its 2017 conference will be held as part of the next Georgia Regional Astronomers Meeting (GRAM) at the University of Georgia in Athens, Georgia, the weekend of October 27 and 28, 2017. There is NO registration fee to attend the presentation sessions, and only a very minimal pre-paid charge for the ALPO awards dinner meal arrangements (for those who wish to attend).
Amateur astronomers — both ALPO members and non-members — are especially urged to attend and participate at this event with an oral presentation or astronomy (table display) poster on the astronomical topic of your choice. While presentations or posters are not required, please consider this an excellent opportunity to enlighten other participants regarding your own recent astronomical activities.
The annual ALPO board of directors meeting will be held at 2 p.m., Friday, October 27, at the UGA Physics Building, to be followed that evening with an informal presentation and dinner also at the UGA Physics Building and viewing through the UGA 24-inch Fecker telescope (weather permitting). The astronomy talks and poster presentations will be held from 9 a.m. to 5 p.m. on Saturday, October 28 (with a break for lunch). All presentations should be no more than 15 minutes in length (including follow-up questions and answers). The ALPO will hold its annual awards dinner Saturday evening from 6:30 to 8:30 p.m. at the nearby Georgia Center for Continuing Education & Hotel (GCCEH). All are invited to attend this event where Dr. Loris Magnani, the event organizer and chairman, will be the keynote speaker, and the ALPO observing award and service award will be presented.
The Georgia Center for Continuing Education & Hotel, where the awards dinner will be held, graciously offers a steeply discounted room rate for those who wish to spend the weekend in Athens.
$30 for awards dinner Saturday Night