2014 Bays Mountain StarFest
October 17, 2014

-

October 19, 2014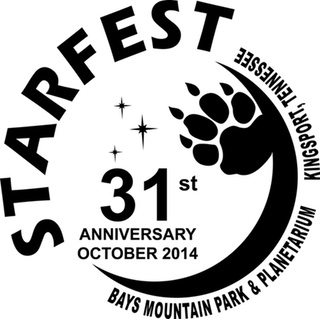 StarFest is the Bays Mountain Astronomy Club's annual astronomical convention/star gathering held each October. Situated in the heart of the Appalachians, it is three days and two nights of astronomical heaven. During the day, our delegates enjoy many keynote speakers, planetarium programs, activities, solar viewing, and the splendor of autumnal colors. The night brings more speakers, activities, the use of a fleet of large telescopes, and crisp, cool air. Attendance can only be attained by pre-registration with payment. Sorry, to be fair to our registered delegates, NO walk-ins nor "visits." Your one, low cost includes everything:  access to all speakers, all activities, five scrumptious meals, free access to the Park's public programming, the opportunity to sleep/camp on Park grounds at no additional cost, AND a unique, commemorative T-shirt with custom artwork.
Registration will open in early August, 2014.
The 31st StarFest at Bays Mountain Park is soon upon us. The theme of this year's event is "Seeing the Sky." We all see the sky, but in different ways. We're going to focus on this diversity and highlight just a few of these ways with a fantastic array of wonderful keynote speakers. They will illustrate how they see the sky through art, literature, science, and music. An added bonus will be a rare, live, dramatic reading of Mark Littmann's play, *Little Lessons for Lina* on Friday night in the planetarium theater.
In addition to all the StarFest activities, there are public programs and activities available at the park, such as the wildlife exhibits, planetarium shows, barge ride, and plenty of trails to explore.
A quick list of our keynote speakers and special activities:
- Dan Durda - Noted astronomer and space artist.  His talk will be:  "A History of Astronomical Art: From the Renaissance to the Space Age"
- Mark Littmann - Known internationally for his excellence in science writing.  Mark will present twice.  His Saturday morning presentation is entitled:  "Seeing the Sky Through Words."  Friday night will highlight a dramatic reading of his play, *Little Lessons for Lina* in the planetarium.  Details of its presentation are forthcoming, but it will be a must-see.
- Planetarium show - "Discover the Stars" will be shown on Saturday morning.  This exciting show was produced in-house and covers all about stars.
- Shanil Virani & Emily Dick - This presentation continues StarFest's goal of promoting student outreach.  Bays Mountain has invited a professor along with his/her students to share their research with the public.  There are few, if any, opportunities for a student to do this and we're proud to help.  Shanil and Emily are at James Madison University in Harrisonburg, VA.  Shanil also runs the John C. Wells Planetarium.  Shanil's talk:  "Finding Hidden Populations of Supermassive Black Holes."  Emily's talk:  "The WISE View on Water Maser Galaxies."
- Paul Lewis - UT's ambassador to astronomy.  Paul will speak on "The Music of Astronomy."
Registration will be $90 per person. (Full-time students w/ID or those ≤21 years $80 ea.) Attendance will be limited and, to be fair, there are no walk-ins or "visits."