Enchanted Skies Star Party 2015
October 14, 2015

-

October 17, 2015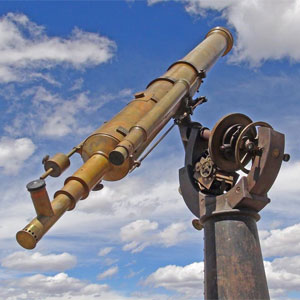 Magdalena, New Mexico, this high desert, mountain town in central New Mexico is home to the revitalized Enchanted Skies Star Party. The party is hosted by the Magdalena Chamber of Commerce from October 14-17, 2015. Magdalena Star Parties have been designated as one of the 14 stunning places in NM to visit.
Located at an elevation of 6,800' (2,070m), Magdalena is a genuine dark sky site with regular recording of 21.6-21.8 magnitudes per square arc-second. This is arguably one of the darkest sites in the continental US, as well as one of the driest. There are many good observational reasons why NRAO's Very Large Array and Magdalena Ridge Observatory are located nearby.
The Enchanted Skies Star Party is geared to the more serious observer and/or astrophotographer but is open to all. VIP tours of the nearby Very Large Array (NRAO VLA) and Magdalena Ridge Observatory (MRO) will be offered. Enjoy other daytime activities in Magdalena: Visit the "End of the Trail" stockyard and the ghost town of Kelly. Enjoy shopping for handmade treasures, antiques and rocks. Attend lectures, gaze through solar telescopes and discover some secrets of the sun.
Cost: $50/adult for all 4 nights or $15/adult for Saturday ONLY. Children 17 and under, accompanied by paying adult, are FREE.