Free Public Astronomy Talk & Stargazing Night at Evergreen Valley College
August 12, 2016 @ 7:00 pm

-

10:00 pm

UTC-4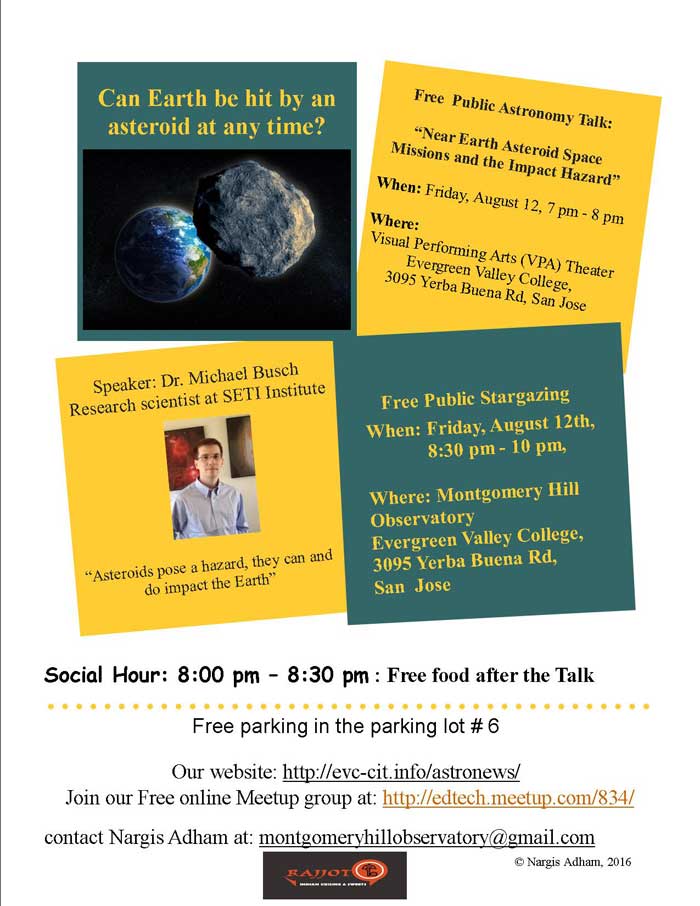 Can Earth be hit by an asteroid at any time?
Join us with your family and friends at Evergreen Valley College's Free Monthly Public Astronomy Talk, on Friday, August 12 at 7 pm.
SETI's research scientist and an expert on near Earth asteroid -Michael Busch will present his talk: "Near Earth Asteroid Space Missions and the Impact Hazard"
When: Friday, August 12th, 7 pm – 8 pm,
Where: Visual Performing Arts (VPA) Theater, Evergreen Valley College, 3095 Yerba Buena Rd, San Jose, CA 95135
Cost: Free
Overview:
The near-Earth asteroids are a population of objects on orbits that come near that of Earth. They are accessible targets for spacecraft missions, but also pose a hazard: asteroids can and do impact Earth. Michael will review programs to discover and characterize near-Earth asteroids, and current and future spacecraft missions to study asteroids and to address the impact hazard.
About the speaker:
Michael Busch is a research scientist at SETI (Search for Extra Terrestrial Intelligence) Institute. Michael study near-Earth asteroids, using radio and radar techniques. He has a particular interest in the shapes, spin states, internal structures, and history of individual objects-especially spacecraft mission targets and potential Earth impactors.
Michael completed his PhD in planetary Science from Caltech and did postdocs at UCLA and at the National Radio Astronomy Observatory – under the Jansky Fellows Program, before starting as a research scientist at SETI in 2013.
Social Hour:
8:00 pm – 8:30 pm, Visual Performing Arts (VPA) Theater of EVC. Enjoy free food with the great company of the speaker, friends and the community.
Public Stargazing Night:
Enjoy a free public stargazing session after the talk at the Montgomery Hill Observatory of Evergreen Valley College from 8:30 pm to 10 pm. View Jupiter with its moons, Saturn, the Mars, double star Albireo and many more objects. Free activities and glow in the dark sticks for the kids.
Free parking in the parking lot #6 for this event.
Our website: http://evc-cit.info/astronews/
Join our Meetup group at: http://edtech.meetup.com/834/
Like us on facebook at: https://www.facebook.com/montgomeryhillobservatory/
For questions, contact Nargis Adham at: montgomeryhillobservatory@gmail.com