Free Public Talk by Astronaut Ed Lu on Asteroids that Threaten Earth
March 4, 2015 @ 7:00 pm

-

8:30 pm

EST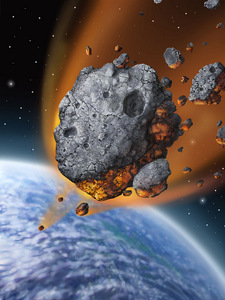 Former NASA Astronaut, Dr. Ed Lu, CEO of the Sentinel Mission, will give a free, illustrated, non-technical talk on The Sentinel Mission: Finding the Asteroid Headed for Earth at Foothill College, in Los Altos Hills, CA.
The talk is part of the Silicon Valley Astronomy Lecture Series, now in its 15th year.
Asteroids, which hit our planet at least twice each year, are the only natural disaster for which we have a technological solution. We are all living with the threat of a 3-minute experience that could transform our lives and our planet forever. On February 15, 2013, for example, an asteroid impact on Chelyabinsk, Russia, sent over 1,700 people to seek medical attention, damaged over 7,200 buildings and cost the city over $33 million dollars/1 billion rubles in property damage.
Scientists have found 10,000 Near-Earth Objects, yet there are an estimated one million in our inner solar system, and the vast majority of the threatening ones are still undiscovered. In this non-technical talk, Astronaut Ed Lu will describe the threat, and discuss the Sentinel Mission, an orbiting telescope to detect and track asteroids that cross Earth's orbit.
Dr. Lu is the CEO and co-founder of the Sentinel Mission and was co-founder of the non-profit B612 Foundation that is raising funds for it. Dr. Lu, a physicist with a PhD from Stanford, was selected for the NASA astronaut corps in 1994. He flew two Space Shuttle missions, and spent 206 days in space aboard the International Space Station in 2003. He is the recipient of NASA's highest honor, the Distinguished Service Medal, and worked for a time on Google's Advanced Project Team.
Foothill College is just off the El Monte Road exit from Freeway 280 in Los Altos. For directions and parking information, see: http://www.foothill.edu/news/transportation.php. For a campus map, see: http://www.foothill.edu/news/maps.php
The lecture is co-sponsored by:
The Astronomical Society of the Pacific
The SETI Institute
NASA Ames Research Center
The Foothill College Astronomy Program.
We expect large crowds, so we ask people to try to arrive a little bit early to find parking. The lecture is free, but there is a charge of $3 for parking on campus and exact change is appreciated.
Past lectures in the series can be found on YouTube at http://www.youtube.com/SVAstronomyLectures