Free Public Talk about the Dawn Mission at Ceres
April 8, 2015 @ 7:00 pm

-

8:30 pm

EDT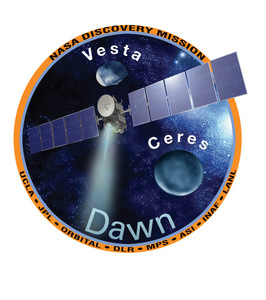 Dr. Marc Rayman, the Mission Director for the Dawn Spacecraft, will give a free, illustrated, non-technical talk on:
Encountering the First Dwarf Planet: The Dawn Mission to Ceres in the Smithwick Theater at Foothill College, in Los Altos. The talk is part of the Silicon Valley Astronomy Lecture Series, now in its 15th year.
NASA's Dawn mission has now arrived in orbit around Ceres – the largest asteroid in the asteroid belt and also the first dwarf planet to be discovered. Ceres is among the last uncharted worlds in the solar system, and one of the largest "left-overs" from the formation of our solar system. We are about to have amazing photos and data from this intriguing world (just as Dawn got from its previous target, the second-largest asteroid, Vesta.) Dawn is also the first spacecraft to orbit two different bodies in the solar system, thanks to its use of ion propulsion, a technology that until recently was mostly the domain of science fiction.
Dr. Marc Rayman is both Mission Director and Chief Engineer for Dawn (as he was for the Deep Space 1 mission that encountered Comet Borrelly in 2001.) He has worked at the Jet Propulsion Laboratory since 1986, designing instruments for space telescopes, Mars measurements, the search for planets around other stars, and laser communications with spacecraft. He has received NASA's Exceptional Achievement Medal three times and has an asteroid named after him. He has written many popular articles and appeared frequently on television explaining space exploration. Currently, he writes the popular "Dawn Journal" blog to keep the public informed about this exciting mission.
Foothill College is just off the El Monte Road exit from Freeway 280 in Los Altos. For directions and parking information, see: http://www.foothill.edu/news/transportation.php
For a campus map, see: http://www.foothill.edu/news/maps.php
The lecture is co-sponsored by:
* The Astronomical Society of the Pacific
* The SETI Institute
* NASA Ames Research Center
* The Foothill College Astronomy Program.
We expect especially large crowds for this talk, so we ask people to try to arrive a little bit early to find parking. The lecture is free, but there is a charge of $3 for parking on campus and exact change is appreciated.
Past lectures in the series can be found on YouTube at http:// www.youtube.com/SVAstronomyLectures