Free Public Talk on the Latest News from Pluto
March 2, 2016 @ 7:00 pm

-

8:30 pm

EST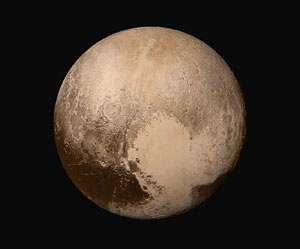 Dr. Jeff Moore (NASA Ames Research Center) will give a free, illustrated, non-technical talk:
"Report from the Planetary Frontier: The Latest from New Horizons at Pluto"
in the Smithwick Theater at Foothill College, in Los Altos.
The talk is part of the Silicon Valley Astronomy Lecture Series, now in its 16th year. On July 14, 2015, the New Horizons spacecraft flew 7,800 mi above the surface of Pluto and sent back fascinating images of the dwarf planet and its large (and intriguing) moon Charon. Many of the images show unexpected beauty and complexity on Pluto's surface. While the data are still coming in from the encounter, Dr. Moore will show us the latest photos and fill us in on the current thinking among the New Horizons team members about Pluto, its moons, and the unexplored frontier that lies beyond.
Jeff Moore is a Research Scientist in the Space Science Division at NASA's Ames Research Center. HIs research has focused on the geologic evolution of landscapes and crustal materials of other planets. His published work explores the roles of impact cratering, volcanoes, and tectonism on terrestrial planets and outer planet satellites. Dr. Moore is the Imaging Node Leader for the New Horizons mission and has worked on the Mars Exploration Rover, the Mars Reconnaissance Orbiter, and the Galileo Mission to Jupiter, among others. He is the recipient of the 2013 Distinguished Scientist Honor Award at NASA Ames.
Foothill College is just off the El Monte Road exit from Freeway 280 in Los Altos. For directions and parking information, see: http://www.foothill.edu/news/transportation.php
For a campus map, see: http://www.foothill.edu/news/maps.php
The lecture is co-sponsored by:
* The Astronomical Society of the Pacific
* The SETI Institute
* NASA Ames Research Center
* The Foothill College Astronomy Program
We get large crowds for these talks, so we ask people to try to arrive a little bit early to find parking. The lecture is free, but there is a charge of $3 for parking on campus and exact change is appreciated. Past lectures in the series can be found on YouTube at http://www.youtube.com/SVAstronomyLectures