Graham Finch – So you want to buy a telescope!
September 13, 2019 @ 7:45 pm

-

10:00 pm

BST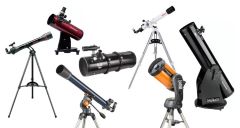 We have received a number of requests about how to choose and set up a telescope. This talk will provide a basic introduction into the different types of telescopes avaialble, the essential accessories that are needed and how to set up and use a telescope.
This talk will be helpful to newcomers to astronomy and especially to those contemplating buying their own telescope.
A selection of telescopes and accessories will be available in the hall for first hand examination and if the weather permits we will be using them to observe after the talk.
If you already have a telescope and are having trouble using it let us know the problem and then bring it along and we will try to help you.
Graham Finch is a longstanding member of MKAS and a Committee member. He has helped with many MKAS outreach events and often brings equipment along to enable people to view the night sky after our meetings. He also helped MKAS to raise a considerable sum of money for the GP20 project.
His interest in astronomy was first inspired by Eric Jones, a Maths teacher, at Sir Joseph Williamson's Mathematical School Rochester. Eric organised regular lunchtime lectures in astronomy and also allowed Graham to borrow the school's 3 inch refractor. It was whilst working in the school library that Graham also came across some of the many astronomy books written by Sir Patrick Moore.
Graham is a keen amateur astronomer and is interested in all aspects of astronomy. He currently describes himself as a "frustrated astro-photographer!" He is also a member of the BAA, the SPA , the Webb Deep Sky Society and the Flamsteed Society.
He says he is an evenly balanced sort of guy – he has a chip on each shoulder!fo