"Houston, Tranquillity Base here. The Eagle has Landed."
July 19, 2019 @ 7:00 pm

-

10:00 pm

EDT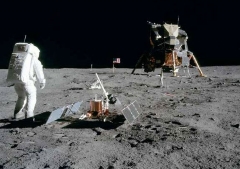 These immortal words announced the landing of Apollo 11's lunar module in the Sea of Tranquillity on 20th July 1969.
To celebrate the 50th Anniversary of this fantastic achievement by three brave astronauts, Neil Armstrong, Buzz Aldrin and Michael Collins, Mid-Kent Astronomical Society (MKAS) in association with Canterbury Academy and The STEM Hub will be opening the James Irwin Observatory from 7:00pm – 10:00pm on Friday 19 July at the Canterbury Academy, Knight Avenue, Canterbury CT2 8QA.There will be two showings of a special Apollo 11 presentation, a guided tour of the James Irwin Observatory and a special MKAS display about space and our solar system, including the MKAS Space Timeline.
The talks and the exhibition will be fully accessible although unfortunately, only the more able bodied will be able to climb the steep stairs to the top floor of the observatory where the large telescope is housed. There will be two, ground based telescopes available to look through. One will be even larger than the J I Observatory telescope.
This is an opportunity for members of the public to learn some of the background to the Space Race to put a man on the Moon, the Apollo 11 mission and the follow-on missions, up to the last manned mission to the Moon, Apollo 17.
Doors open at 7:00pm with 45 min. talks starting at 7:30pm and 9:00pm, the exhibition and observatory will be open until 10:00pm.
This event will be FREE and suitable for ages 5 upwards.
Space scientist, Prof. David Rees, will be giving two identical talks on the lead up to this historic event and the follow-on Lunar missions. People wishing to attend, will be able to select one of the available presentation times when booking their FREE tickets:
7:30pm presentation tickets www.eventbrite.co.uk/e/houston-tranquility-base-here-the-eagle-has-landed-1930hrs-tickets-64992201424?utm_term=eventurl_text
9:00pm presentation tickets: www.eventbrite.co.uk/e/houston-tranquility-base-here-the-eagle-has-landed-2100hrs-tickets-65116643634?utm_term=eventurl_text
Prof. Rees will also talk about the MSASI instrument, (Mercury Sodium Atmospheric Spectroscopic Imager, mounted on the JAXA Mercury Magnetospheric Orbiter spacecraft) that is currently heading to Mercury along with ESA's Mercury Planetary Orbiter, all part of the BepiColumbo Mission, launched October 2018. A "flight spare" of the MSASI Instrument will be on display, on the night.
Superb high-resolution images of the Lunar Surface, Lunar Lander and Astronauts were taken by modified Hasselblad Cameras. A selection of these excellent photographs will also be shown. A close-to-identical Hasselblad 500EL camera, as used by the Astronauts, will also be on display.
Throughout the evening, visitors will be able to visit the James Irwin Observatory (opened in 1991 by the Apollo 15 Lunar Module pilot and Moon walker, James Benson "Jim" Irwin). Weather permitting, there may be an opportunity to view Jupiter and its Galilean Moons (670 million kilometres away) and possibly Saturn with its spectacular rings (an incredible 1,535 million kilometres away), through the observatory's 14" aperture, computer-controlled telescope. Sadly the Moon will not rise until much later.
There will also be an opportunity to touch a piece of the Moon; be astonished by the scale of our Solar System; learn how we know so much about stars that we will probably never get to in our lifetimes; and have an opportunity to make a crater. These all form part of the fantastic MKAS astronomy display. Other features may be added at short notice.
While looking around, visitors should keep an eye open for the MKAS Space Timeline that covers the scientific developments since 1900 that have led to some of mankind's greatest advancements in the exploration and understanding of space.
IMPORTANT NOTE – This is an all ticket event. Tickets are FREE but LIMITED. Potential visitors should check the MKAS website from 11/07/2019 https://www.midkentastro.org.uk/events for all the latest details about this and other MKAS events.