Odyssey to Saturn and Titan: Cassini/Huygens w/ Prof David Southwood CBE
September 25 @ 7:50 pm

-

9:30 pm

BST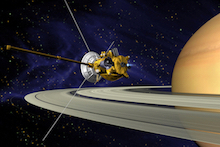 Zoom presentation.
The Cassini spacecraft, named after the famous French astronomer who discovered the Cassini Division in Saturn's rings, finally ended its life as a fireball crashing down through Saturn's atmosphere on 15th September 2017.
In the early 80s, David was one of the first scientists involved in thinking about a joint European-US space mission to Saturn and its largest moon, Titan. Once NASA and ESA agreed to do such a mission, he built one of the 11 instruments for the US mother ship, Cassini and then found himself Science Director at the European Space Agency and in charge of the team landing the ESA Huygens probe on Titan in January 2005. Once retired from ESA, he has returned to work with data form Cassini and in 2017, he was present with the rest of the Cassini world-wide team when Cassini was deliberately crashed into Saturn's atmosphere. He will recount some of his many stories from an epic 35-year space mission.
"Cassini may be dead and gone but the scientific discoveries on Saturn and Titan that it beamed back to Earth, are still being unraveled today by Prof Southwood and his team! As the lead scientist and director of the Huygens mission, Prof Southwood will present some of the major discoveries including one very important one made by his own design of magnetometer. This is a free Zoom meeting, so come and join us on Friday night at 7:50pm (6:50pm GMT) and have your questions answered!" said Ian Hargraves, MKAS Chairman.
Related Events