One Giant Leap: Apollo 11 @ 50
April 2, 2019

-

April 3, 2019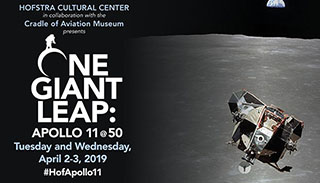 Dr. Mae C. Jemison, the first woman of color to go into space, and presidential historian Dr. Douglas Brinkley, author of American Moonshot: John F. Kennedy and the Great Space Race, are the signature speakers for One Giant Leap: Apollo 11 @ 50, a two-day symposium presented by Hofstra University in partnership with the Cradle of Aviation Museum.
This event – scheduled for Tuesday and Wednesday, April 2-3, 2019 – also features Harvard University technology historian Matthew Hersch and guests from the History Channel/A+E Networks who will discuss the forthcoming premiere of an Apollo 11 documentary: Mike Stiller, Vice President of Development and Programming, and Dr. Kimberly Gilmore, Senior Historian and Vice President of Corporate Social Responsibility.
The Apollo 11 moon landing on July 20, 1969, marked a watershed moment in human history for science, engineering, and culture, not only in the United States, but around the globe.
To commemorate the 50th anniversary of that landmark event, the symposium offers a series of programs and discussions that consider both the scientific and technological dimensions of the landing on the moon and its cultural and political repercussions, both locally on Long Island and around the world.
Events are free and open to the public. For more information visit www.hofstra.edu/apollo11 or call the Hofstra Cultural Center at 516-463-5669.
SIGNATURE SPEAKERS
Tuesday, April 2, 6:30 p.m.: Dr. Mae C. Jemison
Toni and Martin Sosnoff Theater, John Cranford Adams Playhouse, South Campus
Dr. Jemison leads 100 Year Starship (100YSS), a bold, far-reaching nonprofit initiative to ensure the capabilities for human travel beyond our solar system within the next 100 years. Jemison is building a multi-faceted global community to foster the cultural, scientific, social and technical commitment, support, and financial framework to accomplish the 100YSS goal: "An audacious journey to transform life here on earth and beyond."
Jemison served six years as a NASA astronaut. Aboard the Space Shuttle Endeavour's, STS-47 Spacelab -J mission in September 1992, she performed experiments in material science, life sciences, and human adaptation to weightlessness.
Wednesday, April 3, 7 p.m.: Dr. Douglas Brinkley
The Helene Fortunoff Theater, Monroe Lecture Center, California Avenue, South Campus
This appearance is a homecoming for Dr. Brinkley who taught at Hofstra in the early 1990s.
Today Dr. Brinkley is the Katherine Tsanoff Brown Chair in Humanities and Professor of History at Rice University, CNN Presidential Historian, and a contributing editor at Vanity Fair. In American Moonshot: John F. Kennedy and the Great Space Race (HarperCollins), this perennial New York Times bestselling author takes a fresh look at the space program, President John F. Kennedy's inspiring challenge, and America's race to the moon. Drawing on new primary source material and major interviews with many of the surviving figures who were key to America's success, Brinkley brings this fascinating history to life as never before. American Moonshot is a portrait of the brilliant men and women who made this giant leap possible, the technology that enabled us to propel men beyond earth's orbit to the moon and return them safely, and the geopolitical tensions that spurred Kennedy to commit himself fully to this audacious dream. Brinkley's ensemble cast of New Frontier characters include rocketeer Wernher von Braun, astronaut John Glenn and space booster Lyndon Johnson. A vivid and enthralling chronicle of one of the most thrilling, hopeful, and turbulent eras in the nation's history, American Moonshot is an homage to scientific ingenuity, human curiosity, and the boundless American spirit.
Additional symposium discussions:
Tuesday, April 2
9:35-11 a.m. Keynote Address: "We Ran As If to Meet The Moon: The Inspired Lunacy Of Apollo 11"
Presented by Dr. Matthew Hersch, assistant professor of the history of science at Harvard University, the symposium's Joseph G. Astman Scholar, and the author of the critically acclaimed book, Inventing the American Astronaut. He has also written numerous articles about Cold War-era aerospace, computer, and military technologies and their relationship to labor and popular culture.
11:10 a.m.-12:35 p.m. "Cultural Impacts of Apollo"
Laura Lally, Hofstra University: "Technology and Exhilaration: The Space Program as a Source of Career Inspiration"
Andrew Vielkind, Yale University: "Colonizing the Imagination: Apollo 11 and the 1960s Avant-Garde"
Julie Wosk, SUNY Maritime College: "Imaging the Space Age: The Impact of the Lunar Landing on Fashion and Film"
2:20-4:20 p.m. Political Impacts of Apollo
Rosanna Perotti, Hofstra University: "Scientists without Borders: Immigrants and the Apollo Program"
Patricia Rossi, Independent Scholar: "The Launching of Apollo 11: An Examination of the American People's Reaction – A Necessary Mission in the Space Race vs. Superfluous Government Spending – Sheer Lunacy"
Leslie Feldman, Hofstra University: "Leap Year: Space Influences On Television in the 1960s"
James Spiller, SUNY Brockport: "The Long Demise of the 'Space Frontier'– From Apollo to 21st Century Private Space Travel"
Wednesday, April 3
9:05-10 a.m. Astronauts in Film and Print
John Rocco, SUNY Maritime College: "New Journalism and the Creation of the American Astronaut: Mailer's Of a Fire on the Moon and/vs. Wolfe's The Right Stuff"
Allison Whitney, Texas Tech University: "Lunar Exploration and the IMAX Experience: Magnificent Desolation and First Man"
10:10-11:05 a.m. The Chemistry of Apollo
Sabrina Sobel, Hofstra University: "The Chemistry of the Apollo Missions"
Roger Turner, Science History Institute: "Apollo for Chemists"
11:15 a.m.-12:40 p.m. Scientific Impacts of Apollo
Caitlin Fendley, Purdue University: "'One Small Step' for Science: Risk, Contagion, and the Apollo 11 Moon Landing"
Nehru Cherukupalli, Hofstra University and City University of New York: "How Different Are the Apollo 11 Moon Rocks Compared to Earth Rocks?"
Fernando Espinoza, Hofstra University: "Scientifically Speaking We Know a Lot, or Do We?"
2-3:30 p.m. History Channel preview of an Apollo 11 documentary
Mike Stiller, Vice President, Development and Programming, History Channel
Dr. Kimberly Gilmore, Senior Historian and Vice President of Corporate Social Responsibility History/A+E Networks
3:45-4:30 p.m. Grumman Documentary
Connie Anderson Castilla, Class of 2020, Hofstra University
This student-made documentary is about the memories, challenges and satisfactions of former Grumman engineers who worked on the historical construction of the Lunar Modules the spaceships that landed on the moon and returned the astronauts safely during the Apollo program.