Pluto Palooza – In Praise of Pluto: From Mars Hill to the Kuiper Belt
July 18, 2015 @ 7:00 pm

-

9:00 pm

EDT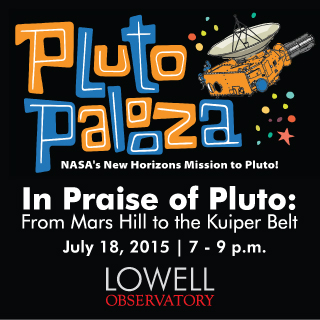 SPECIAL PROGRAM ON SATURDAY, JULY 18
"IN PRAISE OF PLUTO: From Mars Hill to the Kuiper Belt, a celebration of a century of exploration of the frontiers of the Solar System at Lowell Observatory"
A live multi-media Pluto program featuring authors William Sheehan and Robert Graber from 7 – 9 PM. Program will include readings from Graber's Plutonic Sonnets and both authors will be on-hand to sign books after the show.
Part of a week-long celebration of Pluto and New Horizons, PLUTO PALOOZA
(Saturday, July 11 – Sunday, July 19).
– Lowell Observatory will be open 10 AM to 10 PM (including the Sundays that fall within the event window)
– Pluto Telescope Tours every hour between 11 AM and 6 PM
– Family-friendly Pluto and New Horizons activities from 10 AM to 10 PM
– View the latest images of Pluto on a big screen
– Watch exciting liquid nitrogen demonstrations
– Build your own New Horizons model
– Try your hand at discovering Pluto
– Become a light detective
– Take your picture with Pluto
– Learn about Lowell Observatory's connections to the New Horizons mission
– Hourly showings of the NASA's Year of Pluto – New – Horizons documentary
– Evening telescope viewing
– Special Pluto presentation at 6 and 8 PM
Cost: included with admission