Prof Craig Underwood: Cleaning up Space
June 28, 2019 @ 7:45 pm

-

10:00 pm

BST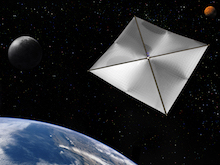 Over the last 60 years, many hundreds of satellites have been launched, resulting in many thousands of pieces of 'space debris' orbiting the Earth. If this debris is not removed, future access to space is at risk.
The University of Surrey has been at the forefront of developing and demonstrating some of the technologies that could enable this to happen. This lecture describes the issues involved, and shows the results of recent Surrey missions: 'InflateSail' and 'RemoveDebris'.
Prof Craig Underwood was Deputy Director of the Surrey Space Centre from 2007 to 2014.
He currently heads the Environments and Instrumentation Group developing the concepts, instruments and techniques to investigate the Earth and other planetary environments from space. Craig is author or co-author of some 200 scientific papers and teaches undergraduate and postgraduate courses on Spacecraft Engineering, Communications Payloads and Remote Sensing at the University of Surrey.