Prof David Rees: Celebrating the 50th anniversary of the Apollo 11 mission (Part 1) How we nearly didn't land on the Moon!
July 12, 2019 @ 7:45 pm

-

10:00 pm

BST

£1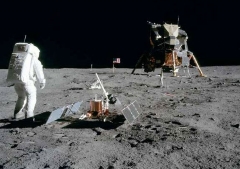 This talk will go through some of the challenges facing both the engineers and the astronauts as they attempted to fulfil John F Kennedy's stated ambition of "achieving the goal, before this decade is out, of landing a man on the moon and returning him safely to the Earth. "
Despite Kennedy's stated ambition the USA space programme was not in good shape and there were to be many technical challenges and disasters on the way. Amazing to think that today's mobile phones have more computing power than was avaialble to the lunar astonauts at that time.
And as for the astonauts' return journey it was a once only chance!
In this talk David explains the background to the space programme, the competition with the Russians in the Cold War and how the iconic mission may have failed with disasterous consequences.
After the meeting we hope to observe the Moon if conditions allow.
Prof David Rees has designed and built instruments for NASA, ESA, JAXA and other space organisations around the world. He designed and largely built the MSASI instrument that is part of the Bepi-Colombo payload that ESA/JAXA launched successfully toward Mercury in October 2018.
David is Emeritus Professor of Astrophysics at Utah State University, USA. He has a network of contacts that include some of the biggest names in astrophysics and therefore he is up to date on all the latest theories and research.
David is also conducting leading edge research on our atmosphere using his sophisticated LIDAR system. He uses LiDAR systems from Salehurst in Sussex to undertake cutting-edge research into the Earth's atmosphere and the wind, also atmospheric particulates like dust from the Sahara.
David is currently working on the Aeolus Calibration / Validation Programme for the Aeolus wind-measuring Lidar Satellite launched by ESA in August 2018.
David is an active member of MKAS and regularly observes using a 16" ODK from his back garden in Salehurst, under some of the darkest skies in the UK.
He is a keen cricketer and plays regularly for the Kent Seniors team.