Prof David Rees: Celebrating the 50th anniversary of the Apollo 11 mission (Part 2 )
July 26, 2019 @ 7:45 pm

-

10:00 pm

BST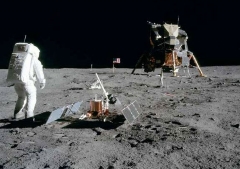 In his second talk celebrating the 50th anniversary of the Apollo 11 lunar landing David will cover many aspects of the mission and explain how its success subsequently paved the way for even more ambitious space exploration. The talk will include videos and will be fascinating for both those too young to remember the event and for those of us around at the time who want to be reminded of this incredible feat of human achievement.
Prof David Rees has designed and built instruments for NASA, ESA, JAXA and other space organisations around the world. He designed and largely built the MSASI instrument that is part of the Bepi-Colombo payload that ESA/JAXA launched successfully toward Mercury in October 2018.
David is Emeritus Professor of Astrophysics at Utah State University, USA. He has a network of contacts that include some of the biggest names in astrophysics and therefore he is up to date on all the latest theories and research.
David is also conducting leading edge research on our atmosphere using his sophisticated LIDAR system. He uses LiDAR systems from Salehurst in Sussex to undertake cutting-edge research into the Earth's atmosphere and the wind, also atmospheric particulates like dust from the Sahara.
David is currently working on the Aeolus Calibration / Validation Programme for the Aeolus wind-measuring Lidar Satellite launched by ESA in August 2018.
David is an active member of MKAS and regularly observes using a 16" ODK from his back garden in Salehurst, under some of the darkest skies in the UK.
He is a keen cricketer and plays regularly for the Kent Seniors team.