Prof David Rees: Transit of Mercury
November 8, 2019 @ 7:45 pm

-

10:00 pm

GMT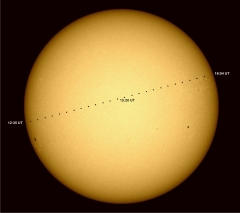 A rare transit of the planet Mercury across the face of the Sun will be visible from the UK on Monday 11 November 2019, only three days after our meeting. Mercury will start to move across the face of the Sun around 12:30 pm and will continue to move across the Sun throughout the afternoon, eventually leaving the disc after sunset, as seen from the UK.
In this talk David will explain why these transit events are so rare.
He will provide valuable information as to how, weather permitting, we can safely observe the transit ourselves.
This can be done by one of two methods:-
Using a special solar filter mounted safely to a telescope to greatly reduce the Sun's apparent brightness;
Using a small telescope to safely project an image of the sun onto a white screen.
As ever, including solar eclipses, NEVER look directly at the Sun with any form of binoculars or telescope to avoid very serious eye injury!
The next transit of Mercury will not take place until 13th November 2032.
Make the most of this opportunity to find out more and hopefully see the 2019 transit yourself.