Prof Ian Morison – Proving Einstein right
September 27, 2019 @ 7:45 pm

-

10:00 pm

EDT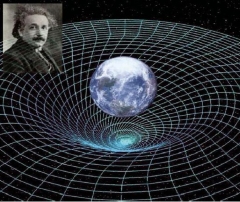 Proving Einstein Right.
For over a 100 years astronomers, including those at Jodrell Bank Observatory, have been testing Einstein's Theories of Relativity to the limit – so far without fail. Recently a further proof of his predictions came with the detection of gravitational waves and gamma rays from the merging of two neutron stars. But, at some limit, his classical theories must fall down as in the heart of a black hole.
Ian, who worked at Jodrell Bank for many years will explain in simple terms how scientists have tested Einstein's predictions over the years and discuss how things might move forward in the light of recent groundbreaking experiments around the detection of gravitational waves and the first ever photograph of a black hole.
This will be an extremely interesting and easy to follow presentation from a distinguished professional astronomer and author, who spent many years working at Jodrell Bank and who still "works" there in an ambassadorial and educational role.
Ian Morison joined the University of Manchester's Jodrell Bank Observatory as a research student in 1965 before becoming a staff member in 1970. Initially working on data acquisition systems for the observatory's own instruments including the Lovell and Mk II radio telescopes, he went on to play a key role in the development of MERLIN, an array of radio telescopes with a resolution in the radio spectrum comparable to that of the Hubble Space Telescope in the optical.
On 1 August 2007 Ian was appointed as the 35th Gresham Professor of Astronomy, a position previously held by Christopher Wren. In this role he delivered a series of 25 public lectures on astronomy and astrophysics. The four-year period of Gresham Professorship came to an end in August 2011.
Ian is a founding member and now patron of Macclesfield Astronomical Society, a former president of the Society for Popular Astronomy and patron of Ewell Astronomical Society.
Ian has written several books:-
Astronomy (2004, w. Margaret Penston)
Pocket Guide to Stars and Planets (2005 w. Margaret Penston)
Introduction to Astronomy and Cosmology (2008)
An Amateur's Guide to Observing and Imaging the Heavens
A Journey through the Universe: Gresham Lectures on Astronomy (2014)
The Art of Astrophotography (2017)
His easy to follow style of writing reflects his relaxed and entertaining style of spoken presentations.
Main belt asteroid 15727 Ianmorison was named after Morison.