Rocky Mountain Star Stare — 30th Annual!
June 29, 2016

-

July 3, 2016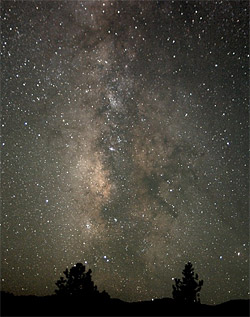 The Colorado Springs Astronomical Society is pleased to announce the 2016 Rocky Mountain Star Stare (RMSS), being held from Wednesday June 29th through Sunday July 3, 2016.
For three decades, 300+ astronomers from across the U.S. and around the world have been gathering each summer in the mountains southwest of Colorado Springs. What draws them here each year? Dark skies. Not just dark skies, but dark skies with amazing transparency. These gazers of the stars are enjoying Rocky Mountain Star Stare. We cordially invite you to join us at this year's event.
RMSS is one of the nation's premier star parties held on 35 acres of land located just north of Gardner, Colorado and owned by the Colorado Springs Astronomical Society – our own "Starry Meadows". Incredible fields of stars by night are supplemented by day with workshops, children's activities, door prizes, catered meals and fun for everyone.
Additional information and registration can be found on the RMSS site at rmss.org
You can find news and current announcements at our blog at rmss.org/news