Rodney Buckland CBE and Prof David Rees - A virtual observing session with the Open University robotic telescope in Tenerife.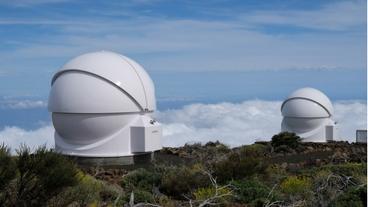 Tonight, we have a rare opportunity as Rodney Buckland and David Rees explain how we can have free access to the Open University robotic telescope situated under the clear dark skies of Tenerife.
And as a SPECIAL BONUS they have managed to book a slot so we can observe several stunning objects in real time. There will also be a backup plan in the unlikely event of technical problems with the telescopes or with UK weather turning up in Tenerife!
This will be a unique experience and a first for our Society.
Again, this will be a virtual presentation via Zoom.
Please note that our zoom presentations begin at 8 p.m. and members are advised to join from 7:45 p.m. onwards.
Non-members may participate for a donation of £3. Please contact: membersec@midkentastro.org.uk at least 36 hours ahead of the meeting.
For further information, please visit: www.midkentastro.org.uk/events
Related Events