Star Party 2020, Sri Lanka - The First Ever Astronomical Observation Competition & Workshop for High-School Students in South Asia
February 28 @ 3:30 pm

-

February 29 @ 8:00 am

EST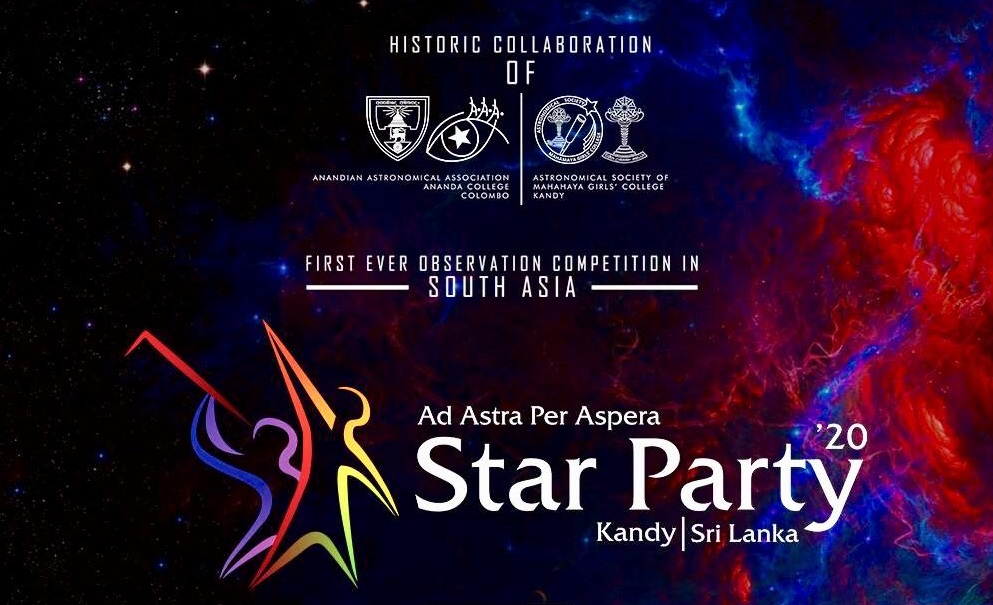 Star Party, Sri Lanka is the Largest High-School level Astronomical event in Sri Lanka and it is organized annually by Anandian Astronomical Association and Astronomical Society of Mahamaya Girls' College, Kandy which are the pioneering schools of Sri Lankan high-school based Astronomy. In every year, the event held in a specific day at Peradeniya University premises for 15 hours overnight. Star party, Sri Lanka the event has a legendary history of 16 years which has been associated with its quality and the scope. The event consists of the first-ever Astronomical Observation Competition in South Asian region, A workshop and An Astrophotography competition. Each year more than 600 high-school students, more than 60 high-school teachers and more than 250 observers participate for the programme. Teams for the observation competition were selected through a selection criteria by the Academic committee. Furthermore, In 2009 It was reported as the main International Year of Astronomy (IYA) event from Sri Lanka. In 2019 It was endorsed as a Global Astronomy Month event by Astronomers Without Boarders, From 2012 to 2019 it has been endorsed by United Nations' Space Generation Advisory Council. In this year International Astronomical Search Collaboration, Texas-USA has also endorsed the event.
In this year (2020), It celebrates its 16th year of excellence and will be held in 28th and 29th of February, 2020 at the aforementioned location with the participation of more than 800 participants. All the academic activities are done by the Academic Committee of Star party 2020. The competition is held in highly standard manner according to the international standards of reporting observations. It has been following BAA and AAVSO general standards for marking the reports and a marking scheme is prepared accordingly. All the past marking schemes, question papers and results are available in the Star Party, Sri Lanka official web page (www.starparty.lk). The winners are awarded with Star Party Trophy and crowned as "The Best Observational Astronomy Team in Sri Lanka" while certificates are presented to all participants.
About Star Party 2020, Sri Lanka
The year 2004 was marked as a golden year in field of astronomy in south Asian subcontinent. Why? Because South Asia's first ever Astronomical observation competition "Star Party" initiated in that year. And it has been recognized as the best Astronomical competition in the South Asia.
Star Party is an all-island inter-school Astronomical night sky observation competition and students of more than 100 schools participate for this event in every year. This Competition primarily tests the practical, observational and reporting ability in Astronomy and the Star Party Workshop is organized to improve the Astronomical knowledge of high-students in other schools. We introduced an undoubtedly innovative trends for the South Asian Astronomical realm including the new dimensions of Astrophotography.
We know that everyone of you is eager to participate for the Star party-Sri Lanka. But this time you will have to apply for Star Party 2020. Please be kind enough to note that the registration is compulsory for the participation. The Academic committee of StarParty 2020 will select the teams from the applications. The selected teams will receive the invitations to Star Party 2020 through the post. You will receive an invitation if you are selected for this glamorous event.
Observation Competition
The most imperative aspect of Star Party 2020 is the Astronomical Observaton Competition. The competition will be held under the sections below and sub-trophies are presented for these sections.
1) Best performance in Moon Mapping
2) Best performance in Planetary Observation
3) Best performance in Deep Sky Observation
4) Best performance in Observational astronomy (Theory)
5) Best performance in Celestial Measurements and Observational Techniques
6) Best performance in Spot test and Viva round
7) Best performance in Constellation Mapping
Each team will have to compete under every section and the trophy will be presented to the team which demonstrates the best performance for the respective section. Out of these results, the team which manages to accumulate the highest number of scores for all the sections will be crowned as the "Champions of Star Party 2020 & the best ". Star Party 2020 will be maneuvered and judged by internationally acclaimed judges, which provides an amazing exposure and experience to all the competitors.
Agenda of the Competition
Rules and Regulations of the Competition
Observational Astronomy Workshop
Star Party workshop is one of the pioneering astronomy workshops in Sri Lanka. From the beginning to this time, this have been the place of improvement for the amateur astronomers. We are giving this great opportunity to students from grade 8 to 10 this time too.
Astronomical workshop selection criteria is as follows.
 Maximum of 80 students can participate for the workshop of Star Party'20.
 We will select among the applicants according to a school team basis.
 Maximum 5 students per team from a school are allowed to participate in this event.
 Priority will be given to the schools, who are not selected to the main competition.
Our aim of the workshop is, Promotion of Astronomy among school, who are well interested in the subject, yet having poor experience in practical astronomy to make successful astronomers for our future!
Main areas of the syllabus include,
 Basics of general astronomy
 Observation astronomy
o Introduction
o Moon observation and mapping
o Jupiter, Saturn, Mars observation and mapping
o Constellation mapping
o Observation of deep sky objects and mapping
o Making observation reports
o Sky map
o Basics of celestial sphere
 Telescopes
o Introduction
o Optics of a telescope
o Telescope assembling
o Telescope mounting to sky object
 Introduction to cosmology and astrophysics
 Astrobiology
 Astrophotography and practical using
 Rocketry
o Introduction
o Basic Theory and mechanics with Newton's laws
o Water rocket - introduction & group activity
 Puzzle
 Final Examination
This will be conducted by the Old Anandian Astronomical Association in collaboration with Star Party Group. Valuable tutor guides and handbooks will be distributed to all the participants on this venture. At the conclusion of the workshop the participants will be tested with a theory paper and a practical test where the team which scores the highest will be awarded the "Uprising Team of Star Party 2020".
Astrophotography Competition
Astrophotography is a specialized type of photography for recording photos of astronomical objects, celestial events, and areas of the night sky. The first photograph of an astronomical object (the Moon) was taken in 1840, but it was not until the late19th century that advances in technology allowed for detailed stellar photography. Besides being able to record the details of extended objects such as the Moon, Sun, and planets, astrophotography has the ability to image objects invisible to the human eye such as dim stars, nebulae, and galaxies.
These types of astrophotography competitions are undoubtedly the most innovative things for the South Asia since 2014. In that year we envisaged to launch this programme concurrent with the Star Party. And we have silent pride about introducing this trend to our sub-continent. However currently we can see this type of competitions in every night Astronomy quiz competition.
Astrophotography competitors must provide us a small description about their technical information on Mounts, Camera/CCD, Telescopes/Lenses and other Gear information. The competition has 2 sections which is the Best performace category and Most Popular photograph category
For more information , visit Star Party 2020 , Sri Lanka website below.
https://www.starparty.lk/