Streaming | Interactive Stargazing & Mars Opposition Week 4
October 27 @ 8:00 pm

-

9:15 pm

MST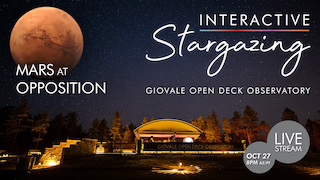 Join Lowell Observatory educators on October 27th at 8:00 pm PDT at the Giovale Open Deck Observatory (https://lowell.edu/godo) for Week 4 of the Mars opposition! During this guided, interactive, virtual viewing session, we'll showcase some planned celestial objects through our 14″ PlaneWave CDK telescope, including Mars at its biggest and brightest! Then, we'll let you choose which objects to see next via YouTube's chat function. It's stargazing, reimagined!
After the stargazing session, researcher Bill Sheehan will discuss the vital research done by the late Nadine Barlow, a physics and astronomy professor at NAU who dedicated her life to studying martian impact craters. Guests Jennifer Hanley will discuss her work with Mars. Also a bit about the future of Mars research and exploration.
*Note: Programming may be canceled due to inclement weather.
You can find all of our Live-Streams and more on our YouTube channel!
https://www.youtube.com/channel/UC4zmFY211sXfEamwmsJcrYA
Related Events