The editors of Sky & Telescope are excited to announce that we have unveiled a new look for our website. We hope you enjoy it!
Welcome to the brand-new SkyandTelescope.com!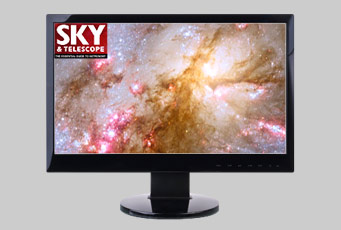 Not to worry, we haven't lost any of the great content that you've come to expect – every article or observing tool you've used in the past will still be here, and we'll continue to report celestial events and other astronomy news with the dedication to accurate, responsible journalism that keeps our readers coming back. But now that great content will come with a great new look, too, and you'll see improvements large and small across the site.
We've invested significant effort in improving our site design and navigation to make it easier to access all of our articles – be they the latest space news story or the classic telescope-buying advice that has served readers well throughout the years. You'll also see improved functions such as a revamped events listings page (complete with a map to find astronomy events near you) and an improved internal site search, including the ability to easily browse our content by subject or author. (Plus, a new photo gallery will be coming soon!)
You might also notice smaller changes that should improve the site's usability. Comments on news and observing stories will be easier to post and follow. And the new site will feature a web-safe Arial font that won't vary from device to device. Best of all, the new site will be mobile-friendly, so you'll be better able to peruse our astronomy news and resources from your smartphone.
And this new site is just the beginning. With the support of the F+W Media web development team, we'll work hard to continually improve and update SkyandTelescope.com so that it best serves the needs of our readers. With any massive undertaking like this, a few bugs are inevitable — rest assured that we are taking care of these. Our team is working literally non-stop to address any issues. We hope you enjoy our new look, and we welcome your feedback at help@skyandtelescope.com.
A technical note for registered website users:
For security reasons we were not able to transfer user passwords to the new platform of SkyandTelescope.com. If you haven't already done so, you can reset your password by clicking on the "Lost Password" link. Follow the directions (and be sure to click the link in the confirmation email) to reset your password in a secure way.