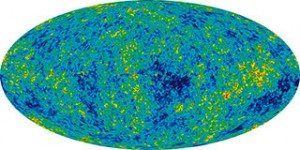 The age of the universe is approximately 13.77 billion years. This age is calculated by measuring the distances and radial velocities of other galaxies, most of which are flying away from our own at speeds proportional to their distances. Using the current expansion rate of the universe, we can imagine "rewinding" the universe to the point where everything was contained in a singularity, and calculate how much time must have passed between that moment (the Big Bang) and the present.
But extrapolating back to the Big Bang also requires knowing the history of the expansion rate, which we can learn about by examining the current density and composition of the universe. Cosmologists have studied observations of the cosmic microwave background, relic radiation leftover from the Big Bang, to determine these parameters.
Two spacecraft have measured the cosmic microwave background across the full sky: the Wilkinson Microwave Anisotropy Probe (WMAP) and Planck. Planck improved upon WMAP's observations with greater sensitivity and resolution. As of 2013, Planck data has set the age of the universe at about 13.77 billion years (plus or minus 59 million years).