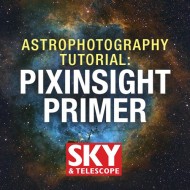 Astrophotography has become an extremely popular segment of astronomy — perhaps because we want to capture or share our celestial experiences. So maybe you've decided to try your hand at shooting the night sky and have mastered the basics of polar alignment and tracking, but now you've come to a crossroads and would like to get more out of your images. What program do you choose?
To help you make an informed decision, Sky & Telescope is starting a series of webinars with premier astrophotographers that have a look in each of the image-processing software on the market today. Our first is an overview of Pleiades Astrophotos' PixInsight  with guest expert Warren Keller of the popular astrophotography tutorial series IP4AP.
In this one-hour live webinar, Warren will explain some of the powerful features in this deep-sky imaging program that enable you to calibrate, stack, and stretch your data to get colorful, detailed results like the photos you see each month in our magazine.
So if you'd like to learn more about PixInsight, join Warren and myself on Wednesday, November 11th at 9 p.m. EST (6 p.m. PST), where we'll be taking your questions in our Astrophotography Webinar: PixInsight Primer to focus on what you want to learn about in this highly recommended program. Hope to see you there!
(If you can't make it, don't worry, a recording of the webinar will be made available in the store soon afterward!)