Explore the dramatic fire-and-ice landscape of Iceland by day and witness nature's light show by night.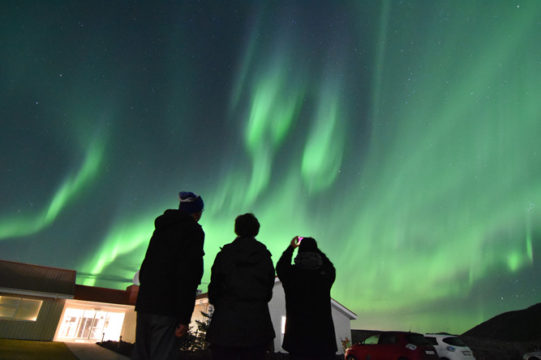 Join Sky & Telescope for a tour of Iceland's dramatic geology — a visual feast of volcanic landforms, stark glaciers, and thundering waterfalls — and the chance to see the "northern lights"! With our tour partner Spears Travel and a local Icelandic guide, we'll explore this fascinating island's unique culture and landscape during the day, then each night we'll venture into dark areas away from city lights to view the aurora borealis.
Although auroral displays are elusive and unpredictable, we've chosen the time and location to maximize our chances of seeing one or more displays. (Our 2019 tour witnessed a fabulous light show on the very first night!) Iceland always sits right under or near the auroral oval, the band around the far north where auroras are most common. Late September and early October are a good time for aurora-watching, as the nights are full and dark, and the weather prospects are better than in deep winter. We've picked a week when moonlight won't interfere with nighttime viewing.
We'll arrive in Iceland on September 15th (after an overnight flight from North America) and return home on September 22nd. This will mark our 7th trip to Iceland, and we're putting the final touches on an updated itinerary. We'll be posting details and a booking link very soon!