This tour has been postponed to August 2020 due to circumstances beyond our control. We will be updating this page with new dates soon. Sorry for any inconvenience, and we hope you can join us in 2020!
Join leading amateur astronomer and astronomy author Stephen James O'Meara for an unforgettable experience in the heart of southern Africa. Undertake daytime safaris to see lions, elephants, hippos — all the large, charismatic wildlife you'd expect from a classic African safari — and at night view the incomparable Southern Sky, including the Large and Small Magellanic Clouds, Tarantula Nebula, and other celestial wonders rarely or never seen in the North.
Our travel partner on this exciting tour — now in its second year — is Yoga Safari, based in Maun, Botswana. Together we'll explore the Dinaka Private Reserve in the Kalahari Desert, Shinde in the Okavango Delta, and Savute in Chobe National Park, plus take an optional 2-night, pre-safari trip to Victoria Falls in Zimbabwe. A classic African safari always been on your bucket list? Here's your chance to check it off — with a twist!
Below, you will find:
Itinerary for 6-night stargazing safari in Botswana
Itinerary for 2-night pre-extension to Victoria Falls in Zimbabwe

ITINERARY — 6-NIGHT STARGAZING SAFARI TOUR, BOTSWANA
| Date | Itinerary at a Glance | Accommodation | Meals |
| --- | --- | --- | --- |
| Monday, July 29 | Maun to Kalahari Desert | Dinaka | D |
| Tuesday, July 30 | Kalahari Desert | Dinaka | B, L, D |
| Wednesday, July 31 | Kalahari to Okavango Delta | Shinde | B, L, D |
| Thursday, August 1 | Okavango Delta | Shinde | B, L, D |
| Friday, August 2 | Okavango Delta to Savute | Savute Elephant Lodge | B, L, D |
| Saturday, August 3 | Savute end of the Rift Valley | Savute Elephant Lodge | B, L, D |
| Sunday, August 4 | Savute to Maun | Depart | B |
July 29 & 30, 2019 — Maun to the Kalahari Desert
Our Botswana Stargazing Safari starts at Maun Airport, where we board a light aircraft and fly to our first camp: Dinaka, situated in a Private Reserve in the Kalahari Desert. At Dinaka you'll meet up with your Sky & Telescope tour leader and astronomer Stephen James O'Meara (who will accompany the tour), along with the rest of the group.
We have chosen Dinaka because this desert environment is far away from towns and light pollution. As it is new Moon on August 1st, we will have no interference from the Moon itself. Our group will be an intimate party of just 16 people. Steve has been to the area and has chosen a great location, away from the camp, from which to view the magnificent southern stars and deep-sky objects over Botswana through binoculars and his telescopes (a 3-inch Tele Vue refractor and an 8-inch Orion Dobsonian).
Dinaka has just eight deluxe tents, so our group has the camp to itself. Each tent sits on raised decking and has en-suite bathrooms. The dining and sitting areas are also on raised decking and face a waterhole where zebra, kudu, and wildebeest come to drink during the day. The food served in camp is of an excellent quality, and South African wines, spirits, and beers can be enjoyed with lunch and dinner. Water, soft drinks, tea, and coffee are also available at meals as well as throughout the day.
In addition to offering night skies free from light pollution, Dinaka Private Reserve also provides opportunities to take safari drives into the Kalahari to see the area's diverse wildlife. The area is home to a variety of animals, including oryx, springbuck, eland (antelopes that are only seen in the drier Kalahari region of Botswana and will not be seen in our next two camps), zebra, giraffe, jackals, and hyena. Lions can also be seen, plus at Dinaka you might be lucky and see a rhino or two. Another advantage of staying at a private reserve like Dinaka is that the vehicles are allowed to go off the tracks, towards the animals, in order to get a closer view.

At Dinaka guests have the opportunity to take an interpretive walk with the Bushmen of the Kalahari and learn how they manage to survive in such a harsh environment. In addition, the Dinaka Private Reserve has two hides, situated in different locations, that each face a waterhole. They are perfect places to sit quietly and watch and take close-up photos of the variety of animals that come to quench their thirst.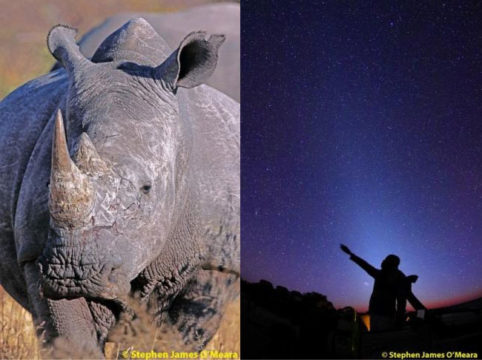 Steve is also on hand each night to help with astrophotography, and amazing images can also be taken of the Milky Way directly overhead. Both the Large and Small Magellanic Clouds will be highest in the heavens in the pre-dawn hours for you to enjoy. Plus, we are also in luck as we have four naked-eye planets visible in the evening skies — with three of them (Jupiter, Saturn, and Mars) all appearing overhead between sunset and midnight. Each night after supper we will visit our viewing site and spend a few hours under the stars.
While on the stargazing safari, you have the opportunity to spend hours under the night skies with Steve. How late you want to stay up is optional, especially as safari drives occur early in the mornings and sleep might not be that plentiful! However, after lunch each day you have some down time, which is a perfect time to take a siesta to help top you up — until late afternoon activities and evening's stargazing come around again. Of course, both evening stargazing and the safari drives are optional, so you can plan accordingly. After all, it's your vacation, and you are free to choose what activities you partake in and which ones you choose to miss.
After stargazing, we head back to the camp and our tents, falling asleep to the night sounds of jackals barking and perhaps hyenas whooping in the distance.
All accommodation, meals, selected drinks, laundry, and activities are included during your stay.
Overnights: Dinaka
July 31 & August 1, 2019 — Kalahari Desert to Okavango Delta
Today the group says goodbye to the Kalahari and boards light aircraft to fly north to Shinde in the Okavango Delta. We have chosen this camp for its fine location in the magnificent water world of the fabled Okavango, a UNESCO World Heritage Site, where, once again, light pollution is virtually non-existent and the southern stars are a wonder to behold.
Shinde is a little paradise on Earth, nestled on a lush palm island in the heart of the northeastern Okavango Delta. It is in its own private concession, so we have exclusive use of the area and are not disturbed by other guests from other camps on the drives. Shinde is also situated at the edge of a lagoon and is surrounded by clear waterways, which flow over yellow sands and past palm-fringed islands teeming with birdlife and wild animals.
Activities at Shinde are plentiful and include safari drives, both by day and by night. As with Dinaka, the camp is in a private reserve, so the vehicles are permitted to go off the tracks to approach wildlife, which means guests can get closer views with their cameras. Shinde also offers motor boating through the myriad papyrus-lined channels of the Okavango Delta, where you might come across hippos grazing, elephants crossing the channel, and perhaps a crocodile warming itself in the sun. Excursions by mokoro (dugout canoes poled by an experienced guide) are also available all year round in the shallower waters, and you can stop to explore the tree islands on foot. A bush walk with your professional guide is a superb way to experience the environment up close and experience the smaller things that are all around you in this amazing wilderness. Birdlife is also abundant in this part of the Okavango.
Shinde consists of eight deluxe tents each with en-suite bathrooms. The dining/lounge area is on a multi-tiered raised deck and is under canvas with a beautiful vista overlooking the luminescent waters of the Okavango Delta. Shinde also has a swimming pool where you can relax during the heat of the day.
Steve was recently at Shinde and located an excellent spot for our nightly stargazing, which is not far from camp and offers great vistas for binocular and telescope viewing.
All accommodation, meals, selected drinks, laundry, and activities are included during your stay.
Overnights: Shinde
August 2 & 3, 2019 — Okavango Delta to Savute Region in Chobe National Park
Today we continue north to the Savute region in Chobe National Park, and to Savute Elephant Lodge, which sits high up on the banks of the Savute Channel at the end of the Great African Rift Valley. Stretching from the waterways of the Linyanti all the way to the Savute Marsh, the meanderings of the Savute Channel have brought water and new life into the western section of Chobe National Park on and off for many thousands of generations. At the present time the Savute Channel is dry. However, as Savute Elephant Lodge pumps water into a waterhole directly in front of camp, this means it is one of very few water sources in the area, and it attracts a lot of wildlife, including but not limited to elephants, hyenas, zebra, kudu, leopards, and lions. Our 2018 group saw an amazing assortment of such animals at Savute.

Savute Elephant Lodge consists of 12 luxury tents, each with en-suite bathroom facilities. The tents are built on raised wooden platforms and have great views out over the Savute Channel below. The camp offers safari drives in the surrounding area, which is abundant in wildlife — from hyenas to lions and a host of other animals in between. The Savute area also has wonderful birdlife including, among others, the Kori Bustard — Botswana's national bird, the heaviest flying bird in the world.
There are also some ancient volcanic hills (yes, Botswana does have some!) near the Savute Marsh where the Great African Rift Valley terminates. We have the option to visit one that has some ancient Bushmen rock art paintings that are well worth viewing.
Savute Elephant Lodge is where we will spend most of our time viewing wildlife; we will still be viewing the stars nightly, but from the safety of the camp and our tents. We will do our best to minimize light pollution in the camp, so we get the best possible view of the night sky.
All accommodation, meals, drinks, park fees, laundry, and activities are included during your stay.
Overnights: Savute Elephant Lodge
August 4, 2019 — Depart
After breakfast and one last game drive (time permitting) we say goodbye to the camp staff and head to the airstrip for our flight back to Maun, arriving there with plenty of time to connect with your onward flight.
INCLUDED / NOT INCLUDED
6-Night/7-Day African Stargazing Safari Tour Includes:
All light-aircraft flights from Maun between camps and back to Maun
All transfers to and from the airstrips to the camps
6 nights on safari at 3 different locations, as per the Itinerary above
Tour leader and astronomer to assist you throughout your Stargazing Safari
Evening stargazing sessions with a skilled astronomer who will answer questions on the Southern Sky and provide tips on how to image the night sky
All game-viewing activities as offered in the Itinerary
All accommodations in double or single tents
All meals as listed in the "at a glance" box at the top of the Itinerary (B = breakfast, L = lunch, D = dinner)
All drinks (including South African wines and spirits), teas, coffees, and water
Laundry
Departure tax from Maun and National Park fees
Donation to the Rhino Fund for your stay at Dinaka
6-Night/7-Day African Stargazing Safari Tour Does Not Include:
International flights or regional scheduled flights
Botswana Tourism Levy US$30 payable on entry into Botswana in cash
Passports or visas and cost of same
Items of a personal nature such as cost of phone calls, etc.
Travel and medical insurance, which is compulsory (the camps and lodges we visit will not permit guests to enter their lodges without adequate medical and travel insurance)
Curio shop purchases
Tips and gratuities
Anything not mentioned in Included list above
OPTIONAL 2-NIGHT PRE-TOUR EXTENSION TO VICTORIA FALLS, ZIMBABWE
This adventure starts on July 27, 2019, just prior to the Stargazing Safari. Please contact Yoga Safari (info@yogasafari.com) before making any flight arrangements, as space is limited on this extension.
Guests wishing to travel to partake in the extension to Victoria Falls prior to the start of the Stargazing Safari will need to arrive into Victoria Falls Airport, Zimbabwe, on July 27, 2019. Upon arrival they will be met and transferred to their hotel. After their two-night stay, they will be transferred by road to Kasane Airport, across the border in Botswana, to begin their Stargazing Safari. Guests on this extension will also need to arrange their flights so that they depart from Maun Airport, Botswana, on August 4, 2019.

July 27, 2019 — Victoria Falls
On arrival at Victoria Falls Airport, you will be met and transferred to Victoria Falls Safari Lodge for your two-night stay. You are booked on a bed-and-breakfast basis for two nights at Victoria Falls Safari Lodge, with dinner in the hotel restaurant each night.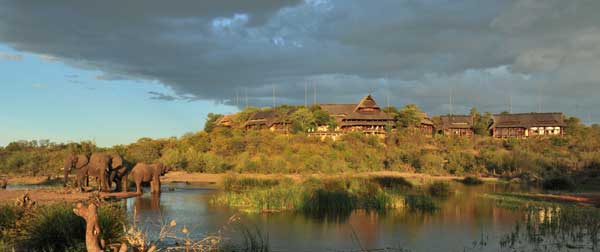 The Victoria Falls Safari Lodge is set on a high plateau that forms the boundary of the unfenced Zambezi National Park. It is a deluxe African lodge, designed with thatch roofs, hardwoods, and vibrant colors that offer guests excellent, uninterrupted views of the National Park and easy access to the Falls. The lodge's main building faces a waterhole that offers guests numerous wildlife sightings as the animals pass through the area into the wild bushveld. All the rooms have en-suite bathrooms and are equipped with safes, air conditioning, hair dryers, fans, mosquito nets, and complimentary tea- and coffee-making facilities.
After checking in and settling into your room, you are free to enjoy the lodge and its surroundings until dinner time. Perhaps choose an optional activity like a "Flight of Angels" over the Falls in a helicopter or light aircraft. Ask at reception if you wish to do an optional activity. Dinner has been booked for you in the lodge's Makuwa Kuwa Restaurant tonight.
July 28, 2019 — Victoria Falls
After breakfast this morning your guide will meet you at your hotel and take you on a guided tour of the roaring Victoria Falls. The rest of the day is free for you to explore the area. Then at a pre- arranged time, your guide will meet you and take you to the mighty Zambezi River, where you are booked onto a two-hour sunset cruise with complimentary drinks and snacks. Watch hippos grunting and the spray of the distant Falls in the low-angled light of the setting sun. After the cruise your guide will return you to your hotel for the night. Dinner tonight will be in Makuwa Kuwa Restaurant.
Overnights: Victoria Falls Safari Lodge
July 29, 2019 — Victoria Falls/Kasane Airport/Stargazing Safari
After breakfast today your guide meets you and transfers you across the border into Botswana and onto Kasane Airport, where you'll be met and assisted to the light aircraft for your flight to Dinaka and the start of your Stargazing Safari Adventure in Botswana.
2-Night Extension Includes:
Meet and Greet at Victoria Falls Airport
Return airport transfers (from Victoria Falls Airport and to Kasane Airport)
Two nights accommodation in Victoria Falls Safari Lodge
Breakfasts
Dinners in the hotel restaurant
Sunset cruise with complimentary drinks, snacks, and return hotel transfers
Guided tour of the Falls with return hotel transfers (excludes entrance fee to the Falls)
Flight from Kasane Airport to Dinaka and the start of the Stargazing Safari
2-Night Extension Does Not Include:
Any meals & drinks not mentioned above
Entrance fee to Victoria Falls ($30 as of October 2018)
Visa for Zimbabwe ($30 as of October 2018)
Drinks (except on sunset cruise)
Tips to porters, waiters, hotel staff, and guides
Anything not mentioned in "2-Night Extension Includes" above
| Pricing (per person) | Double | Single |
| --- | --- | --- |
| Botswana Stargazing Safari | $9,095 | $10,595 |
| Victoria Falls 2-Night Pre-Extension | $1,750 | $1,900 |
Note: All tour prices are based on costs and U.S. dollar exchange rates in effect at the time of posting, including Botswana national park fees and VAT (value-added tax). As such, prices listed here are subject to change. Sky & Telescope/Yoga Safari will inform clients of any changes prior to departure.
PAYMENTS & TERMS
An advance payment of US$2,500 per person, along with the completed reservation form for each traveler, are required to secure your reservation. See link below to Reservation & Payment Form.
Final payment is due by March 1, 2019. Any reservations made after March 1, 2019, may be accepted provided space is available and payment in full is received.
Cancellations must be made by email to info@yogasafari.com. A reply acknowledging receipt of the cancellation email must be received back by cancelling clients.
All advanced payments, less a US$750 per person service fee, are refundable until November 28, 2018. For cancellations between November 28, 2018 and March 1, 2019, the total advance is forfeited.
There are no refunds after March 1, 2019.
All clients are required to read and sign two documents: Terms & Conditions, and Release of Liability & Assumption of Risk. You will find these on the Reservation & Payment Form (see link below).
HAVE QUESTIONS ABOUT THE TOUR?
Email Deborah Carter at info@yogasafari.com. (Note: Deborah, who has over two decades of experience running African safaris, is based in Maun, Botswana, whose time is UT+2, so there might be a possible brief delay in her response.)
Also see Yoga Safari's FAQ page for answers to common questions.
READY TO RESERVE YOUR SPOT ON THIS SAFARI AND STARGAZING TOUR?
Go to: RESERVATION & PAYMENT FORM
Note: You will be redirected to a secure page run by Sky & Telescope's parent company, F+W Media, Inc. Our tour partner for this Botswana Stargazing Safari Tour is Yoga Safari, based in Maun, Botswana.