Ready to register? Click here!

Join leading amateur astronomer and astronomy author Stephen James O'Meara for an unforgettable experience in the heart of southern Africa in July 2021. Undertake daytime safaris to see lions, elephants, giraffes, hippos — all the large, charismatic wildlife you'd expect from a classic African safari — and at night view the incomparable southern sky, including the Magellanic Clouds, Tarantula Nebula, Eta Carinae, and other celestial wonders rarely or never seen from the Northern Hemisphere.
Our travel partner on this exciting tour — now in its second year — is Yoga Safari, based in Maun, Botswana. Together we'll explore the Setari Camp in the heart of the Okavango Delta, the Khwai Private Reserve in Sable Alley, and Savute in Chobe National Park, plus take an optional 2-night, pre-safari trip to Victoria Falls in Zimbabwe. Has a classic African safari always been on your bucket list? Here's your chance to check it off — with a twist!

ITINERARY: 6-NIGHT STARGAZING SAFARI TOUR, BOTSWANA
| Date | Itinerary at a Glance | Accommodation | Meals |
| --- | --- | --- | --- |
| Friday, July 2 | Maun to Okavango Delta | Setari | D |
| Saturday, July 3 | Okavango Delta | Setari | B, L, D |
| Sunday, July 4 | Okavango Delta to Khwai Reserve | Sable Alley | B, L, D |
| Monday, July 5 | Khwai Private Reserve | Sable Alley | B, L, D |
| Tuesday, July 6 | Khwai Private Reserve to Savute | Savute Elephant Lodge | B, L, D |
| Wednesday, July 7 | Savute end of the Rift Valley | Savute Elephant Lodge | B, L, D |
| Thursday, July 8 | Savute to Maun | Depart | B |
July 2 & 3, 2021 — Maun to the Okavango Delta
Our Botswana Stargazing Safari starts at Maun Airport, where we board a light aircraft and fly to our first camp: Setari, situated in a Private Reserve in the Okavango Delta. At Setari you'll meet up with your Sky & Telescope tour leader, astronomer Stephen James O'Meara (who will accompany the tour), and the rest of the group.
Steve is really excited about this year's safari as there are a whole host of nightly wonders to delight every level of amateur astronomer. Here's a start to whet your appetite:
The southern stars are at their best, with the Southern Cross, Coalsack dark nebula and Jewel Box star cluster, the great globular star cluster Omega Centauri, Alpha and Beta Centauri, and Centaurus A galaxy at their highest in the south — more than halfway up the sky — shortly after darkness falls. This presents fabulous opportunities during the evenings for dynamic astrophotography and visual viewing with no Moon. And that's not all! The wondrous Eta Carinae nebula and majestic Southern Pleiades star cluster are midway up the sky, having moved slightly west of the meridian.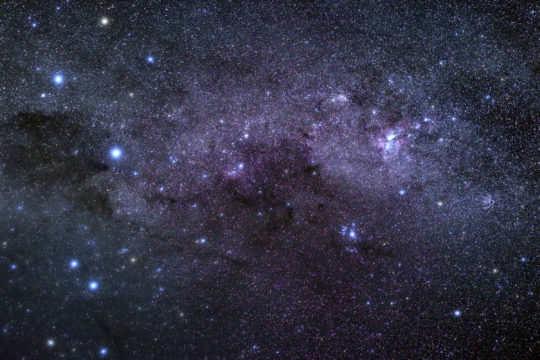 This region of the Milky Way is one of the most eye-catching in the entire heavens, and is abundant with additional naked-eye and binocular wonders. This includes the Southern Beehive, Little Jewel Box, and Pincushion star clusters, as well as myriad bright and dark nebulae and a rich assortment of globular star clusters not visible from mid-northern latitudes. The center of the galaxy in Sagittarius is 30˚ high at nightfall and will be overhead by 11 p.m. The Small Magellanic Cloud and globular cluster 47 Tucanae will also be at their highest in the south before dawn, with the LMC 25˚ high in the east-southeast.
The planets Mars and Venus will be near each other a third of the way up the western sky after sunset, and will be near the Beehive star cluster in Cancer. They will also be well positioned to look for shadows cast by the planets. Jupiter and Saturn dominate the high morning sky, with Mercury just appearing above the eastern horizon just as night ends. So all naked-eye planets will join us during our stay in Botswana, as well as a pretty waning crescent Moon in the morning skies.
We have chosen Setari because it is in the middle of the watery Okavango Delta, so it is far away from towns and light pollution. The fireplace deck, where we will stargaze each night, provides an excellent view of the magnificent southern stars and deep-sky objects. Steve is on hand every night to show you the sky over Botswana through binoculars and his telescopes (a 3-inch Tele Vue refractor and an 8-inch Orion Dobsonian reflector).
Setari Camp is tucked deep within the main "artery" of the Okavango on a picture-perfect palm island. It is located northwest of the world-renowned Moremi Game Reserve, at the point where the main artery of the Okavango begins to fan out creating the unique Okavango Delta, the 1000th World Heritage Site. Altogether it's an ideal spot to explore and marvel at all this watery wonderland has on offer .
Accommodation for our intimate party of just 16 people is in 8 deluxe safari tents. Each has a shower, en-suite toilet, and free-standing bathtub. The tents are all raised up on decks with great views. Setari offers free internet, and there are charging points for your batteries. They also offer the use of a low-voltage hair dryer on request .
Activities on offer at Setari include motorboat trips into the deeper channels of the Delta, where elephants are often seen crossing the channels and hippos snort and grunt. Rides in mokoro, traditional canoes poled by your guide, are also available to give you a chance to see the smaller water creatures such as Angolan reed frogs. Plus you might be lucky and spot the secretive sitatunga, a semi-aquatic antelope only found in these deeper reaches of the Okavango Delta. Nature walks on nearby islands are also a wonderful way to find out what inhabits this area by investigating the tracks and spoor as you venture on foot with your professional guide. There is also an opportunity to visit a local village to find out how the local people live in this watery world. And of course there's nightly stargazing with Steve .
A typical day on safari at Setari includes an early morning wakeup with tea/coffee delivered to your tent followed by a light breakfast. Then it's off on your activity. When you return to Setari there's a delicious brunch waiting, and then you are free to catch up on your sleep, edit your astrophotography from the night before, lie by the pool, or exercise at the gym. Then it's back to the main area for afternoon tea and out on your afternoon activity .
A sumptuous dinner is served in the evening accompanied by a selection of drinks, and then it's out under the stars for a night of stargazing. Steve is on hand each night to help with observing and astrophotography. After stargazing, we head back to our tents, falling asleep to the night sounds of hippos grunting in the distance.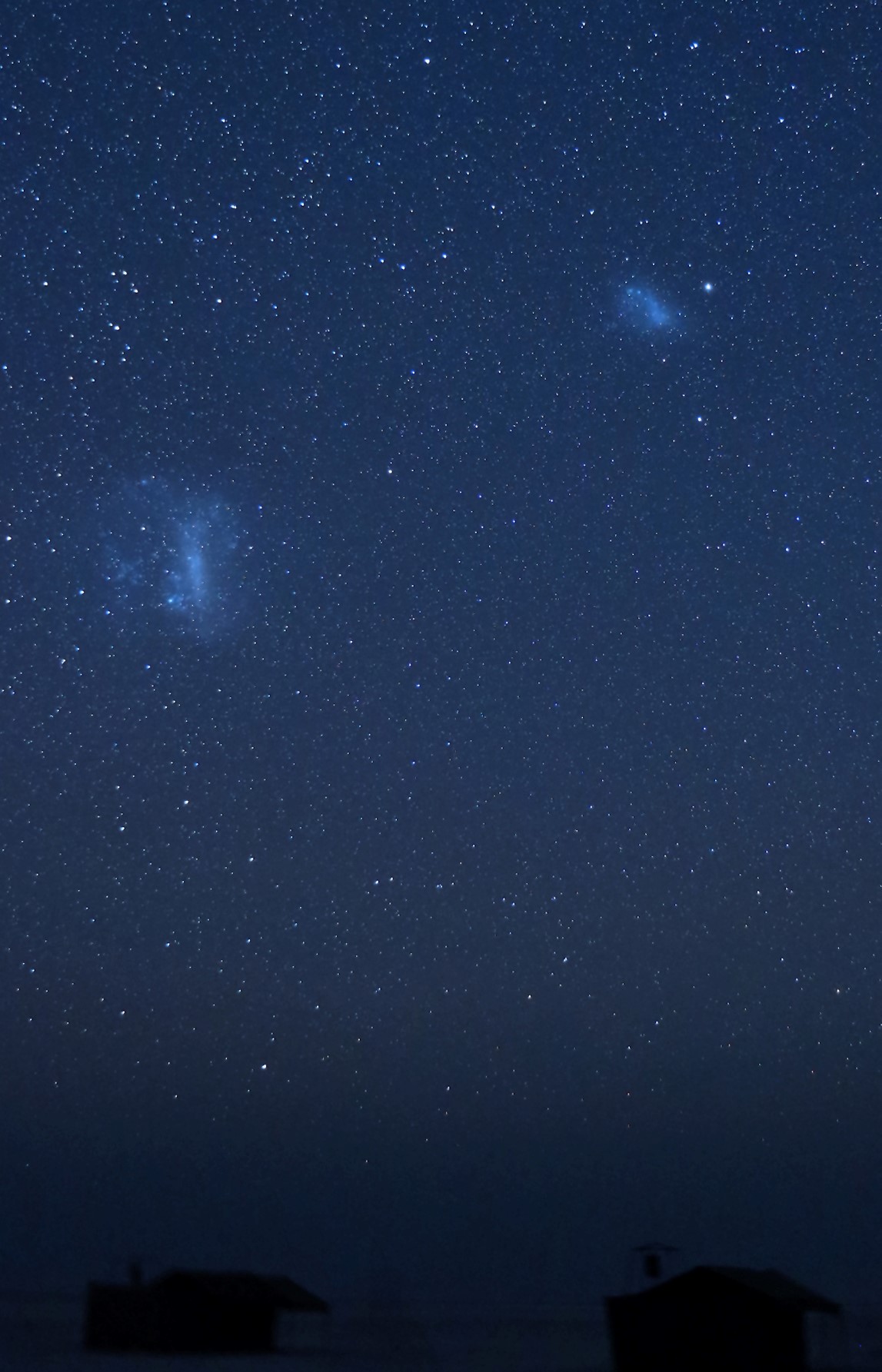 While on the stargazing safari, you have the opportunity to spend hours under the night skies with Steve. How late you want to stay up is optional, especially as safari activities occur early in the mornings and sleep might not be that plentiful! However, after brunch each day you have some down time, which is a perfect time to take a siesta to help top you up — until late-afternoon activities and evening's stargazing come around again. Of course, both evening stargazing and the safari activities are optional, so you can plan accordingly. After all, it's your vacation, and you are free to choose what activities you partake in and which ones you choose to miss.
All accommodation, meals, selected drinks, laundry, and activities are included during your stay.
July 4 & 5, 2021 — Okavango Delta to Khwai Private Reserve
Our third day on safari sees us heading back on the boat to the airstrip for our light aircraft flight to the Khwai Private Reserve and Sable Alley. Sable Alley is a tented camp built among spectacular shade trees in Khwai Private Reserve, adjacent to the Okavango Delta. Twelve deluxe tents, all with en-suite facilities, sit on raised decking and front onto a floodplain. The dining and sitting areas are also on raised decking, and there is a circular fireplace and a swimming pool. The food served in camp is of an excellent quality, and South African wines and spirits can be enjoyed with dinner. Water, soft drinks, tea and coffee are also available throughout the day. A typical day on safari is similar to that at Setari.
The Khwai Private Reserve offers the opportunity to take safari drives into the wilderness to see the animals of the area. And, because it is a private reserve, the vehicles are allowed to go off the tracks, towards the animals, in order to get a closer view. The area is home to a variety of animals, including elephants, antelopes, zebra, buffalo, giraffe, hippo, hyena, lions, and leopard. The region also has an incredible array of colorful, as well as some endangered, bird life. And because we are in a private reserve we can also take a nature walk with our guide to see the smaller wonders of the African bush.
This idyllic setting of the camp offers a wonderful view of the Southern Sky. Our group will be an intimate party of just 16 people. Steve has been to the area and chosen a fine location, away from the camp, from which to view the Botswana night sky through binoculars and telescopes.
Weather and conditions permitting, we could have supper out in the wild (with our guides keeping watch to make sure we are safe), and then spend a few hours under the stars, before heading back to the camp and our tents. Falling asleep to the night sounds of the frogs chirruping and the hippos feeding on the grassy floodplain, and perhaps the hyenas whooping in the distance.
All accommodation, meals, selected drinks, laundry and activities are included during your stay.
July 6 & 7, 2021 — Khwai Private Reserve to Savute region in Chobe National Park
Today we venture north to the Savute region of Chobe National Park, and to Savute Elephant Lodge, which sits high up on the banks of the Savute Channel at the end of the Great African Rift Valley. Stretching from the waterways of the Linyanti all the way to the Savute Marsh, the meanderings of the Savute Channel have brought water and new life into the western section of Chobe National Park on and off for many thousands of generations.
At the present time the Savute Channel is dry, however, as Savute Elephant Lodge pumps water into a waterhole directly in front of camp, this means it is one of very few water sources in the area, and attracts a lot of wildlife, including but not limited to elephants, hyenas, zebra, kudu, leopards, and lions. Our 2018 S&T participants saw an amazing assortment of such animals during their stay at Savute.
Savute Elephant Lodge consists of 12 luxury tents, each with en-suite bathroom facilities. The tents are built on raised wooden platforms and have great views out over the Savute Channel below. The camp offers safari drives in the surrounding area, which is abundant in wildlife. The Savute area also has wonderful birdlife, including, among others, the Kori Bustard — Botswana's national bird, the heaviest flying bird in the world.
There are also some ancient volcanic hills (yes, Botswana does have some!) near the Savute Marsh, where the Great African Rift Valley terminates. We have the option to visit one that has some interesting Bushmen rock art paintings.
Savute Elephant Lodge is where we will spend most of our time viewing the wildlife; we will still be viewing the stars nightly but from the safety of the camp and our tents. We will do our best to minimize the light pollution in the camp to get the best possible view of the night sky.
All accommodation, meals, drinks, park fees, laundry, and activities are included during your stay.
July 8, 2021 — Depart
After breakfast and one last safari drive (time permitting), we say goodbye to the camp staff and head to the airstrip for our flight back to Maun, arriving there in time to connect with your onward flight.
INCLUDED / NOT INCLUDED
6-Night/7-Day African Stargazing Safari Tour includes:
All light aircraft flights from Maun between camps and back to Maun
All transfers to and from the airstrips to the camps
Departure tax from Maun
National Park fees
All safari activities as offered in the itinerary
All accommodations in double or single deluxe tents
All meals as listed in the itinerary at a glance at the top of the first page (B = breakfast, L = lunch, D = dinner)
All drinks (including South African wines and spirits), teas, coffees, and water
Laundry
Government Value Added Tax (currently 12%, any increase shall be for the account of the guest as per Yoga Safari Terms and Conditions clause 7, sub clause 7.1 )
6-Night/7-Day African Stargazing Safari Tour Does Not Include:
International flights or regional scheduled flights
Passports or visas and cost of same
Items of a personal nature such as cost of phone calls,
Travel and medical insurance which is compulsory (the camps and lodges we visit will not permit guests to enter their lodges without adequate medical and travel insurance)
Curio shop purchases
Tips and gratuities
Anything not mentioned in "The rates include" above
OPTIONAL 2-NIGHT PRE-TOUR EXTENSION TO VICTORIA FALLS, ZIMBABWE
This adventure starts on June 30, 2021, just prior to the Stargazing Safari. Please contact Yoga Safari (info@yogasafari.com) before making any flight arrangements, as space is limited on this extension.
Guests wishing to travel to partake in the extension to Victoria Falls prior to the start of the Stargazing Safari will need to arrive into Victoria Falls Airport, Zimbabwe, on June 30, 2021. Upon arrival they will be met and transferred to their hotel. After their two-night stay, they will be transferred by road to Kasane Airport, across the border in Botswana, to begin their Stargazing Safari. Guests on this extension will also need to arrange their flights so that they depart from Maun Airport, Botswana, on July 8, 2021.

June 30, 2021 — Victoria Falls
On arrival at Victoria Falls Airport, you will be met and transferred to Victoria Falls Safari Lodge for your two-night stay. You are booked on a bed-and-breakfast basis for two nights at Victoria Falls Safari Lodge, with dinner in the hotel restaurant each night.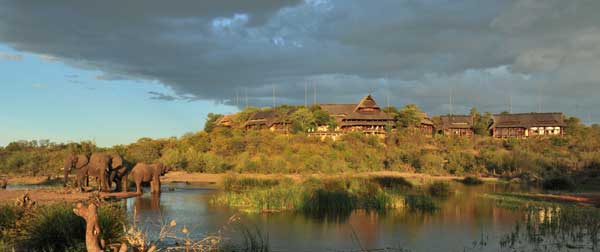 The Victoria Falls Safari Lodge is set on a high plateau that forms the boundary of the unfenced Zambezi National Park. It is a deluxe African lodge, designed with thatch roofs, hardwoods, and vibrant colors that offer guests excellent, uninterrupted views of the National Park and easy access to the Falls. The lodge's main building faces a waterhole that offers guests numerous wildlife sightings as the animals pass through the area into the wild bushveld. All the rooms have en-suite bathrooms and are equipped with safes, air conditioning, hair dryers, fans, mosquito nets, and complimentary tea- and coffee-making facilities.
After checking in and settling into your room, you are free to enjoy the lodge and its surroundings until dinner time. Perhaps choose an optional activity like a "Flight of Angels" over the Falls in a helicopter or light aircraft. Ask at reception if you wish to do an optional activity. Dinner has been booked for you in the lodge's Makuwa Kuwa Restaurant tonight.
July 1, 2021 — Victoria Falls
After breakfast this morning your guide will meet you at your hotel and take you on a guided tour of the roaring Victoria Falls. The rest of the day is free for you to explore the area. Then at a pre- arranged time, your guide will meet you and take you to the mighty Zambezi River, where you are booked onto a two-hour sunset cruise with complimentary drinks and snacks. Watch hippos grunting and the spray of the distant Falls in the low-angled light of the setting sun. After the cruise your guide will return you to your hotel for the night. Dinner tonight will be in Makuwa Kuwa Restaurant.
July 2, 2021 — Victoria Falls / Kasane Airport / Stargazing Safari
After breakfast today your guide meets you and transfers you across the border into Botswana and onto Kasane Airport, where you'll be met and assisted to the light aircraft for your flight to Setari and the start of your Stargazing Safari Adventure in Botswana.
2-Night Extension Includes:
Meet and Greet at Victoria Falls Airport
Return airport transfers (from Victoria Falls Airport and to Kasane Airport)
Two nights' accommodation in Victoria Falls Safari Lodge
Breakfasts
Dinners in the hotel restaurant
Sunset cruise with complimentary drinks, snacks, and return hotel transfers
Guided tour of the Falls with return hotel transfers (excludes entrance fee to the Falls)
Flight from Kasane Airport to Setari and the start of the Stargazing Safari
2-Night Extension Does Not Include:
Any meals not mentioned above
Entrance fee to Victoria Falls ($30 as of March 2020)
Visa for Zimbabwe ($30 as of March 2020)
Drinks (except on sunset cruise)
Tips to porters, waiters, hotel staff, and guides
Anything not mentioned in "2-Night Extension Includes" above
| Pricing (per person) | Double | Single |
| --- | --- | --- |
| Botswana Stargazing Safari | $8,995 | $10,495 |
| Victoria Falls 2-Night Pre-Extension | $1,850 | $2,000 |
Note: All tour prices are based on costs and U.S. dollar exchange rates in effect at the time of posting, including Botswana national park fees and VAT (value-added tax). As such, prices listed here are subject to change. Sky & Telescope/Yoga Safari will inform clients of any changes prior to departure.
REGISTRATION IS NOW OPEN. CLICK HERE.
QUESTIONS? Please email Deborah Carter at info@yogasafari.com. (Please note time difference: Deborah, who has over two decades of experience running African safaris, is based in Maun, Botswana, whose time is UT+2, so there might be a possible brief delay in her response.)
Also see Yoga Safari's FAQ page for answers to common questions.