Sorry — sold out!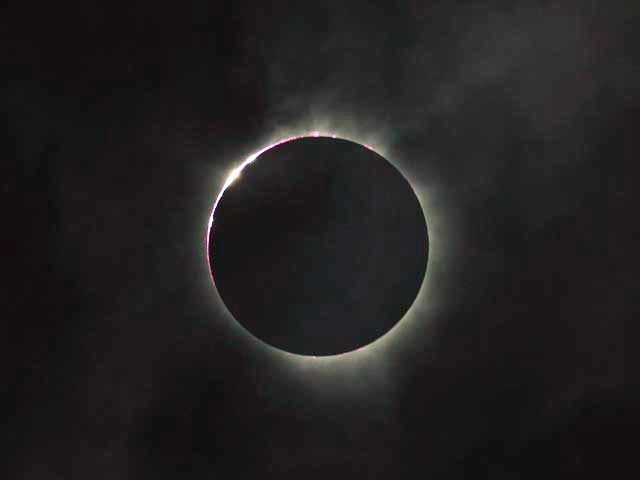 The August 21, 2017 total solar eclipse is not to be missed. How about seeing it in style? With our travel partner Insight Cruises, Sky & Telescope is proud to offer a richly appointed tour based out of Nashville, Tennessee. Most excitingly, we plan to view the eclipse near the point known as greatest eclipse, which lies near Hopkinsville, Kentucky. (Greatest eclipse is when the axis of the Moon's umbra passes closest to the center of the Earth.)
Altogether, after examining historical weather data for the Kentucky/Tennessee/Missouri region and other potential sites, as well as weighing the likelihood of clear skies, maneuverability, remoteness, and cultural attractions, Insight Cruises has determined that the best bet for this tour is to begin in Huntsville, Alabama, and then proceed to Nashville. (You can also join us in Nashville if you choose.)
In Huntsville, we'll visit the U.S. Space & Rocket Center, which showcases rockets, artifacts, and accomplishments of the U.S. Space program. As permissions allow, we may also visit NASA's Marshall Space Flight Center. For over half a century, this legendary facility has designed and built the rockets, engines, science payloads, and other equipment and materials that have enabled our exploration of the solar system.
The group then heads out on a roughly two-hour drive to Nashville, the lively capital of Tennessee. Here, we'll stay in a posh hotel in the heart of Music City. Leading up to Eclipse Day, the Sky & Telescope group will visit Dyer Observatory, the Jack Daniel's Distillery, and the Stones River National Battlefield.
The day before Eclipse Day, Sky & Telescope Senior Editor J. Kelly Beatty will offer a presentation and weather update on the long-awaited 2017 total solar eclipse. This afternoon and evening you are on your own to take in Nashville sights such as the Country Music Hall of Fame & Museum or The Hermitage (the home of President Andrew Jackson), shop, or just relax.
Other speakers who will give presentations and be on hand to take your questions include Dr. Keivan Stassun, Professor of Physics and Astronomy at Vanderbilt University; Dr. Billy Teets, Outreach Astronomer at Dyer Observatory; and Dr. David Weintraub, Professor of Astronomy at Vanderbilt.
On Eclipse Day, August 21, we plan to view the eclipse from a comfortable open space in Hopkinsville, Kentucky.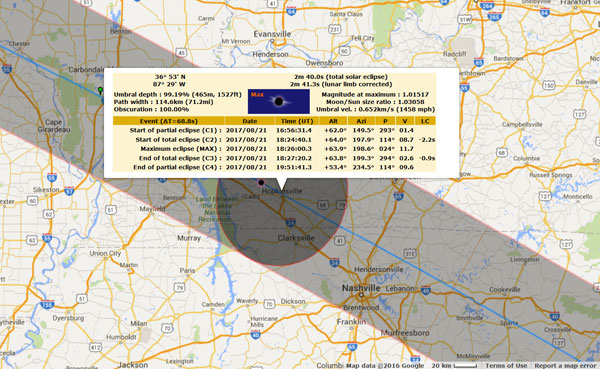 Totality — when the Moon completely covers the Sun — will be virtually as long here as at the point of greatest duration near Carbondale, Illinois (only 0.13 second less!). The group will have good viewing prospects in a site with all the accouterments you need on a hot summer day: food and beverages (included), shade, and indoor bathrooms. Sky & Telescope's viewing site also provides maneuverability to drive to alternative sites should weather require. (Check out our 2017 eclipse preview blog for information about the eclipse itself, or see the January 2016 issue of Sky & Telescope magazine for a more up-to-date preview article.)
Visit the Insight Cruises webpage on this exciting tour for full details, including a detailed itinerary, map, list of speakers, pricing and terms, and booking information.