Venus bids farewell at dawn, but not before a close encounter with returning Jupiter.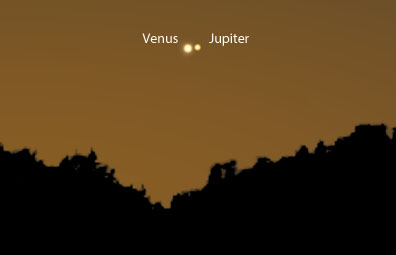 Venus may be on its way out of the morning sky, but it won't depart until it attends to some important business. On Monday morning, November 13th, the planet passes just 0.3° north of Jupiter in a strikingly close conjunction. Jupiter even pulls out all the stops with its four Galilean satellites spread to either side of its striped globe on that date.
Through a telescope at low to medium magnification (30–100×) the planets will fit in the same field of view, highlighting both their different sizes and reflectivities. Venus, a tiny beacon, will be 10″ across, 97% illuminated, and about 16 times brighter than larger and duller Jupiter.
November marks the giant planet's grand entry, a return to morning observation after its October 26th solar conjunction. If it weren't for Venus spinning up the scene, most of us would give Jupiter another week or two to extricate itself from the solar glare before attempting an observation. That's why it's important to pick a place with a good view to the east to view the event. From mid-northern latitudes, the two planets will be only about 5° high, or three fingers held together at arm's length, 45 minutes before sunrise.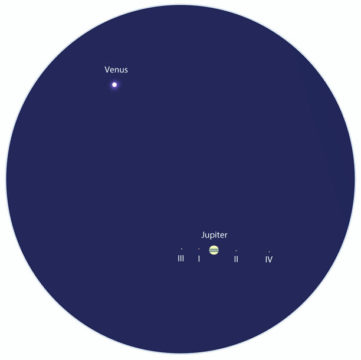 Venus will pop into view first, with Jupiter about 18′ to its right (south). European skywatchers will see them about 2′ closer together. The last time the two brightest planets were this close was on August 27, 2016 (0.1°); the next conjunction, a much looser one, will occur on January 22, 2019. Monday's close pairing makes a good opportunity to catch Jupiter in daylight. Just keep track of Venus after sunrise — a clock-driven or Go To telescope is preferred — and you'll easily spot Jupiter, too.
There's no avoiding the fact that Venus is on its way out of the morning sky. It's been losing altitude all fall. Tomorrow, November 9th, the planet rises in twilight with a solar elongation of 15°. Moving about 0.9° eastward each day, its distance from the Sun shrinks to 10° by month's end, making it tricky to find. 
Because Venus is approaching superior conjunction (January 9, 2018), when it's on the opposite side of the Sun from Earth, it appears to move much more slowly. That's why it's lingered for months at dawn before making an equally slow transition to the evening sky. At inferior conjunction, when the planet lies between the Earth and Sun, it zips from evening to morning in a matter of days.
Bad weather can always mess up observing plans, so if November 13th looks grim, try the 12th or 14th, when Jupiter and Venus will be about 1° apart. On the 16th, the old Moon drops by, hovering about 6° above the planet pair. An even thinner sliver of Moon shows up 4° to the left (north) of Venus on the 17th, some 24 hours before new Moon for observers in the United States.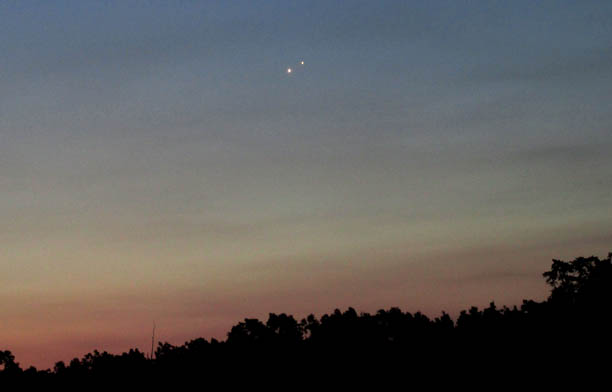 Eye-catching celestial events like the upcoming conjunction are blind to the calendar, ensuring that  even in the gray doldrums of mid-November we have something sparkly to look forward to.