January's astronomy podcast describes how to spot Mercury, Mars, Jupiter, and Saturn in the predawn sky during January — plus you'll learn about a "trifecta" full Moon at month's end.

Don't let winter's chill keep you from seeing the beautiful stars and planets arrayed in the night sky. (Believe it or not, Earth is closer to the Sun in early January than it is at any other time of the year.)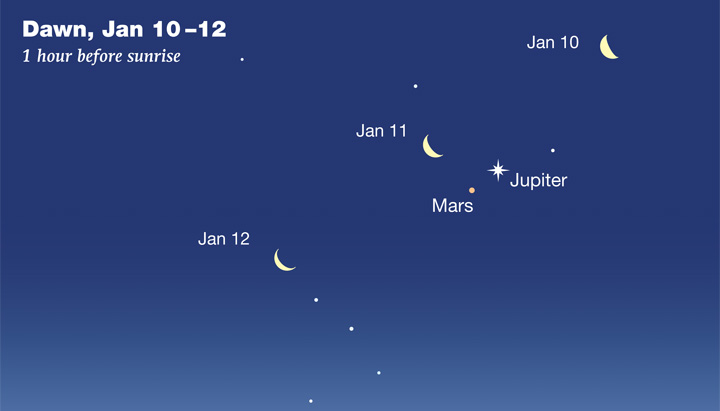 Planet-wise, all the action is in the morning sky before dawn. Go out 30 to 60 minutes before dawn, and you'll easily spot Jupiter well up in the southeast. But what's that other bright "star" right next to it? It's Mars! Listen to this month's astronomy podcast to figure out how they glide pass each other and when they'll be closest together.
Meanwhile, to their lower left, near the horizon, Mercury is making its best showing of the year. If you time your viewing just right, you'll be able to spot Saturn very close by. When will that happen? Check out this month's astronomy podcast for the answer!
To get started in stargazing — or to take a casual tour around the night sky — listen to or download our monthly astronomy podcast below. It provides an 8-minute-long tour of the stars and planets that you'll see this month.
Podcast: Play in new window | Download
Subscribe: Google Podcasts | Spotify | Stitcher | Email | RSS | More