As you'll learn in this month's astronomy podcast, Jupiter and Saturn will compete with brilliant Venus for your attention in the late-evening sky.
For summer-lovers in the Northern Hemisphere, June is a great month. The solstice, when daylight is longest, comes on the 21st at 6:07 a.m. Eastern Daylight Time. But if you love to savor the night sky, this is a minimalist month because the nights are so short. For most of us evening twilight doesn't end until 9 p.m. or later.
Of course, there's always plenty to see in the night sky after the Sun goes down, no matter what the time of year. S&T's astronomy podcast let's you know "what's up" this month.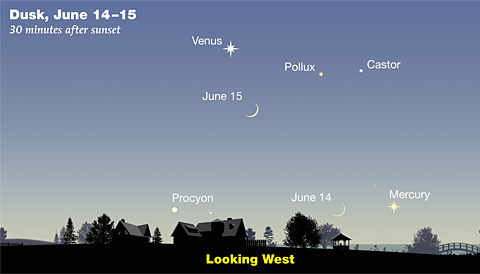 Venus still reigns supreme in the west as darkness falls. It sets more than 2 hours after the Sun. You'll see two medium-bright stars nearby. They're quite a pair — as you'll learn during this month's podcast — and they'll slide toward the western horizon and deeper into the evening twilight as the weeks go by.
Once twilight fades, turn around and look on the opposite side of the sky to spot Jupiter. It's quite bright and easy to spot. Right now the King of Planets is situated in Libra, which is well known as a constellation in the zodiac but rather small in area with only modestly bright stars. Our astronomy podcast tells you how to use Jupiter to identify Libra's two brightest stars, gives you their fun, lyrical names, and explains why they once were part of a different constellation.
Late in June, a third bright planet — Saturn — rises into the evening sky. It reaches opposition this month, so you'll be able to enjoy three brights planets at once.
For all the celestial highlights in the weeks ahead, play or download this month's 8-minute-long astronomy podcast (linked below).
Podcast: Play in new window | Download
Subscribe: Apple Podcasts | Android | Email | Google Podcasts | Stitcher | Spotify | RSS | More