As you'll hear in this month's astronomy podcast, Venus and Jupiter are putting on quite a show low in the east before dawn.
The return to standard time (November 5th in the U.S. and Canada) means that most of us are still heading home from work as evening's twilight sets in. but that's a good thing, because it means you can sneak in a little stargazing before dinnertime.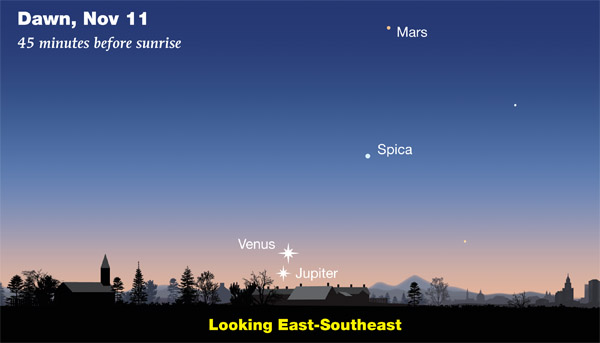 These shorter days also mean it'll likely be dark when you get up, and this month the predawn sky features some drama. Venus has been dazzling the past few months, but now it's dropping fast. It rises about 90 minutes before sunrise as November opens but only 45 minutes ahead of it at month's end.
Meanwhile, Jupiter is sneaking up from the horizon. As Venus sinks lower down and Jupiter rises up out of the twilight glow, the gap between them shrinks. At their closest they'll be only ¼° apart — but on which date does that happen? Listen to the podcast to find out!
The evening sky features Pegasus, the Flying Horse, which is almost overhead around 8 p.m. Look high in the southeast for a giant diamond in the sky that's about the size of your hand with your fingers spread wide apart. Skywatchers the world over know this as the Great Square, representing the chest of Pegasus. Look below it and to its right for compact groups of stars that mark three different constellations. (Which ones? The podcast will tell you!)
There's much more to see in the nighttime sky. To learn more, listen to or download our monthly astronomy podcast below. It provides a 7-minute-long tour of the stars and planets that you'll see this month.
Podcast: Play in new window | Download
Subscribe: Apple Podcasts | Android | Email | Google Podcasts | Stitcher | Spotify | RSS | More