In September's astronomy podcast, you'll learn what's special about the ringed planet Saturn, now visible in the evening sky.

September marks the transition away from northern summer to autumn, astronomically speaking. The equinox falls on September 22nd at 4:02 pm Eastern Daylight Time.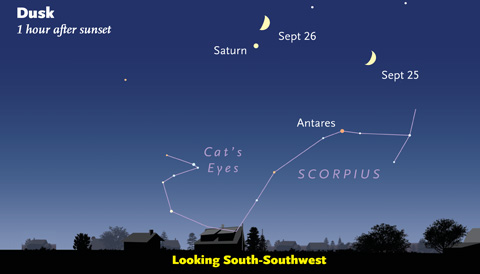 This month we say good-bye to Jupiter, lingering very low in the southwest
before disappearing into twilight. But Saturn is up in the south right after sunset. If you've got a small telescope, you'll be able to resolve its rings. September 15th will be an important day involving Saturn — listen to the podcast to learn why!
High overhead, Vega, Deneb, and Altair form the Summer Triangle, which is easy to spot no matter how much light pollution you have. Vega also anchors the magnitude (brightness) scale that astronomers have used for 2,000 years.
There's much more to see in the evening sky. To learn more, listen to or download our monthly astronomy podcast below. It provides a 6½-minute-long tour of the stars and planets that you'll see this month.
Podcast: Play in new window | Download
Subscribe: Apple Podcasts | Android | Email | Google Podcasts | Stitcher | Spotify | RSS | More