In this month's easy-to-download podcast, find out how you can glimpse Venus in both the evening and predawn skies.

March is a month of transition. First, clocks around the world will change to summer time (or come off it), a biannual time-shifting that occurs on March 12th in the U.S. and Canada. Then there's the equinox, the astronomical beginning of northern spring, on March 20th at 6:29 a.m. Eastern Daylight Time.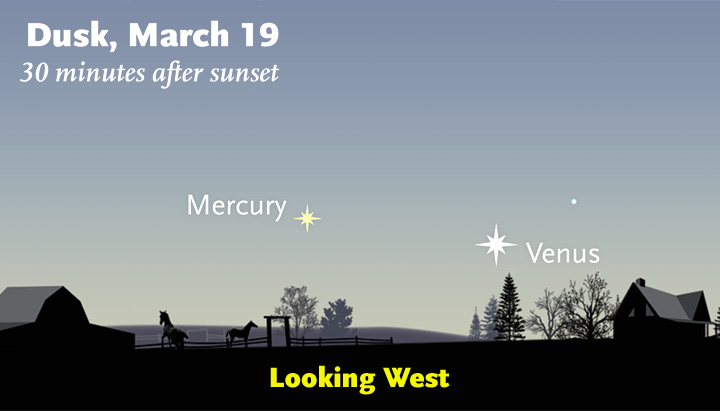 Big changes are also in store for Venus, which drops rapidly in the evening sky, passes well to the side of the Sun during inferior conjunction on March 25th, and then re-emerges above the eastern horizon before dawn. It's even possible to glimpse Venus one evening just after sunset and then see it the next morning before sunrise. Our podcast explains how.
Meanwhile, the planet Mercury rises up in the west after sunset, making its best evening showing of the year. And Jupiter is lurking low in the east in late evening, getting ready to dominate our spring and summer skies.
Learn how to spot all of these celestial treats — along with late winter's brightest stars, a winter triangle, and even a winter hexagon — when you listen to or download our monthly astronomy podcast below.
Podcast: Play in new window | Download
Subscribe: Apple Podcasts | Android | Email | Google Podcasts | Stitcher | Spotify | RSS | More