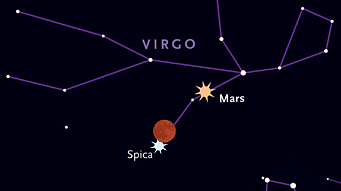 The month's big celestial event is a total lunar eclipse early on morning of April 15th — the first such coverup in 2½ years. Skies permitting, the eclipse will be observable in its entirety across North America and western South America.
Use Jupiter as a guide to take one last look at the brilliant stars of winter. Above it are the Twins of Gemini, Pollux and slightly dimmer Castor. Well to Jupiter's left is the bright star Procyon, and off to its right is Capella. Directly below Jupiter is the distinctive hourglass shape of Orion, the Hunter.
Jupiter has solely ruled the evening sky for several months, but now he's got some company. Once twilight has faded, look low in the east for a brilliant star that's the color of ginger ale. It's actually Mars. The Red Planet reaches opposition on April 8th, meaning it appears opposite the Sun in our sky.
There's plenty more to see in April's nighttime skies. Take a guided tour with this month's 7-minute-long audio audio sky tour: