Open clusters present a mystery. Some fall apart in a few hundred million years, others hang around for billions. Join me as we visit both the youngest and oldest star clusters in the Milky Way.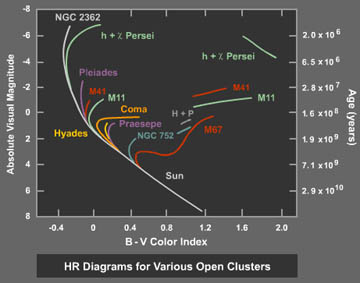 Look around the crowd at a fair and you'll see people of every age. In the same way, the night sky brims with open star clusters young and old. Some are babies like the bright stars of the Trapezium Cluster in the Orion Nebula. Only 300,000 years old, they're practically still teething. Yet in neighboring Auriga, you'll meet the oldest known open cluster in the Milky Way, Berkeley 17. At 12.6 billion years old, it gives the galaxy's most ancient clusters, the globulars, a run for their money.
Open clusters are loose groups of up to a few thousand stars all born from the same molecular cloud. About 1,100 are known to us at present. The average open cluster hangs together for some 300 million years. Eventually, tidal interactions with the Milky Way Galaxy, especially its massive molecular clouds, combine with the random motions of the cluster's members to deplete and disassemble the cluster. Before long the star cluster is indistinguishable from the background stars.
Clusters within the galactic plane and closer to the galaxy's massive core live shorter lives than those in more standoffish orbits that sidestep the tidal shocks of passing molecular clouds. In a cosmic irony, the same clouds responsible for the birth of new star clusters through gravitational collapse are equally adept unraveling them.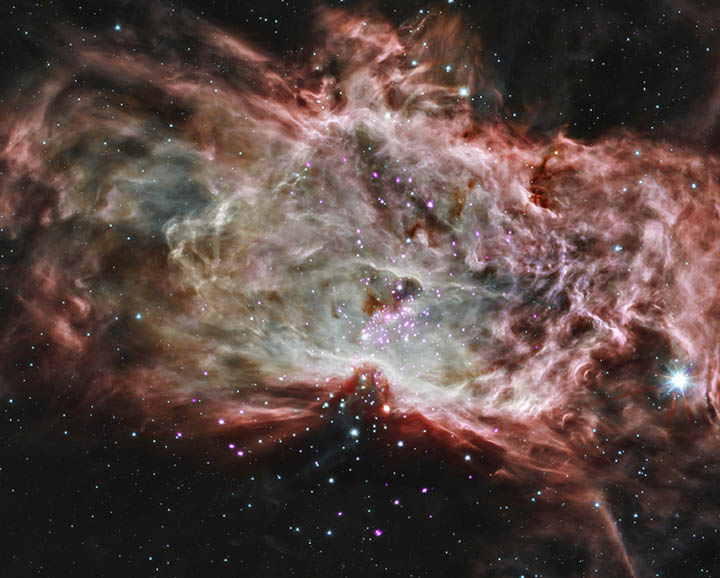 With the Moon now out of the evening sky and warmer nights ahead, let's visit the extremes of clusterhood and seek out examples of the youngest and oldest open clusters of the late winter/early spring sky. The youngest, a 200,000-year-old star cluster in the Flame Nebula (NGC 2024), is completely hidden by clouds of dark nebulosity, but sparkles in the dust-busting eyes of NASA's Chandra and Spitzer orbiting observatories. We can point our telescopes there and imagine.
The following observations were made with a 15-inch telescope, but many of the clusters are visible in much smaller instruments. Their ages are shown in parentheses, and north is up in all photos.
Young in fact
NGC 2264 in Monoceros (1.9 million years): After the Trapezium cluster in the core of the Orion Nebula, we move on to slightly older but still youthful stellar bunches beginning with NGC 2264, better known as the Christmas Tree Cluster. Centered on the bright, 5th-magnitude variable star, S Monocerotis, this loose collection is obvious in even a small telescope, with about 40 members outlining the shape of a Christmas tree. S Mon gleams angelically from the pointy top. Examine the star at high magnification to spy two fainter companions to its north and northwest. Birth curls of reflection nebulosity swath S Mon, but a prominent oblong patch to its southwest is much easier to see.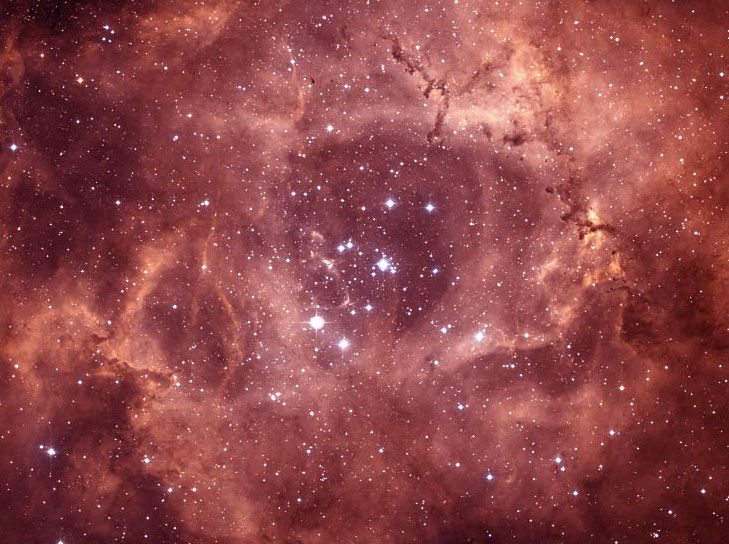 NGC 2244 in Monoceros (1.9 million years): This stunning cluster at the heart of the Rosette Nebula is bright enough to break into stars in simple binoculars. About 30′ across with 100 members, what stands out are the nine or so brightest, with magnitudes from about 6 to 8. They form two roughly parallel lines like a stellar causeway into the heart of the ghostly Rosette. Some sources date this cluster at 4 million years old.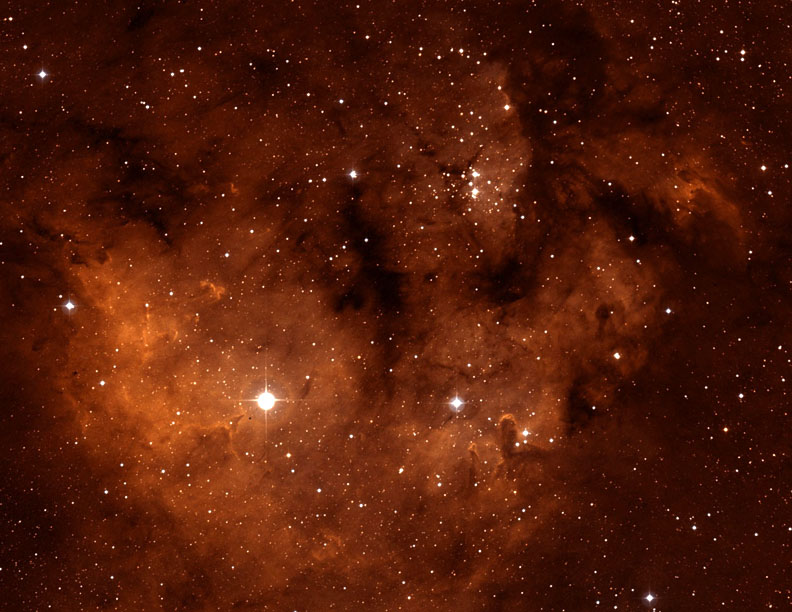 Berkeley 59 with Sharpless 171 in Cepheus (2 million years): The cluster and emission nebula together are known as NGC 7822, and both are easily visible at 64× in my 15-inch telescope. Berk 59 sits off to the northwestern side of the nebula with a knot of four stars at its center, the brightest of which glows like a red coal. Upping the magnification to 142× I could make out a rich background of fainter stars with 40–50 members total. Patchy nebulosity glowed all around but especially to the southwest and east of the cluster.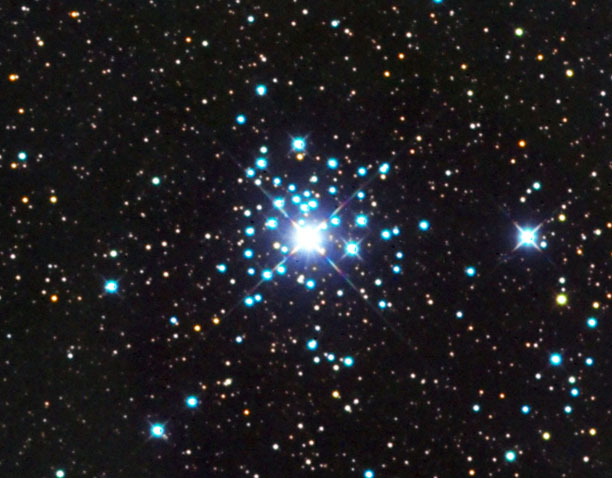 NGC 2362 in Canis Major (4.5 million years): Unlike the other kids, this one's birth clouds have either been used up, dispersed, or both. Oh, but what gems they left behind! Few clusters are so dominated by the brilliance of a single star, in this case 4.8-magnitude Tau Canis Majoris. Even in my 8×50 finderscope, Tau and entourage were obvious. Through the telescope, Tau sits almost at the center of the 6′ wide, well-packed cluster of 60 suns.
You might think the Pleiades, chock full of hot, B-type stars, is a young cluster, but its estimated age of about 100 million years is far older than any of our featured objects. Still, that's young as open clusters go as we're about to see.
Young at heart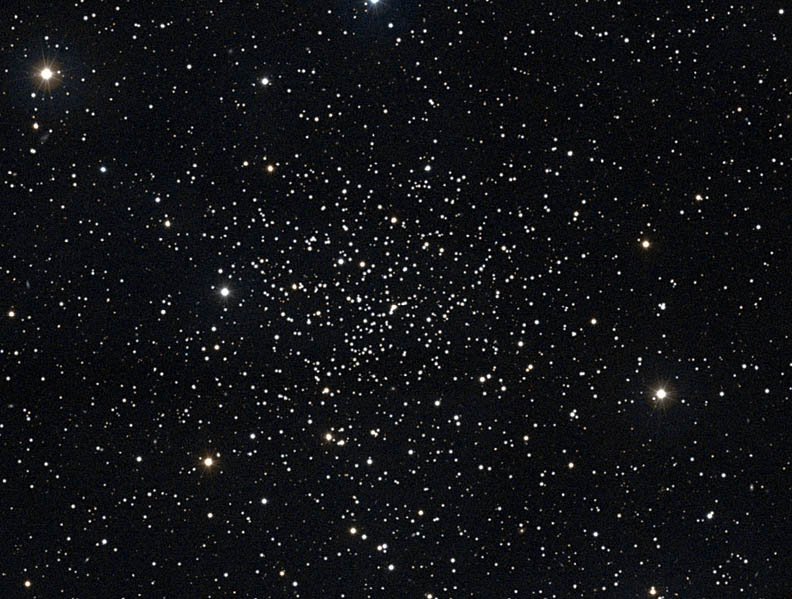 NGC 188 in Cepheus (7.2 billion years): It's easy to toss numbers around, but let's stop and consider 7.2 billion years. That's more than halfway to back to the Big Bang. More than 2 billion years before the Sun and its companion planets formed, NGC 188 was already well along the path to stellar adulthood, beaming light across the light-years unimpeded by the future Earth. At low power, NGC 188 is 15′ across and powdery with stars. Some are 10th and 11th magnitude and easy to to see, but behind this starry skeleton is the meat of more than 500 members. From a dark sky using medium magnification (142×), I can make out at least 125 down to magnitude 15 with averted vision. Overall, the cluster shines at magnitude 8; the finderscope even shows it as a faint misty spot, so there's something here for every telescope.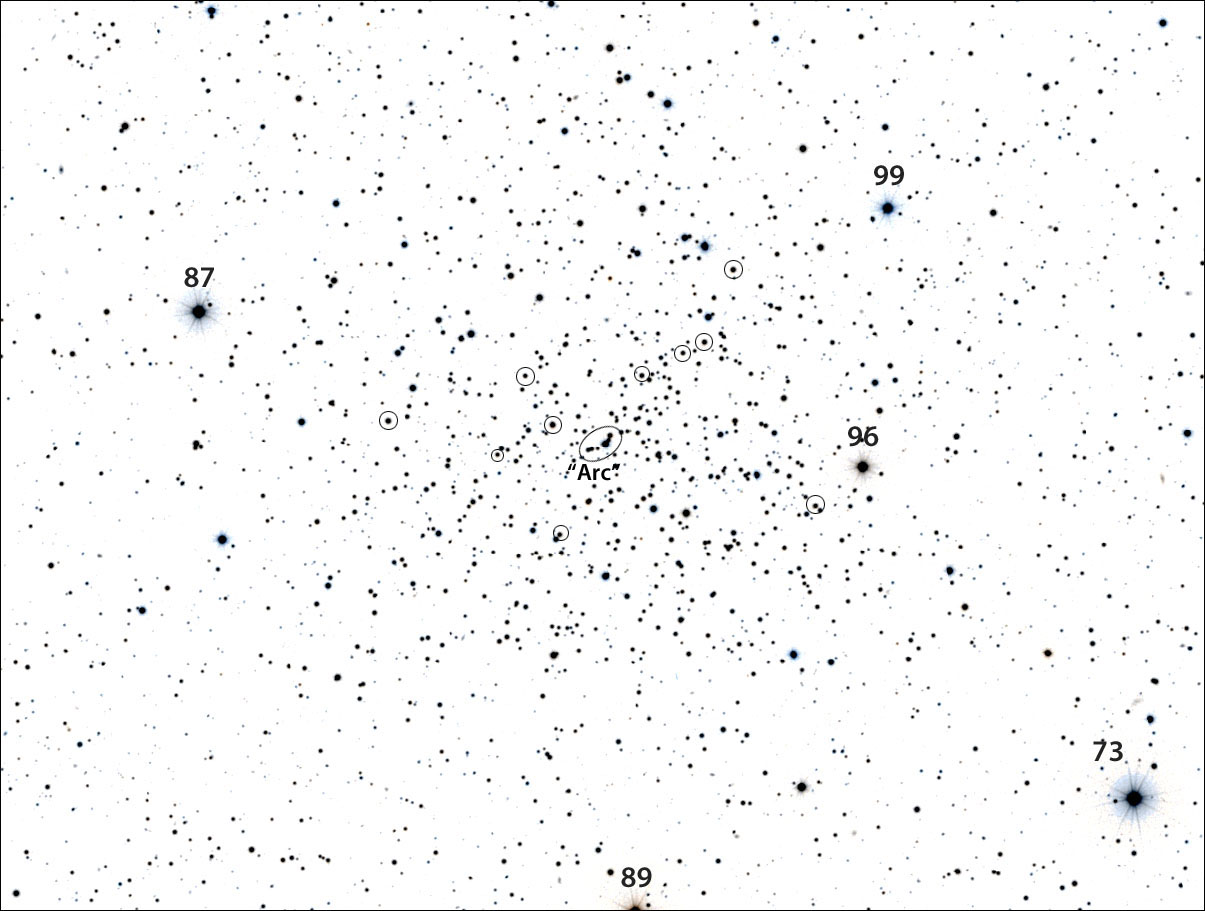 NGC 188 is not only rich with stars but rich in blue stragglers, stars that are much bluer and younger looking than they should be given the cluster's age. After much study, astronomers have determined that blue stragglers form in close binaries when a companion star evolves and expands into a red giant. The future straggler, a smaller star, siphons gas from its neighbor, growing more massive, hotter, and bluer in the process. Meanwhile, the companion star evolves into a tiny, hot white dwarf. I had a blast tracking down a half dozen of these curiosities. A few were very faint (~magnitude 15.5) but several were much easier, closer to magnitude 13.5–14.0. Try it yourself on a dark night. Although the color isn't evident to the eye, seeing a quirky stage of stellar evolution made for a fascinating encounter.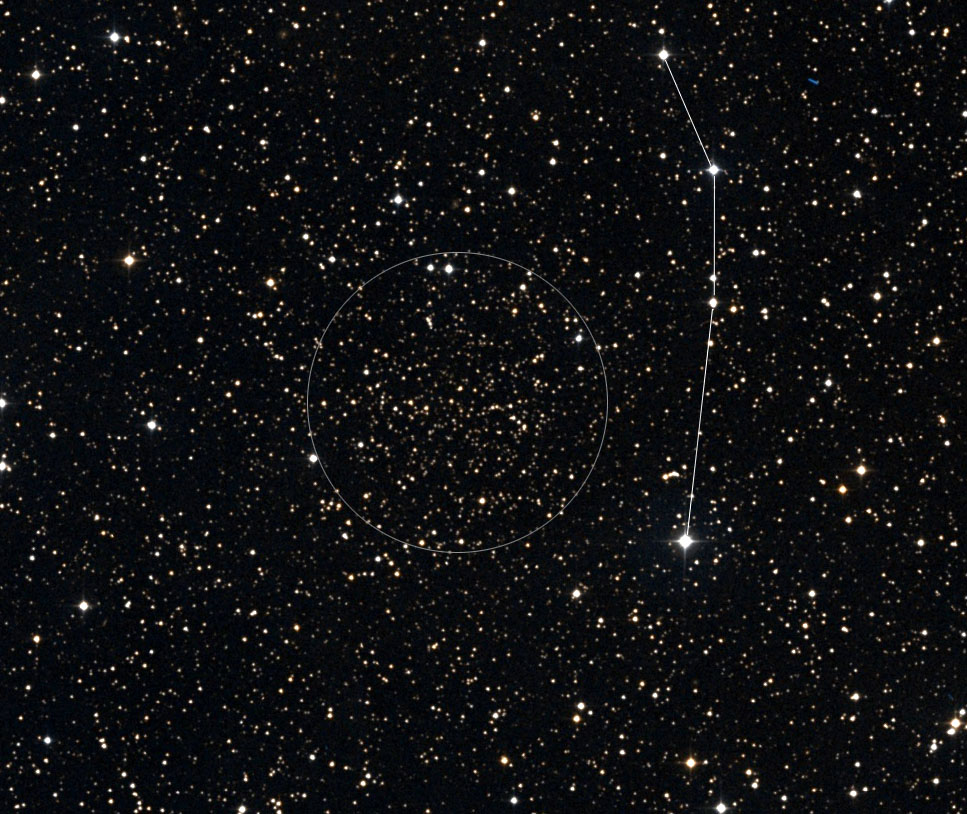 Berkeley 17 in Auriga (12.6 billion years): As best I could determine in my research, this cluster is the oldest known open cluster in the Milky Way with an age on par with the globular clusters M22 and M15. I've also seen age estimates of 10 billion years — it depends on which paper you read — but the 12.6 billion figure comes from this 2004 study. Whatever its exact age, it's exciting to catch at least a glimpse of this old-timer. I recommend a 12.5-inch scope or larger, dark moonless skies and magnifications between 150-250×. Allow plenty of time for dark adaption and make sure your averted vision muscles are limber. After several minutes I was able to make out a 3′-wide glow with hints of granulation. I may have seen some additional stars on a wider sweep of the area with averted vision, but I had truly reached my limit. What amateur can resist going to the wall?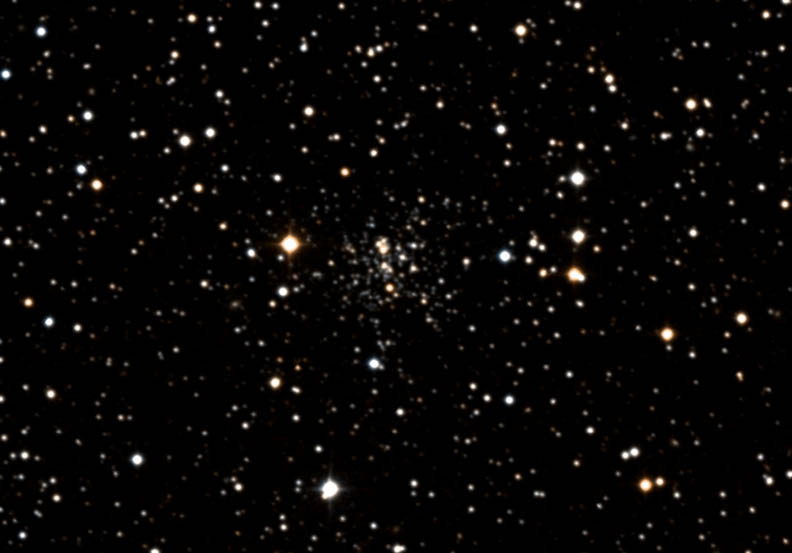 Berkeley 29 in Gemini (5.6 billion years): I'm constantly amazed at the diversity of sizes, star density, and brightnesses among open clusters. For instance, if tiny's your thing, Berk 29's where to go. Its given diameter is 2′ but it looked less than half that size because some of its suns were too faint to see. Wee as it was, I had no trouble finding it at 64×. Berk 29 was a knot of fuzzy light 30″ wide that resembled a galaxy at first blush. Upping the magnification to 142×, two stars materialized from the haze, and at 242× I glimpsed a few more with averted vision but sensed riches just beyond my retinal grasp.
Berk 29 may not be the oldest open cluster, but it is the most distant known at 48,480 light-years. It would be fair to say that's one reason it looks so small.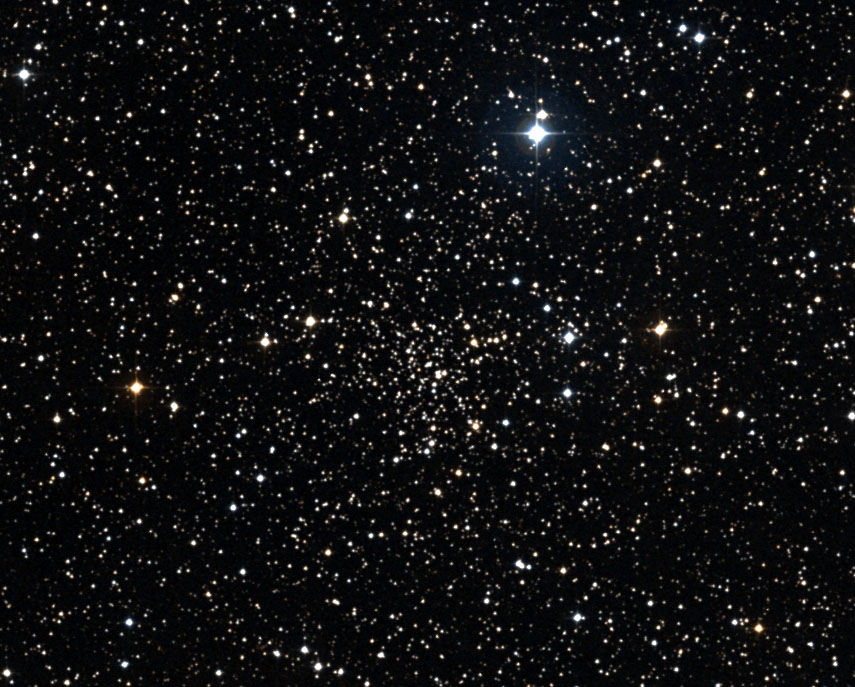 Berkeley 32 in Monoceros (7.2 billion years): Berk 32 is also known as Biurakan 8 and plotted as such in the Uranometria 2000.0 atlas. This is a nice, easy low power cluster 5′ across with ~35 stars of magnitude 12-13 that stand out well from the background. A pleasant surprise awaited at 142× where I saw a denser, hazy patch northeast of the center composed of 14th- and 15th-magnitude stars. I estimated about 70 stars total.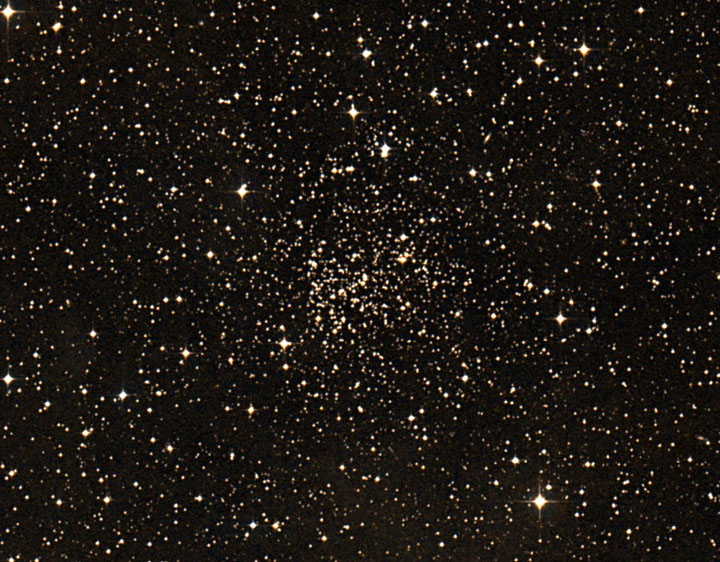 Berkeley 39 in Monoceros (7.2 billion years): I see a faint, soft, granulated cloud 8′ across with a smattering of ~13th-magnitude stars visible at low magnification. I love the mistiness of fainter star clusters. It gives them an air of mystery and eggs us on to experiment with higher magnifications to see what's there. Berk 39 didn't disappoint. Scaling up to 142× revealed about 75 stars in the 14–15 magnitude range.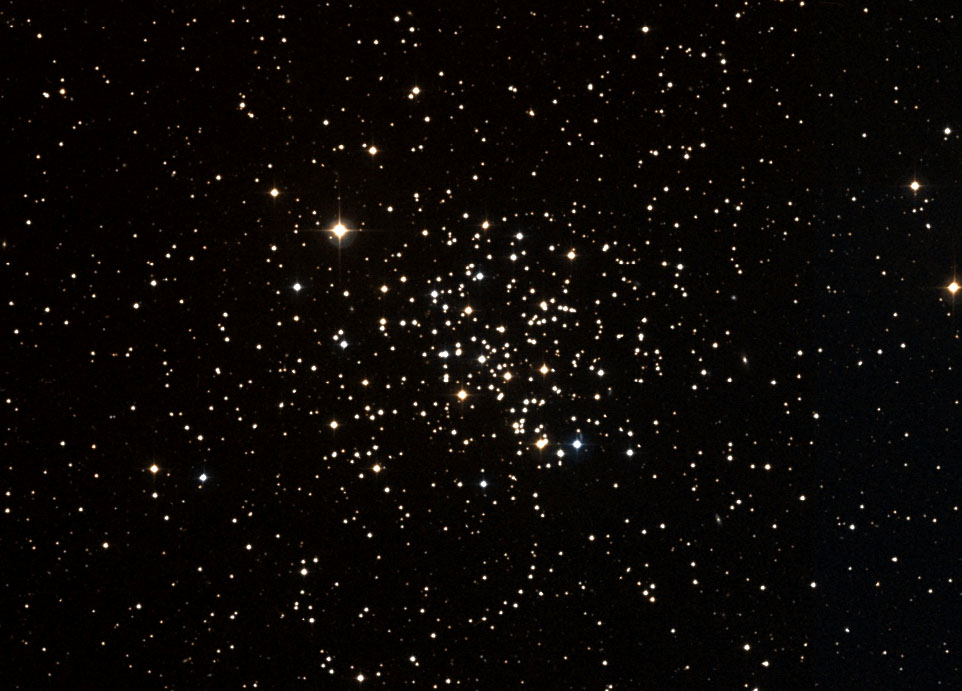 M67 in Cancer (4 billon years): M67 comes to the rescue of toiling eyeballs with a fantastic spray of a couple hundred stars gleaming with a total magnitude around 6. Through my "south is up" scope the stars form the shape of a bird on the verge of flight. M67 is a rich cluster of bright stars about 30′ across accessible even with binoculars. The cluster's a tad younger than the solar system and about 2,700 light-years distant. With more than 100 Sun-like stars about the same age as the Sun, there's been speculation that our star was once a member of the cluster but was ejected during an encounter with an intergalactic cloud. Unfortunately, computer simulations show this can't be so. Pity. It would be have wonderful to know we were born in such great company.
I've included two wide-view maps below to get a general idea of the clusters' locations and close-up maps for the fainter clusters with stars to magnitude 10: Berk 29, Berk 17, Berk 39, Berk 32 - NGC 2244 - NGC 2264 and NGC 188 - Berk 59. Click, save, and print them out. Happy cluster hopping!