With the Moon riding high this week, what better time to look for its three best-known yet enigmatic "ring" craters?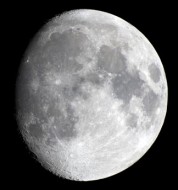 We welcome back the waxing Moon this week. It's a chance for many of us to put dark-sky targets on the back burner and give some love to she who lights the night. During fall, the evening Moon "rides low" in the southern sky during its most attractive phases. Not until January does the ecliptic's steepening angle to the horizon finally loft the quarter Moon high in the southern sky, where it's viewed to best advantage.
February continues what January began. Each night, from now until early March, the "high-riding" Moon dares anyone with a telescope to brave the cold and behold an alien world up close. Each night, the terminator advances eastward, revealing thousands of new features, including three of the most remarkable craters you'll ever see — Hesiodus A, Crozier H, and Marth.
All three belong to a weird breed called concentric craters. Concentric craters are generally small, so you have to really look for them. None jumps out like, say, Copernicus or Tycho. There are about 58 all told, with diameters ranging from 3-20 km (average 8 km), each containing an inner ring usually about half as wide as the crater.

At first impression, you might think two unrelated impacts occurred precisely atop another, excavating not one but two crater rims. When I first saw Hesiodus A, the best and easiest of the trio, it struck me as artificial. How could something so symmetrical exist on the battered Moon?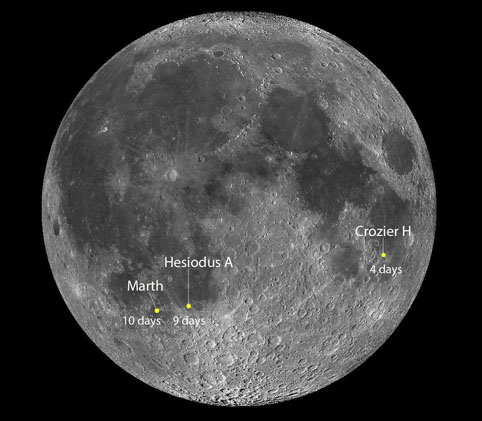 Some of the rings look like bagels or donuts, others are clearly rings of hills. Some are elliptical like Crozier H, and others more circular like Hesiodus A. Most occur near the margins of the dark lunar seas (or maria) and the crater-scoured highlands where volcanic activity was intense in the distant past. And as we'll learn, their location provides a clue to their origin.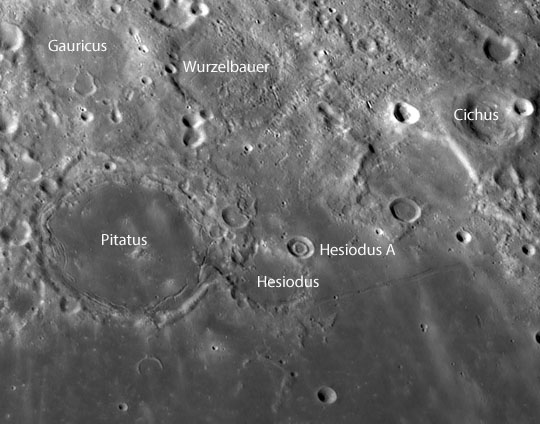 Hesiodus A, the easiest, can be seen in a 4.5-inch telescope. The others will require a 6-inch or larger scope. Remember, all are relatively small and their inner rings smaller, so don't shy from high magnification once you've found your target. Crank it up to 200x-250x. Unlike some lunar features which disappear in the shadowless sunlight of the full Moon, many concentric craters remain visible, looking like bulls-eyes.
Not too far from our first target, you'll find the 7 km-diameter crater Marth. This one's really small, but the bone-white inner ring pops out in an 8-inch scope. Crozier H is a bit easier to make out than Marth and occupies a busy cratered area along the edge of Mare Fecunditatis in the eastern half of the Moon.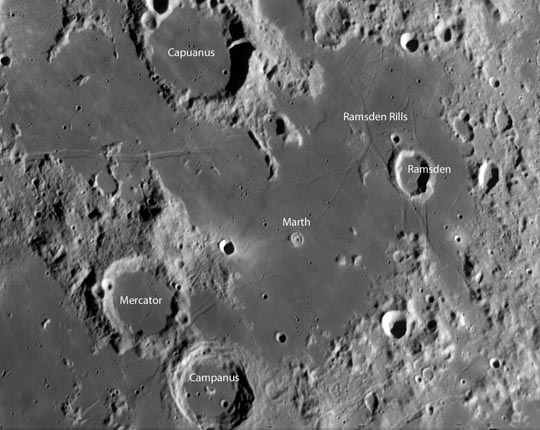 A variety of hypotheses have been proposed to explain the origin of concentric craters' unique inner rings, everything from simultaneous impacts to mass wasting (rock and soil moving downslope under the force of gravity) to impacts in dual-layered lunar shield volcanoes better known as domes.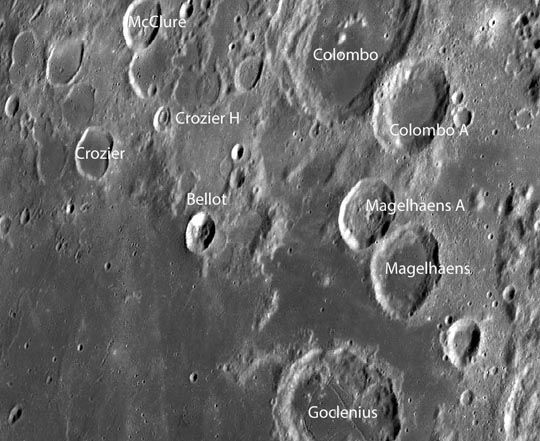 But based on the distribution, size, and other characteristics of concentrics, lava welling up through fissures or cracks in the craters' floors appears to be the best fit. Many lunar craters show evidence of lava flooding. Well-known examples include Plato, Archimedes, and the beautiful Bay of Rainbows aka Sinus Iridum, once a huge basin but nearly submerged by lavas that poured like hot oil across the lunar plains between 3.3 and 2.5 billion years ago.
Exactly why the lavas in concentric craters bubbled up to form donut-like rings remains unclear. It may have to do with cracks preferentially forming along the edges of crater floors, or the rate of lava flow as well as its texture. A plug of molten rock beneath the crater may have lifted up its floor, which later deflated in the center like a collapsed soufflé, leaving a ring. It's even possible that dense impact melt on the crater floor resisted uplift from lavas pushing up from below. Whatever the specific reason, most lunar experts agree that concentric craters owe their formation to volcanic processes.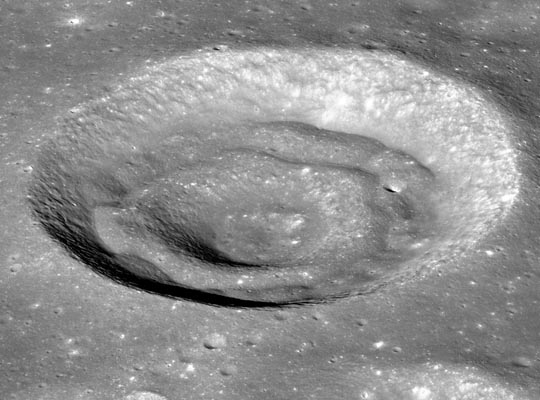 If you've tackled our three examples and crave more concentricity, head over to this gold mine for additional challenges. Wishing you a "ringer" on your next night out!
---
Wondering what to call that crater? Use a Sky & Telescope Moon Globe to guide your explorations of the lunar surface!