Complete guide to Friday night's triple shadow transit of Jupiter's moons and a remarkable "pre-game" show of mutual events.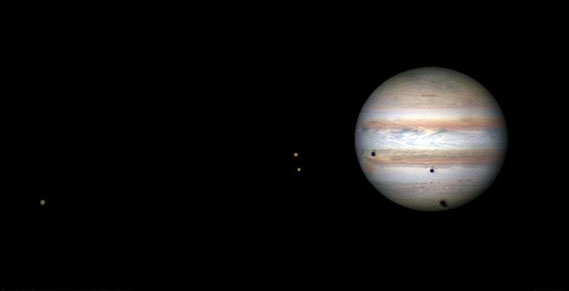 Cross your fingers and hope that Friday January 23rd will be clear. That night observers from western Europe to the Americas will witness a rare triple shadow transit of three of Jupiter's moons — Io, Europa and Callisto.
Jupiter and his four bright satellites are one of the first things a novice astronomer looks at through a telescope. Catching the moons in new and surprising arrangements as they circle about the planet night after night makes for never ending observing enjoyment.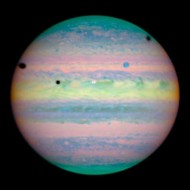 Sometimes a moon will undergo eclipse and disappear in Jove's goliath shadow or pass in front of the planet and cast its own piercing black shadow on the cloud tops below. The latter are called "shadow transits." Seeing one a week isn't unusual, but count yourself lucky if you witness two simultaneous shadow transits.
Rarest of all are triple shadow transits. When averaged out, they occur only once or twice a decade. The last for the Americas was October 11-12, 2013 and this Friday will be the next. Don't miss it. We won't see in the U.S. another until December 30, 2032!
The first shadow to touch down is Callisto's, at 9:11 p.m (CST) Friday night, followed by Io's at 10:35 p.m., and then Europa's nearly two hours later at 12:28 a.m. Saturday morning. All three will freckle Jupiter's face simultaneously for just 24 minutes. At 12:52, Io's dark pinpoint is the first to leave the stage, followed by Callisto's, and finally Europa's at 3:22 a.m.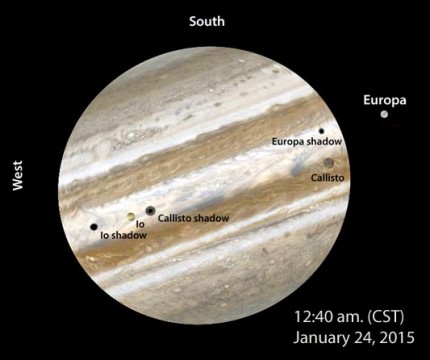 Let's look at how each part of the event will play out. Times below are CST. Add an hour for EST, subtract an hour for MST and two hours for PST. Universal Times (UT) are shown in parentheses.
* Callisto's shadow enters disk - 9:11 p.m. (3:11 UT)
* Io's shadow enters disk - 10:35 p.m. (4:35 UT)
* Europa's shadow enters the disk - 12:28 a.m. (6:28 UT)
** TRIPLE TRANSIT from 12:28 - 12:52 a.m. (6:28 - 6:52 UT)
* Io's shadow leaves disk - 12:52 a.m. (6:52 UT)
* Callisto's shadow leaves disk - 2:00 a.m. (8:00 UT)
* Europa's shadow leaves disk - 3:22 a.m. (9:22 UT)
Jupiter will be well-placed for the Americas during the triple play, high in the south-southeastern sky. European observers will see it happen around dawn Saturday morning, when the planet's about 20° up in the western sky.
The satellites themselves will also transit Jupiter's disk overnight Friday; between moons and shadows, the giant planet won't be free of comings and goings until 5:02 a.m. (CST) Saturday morning! The moons' tiny disks are relatively easy to see near the planet's limb, but require good seeing, sharp optics, and moderate magnification to discern when superimposed on the planet. Shadows are much easier because of the strong contrast they make against the white ammonia clouds of Jupiter's equatorial region.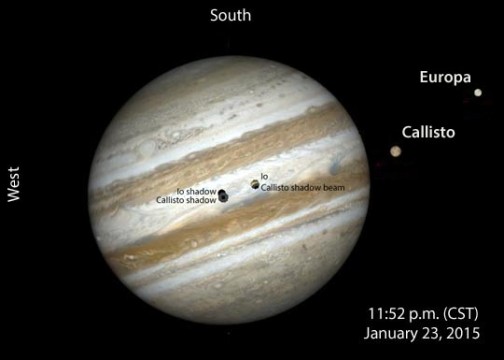 While triple transits are rare events, this one's particularly unique as it occurs during the middle of Jupiter's mutual event season when Earth and Sun cross the plane of satellites' orbits, causing the four Galilean moons to mutually occult and eclipse one another.
When coupled with the varying orbital speeds of the moons — Io moves fastest and Callisto slowest — get ready for an amazing pre-game show. Around 11:52 p.m. (CST), not long before the triple transit gets underway, Io's shadow will catch up and nearly merge with Callisto's. Theo Ramakers, an amateur astronomer from Oxford, Georgia, points out that at the same time, Callisto's shadow beam will graze Io itself, partially eclipsing it. Then around 12:20 a.m., Io will catch up with Callisto's shadow and partially cover it for a brief few minutes. The moon will dilute the shadow's blackness enough to be noticeable visually through a telescope.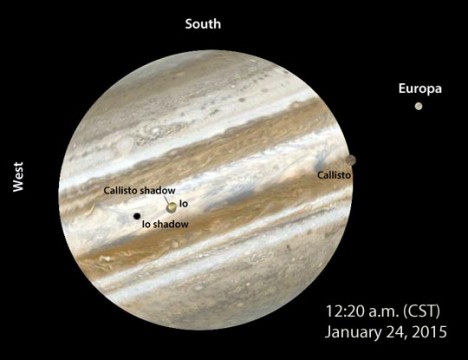 Wow! And here I thought we were "only" going to see a triple transit. Looks like the pre-game show will be nearly as interesting.  If nothing else, all these events truly help us appreciate the 3D environment of the space around Jupiter.
Be sure to allow your telescope to cool to air temperature before the transit, so you can achieve the sharpest views possible. But don't leave the eyepieces out! They'll soon be covered with frost or dew. While magnification is partly a matter of taste, I prefer around 140x - 200x for Jupiter watching. Rarely does midwestern weather allow higher power without images turning to mush.
As always, clear skies! And if it isn't clear or you don't have a telescope, LA's Griffith Observatory will be livestreaming the event starting the evening of the 23rd.