February's Sky Tour astronomy podcast urges you to get outside early to gaze on three bright planets — then return in the evening to spot two more.


This podcast is sponsored by Celestron, manufacturer of high-quality telescopes and an industry leader in developing exciting optical products with revolutionary technologies.
LISTEN HERE:

Podcast: Play in new window | Download
Subscribe: Google Podcasts | Spotify | Stitcher | Email | RSS | More
This month we'll track the Moon's whereabouts, then we'll check out the morning sky before dawn, which features the planetary trifecta of Venus, Jupiter, and Saturn. Move to the evening sky just after sunset, when you'll see Mars and have a chance to glimpse Mercury. And wrap up your guided tour with Orion, the Hunter, and his canine companions.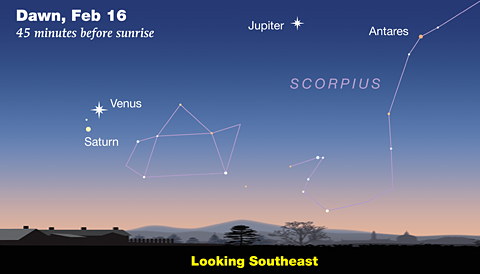 If you're up before 6 a.m., take a few minutes to step outside and look toward east. That dazzling beacon looming over the horizon is Venus, and, wow, is it obvious! Cloud-covered Venus outshines every other star and planet in the nighttime sky. Look a little longer, and you'll see that Venus has company. To its upper right is Jupiter, which is not nearly as bright despite being the largest planet in our solar system. To the lower-left of Venus is Saturn. The three planets trace out a diagonal line in the sky. Follow their changing positions week by week with our "Sky at a Glance" posts.
February's evening sky offers one planet that's easy to spot. That's Mars, which is perched about halfway between the sunset point and overhead. Toward the end of February, the elusive planet Mercury makes a brief appearance low in the west not long after sunset.
To find out where and when to spot these planets — along with Orion, other constellations in his vicinity, and the controversial Pleiades star cluster — play or download this month's episode.