Jove begins a new apparition with a redder Red Spot, pirouetting moons, and ever-changing cloudscapes.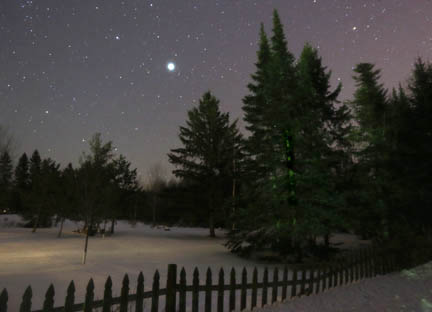 I see a new face in the east now when I take the dog for her evening walk. Jupiter has returned, the first of the morning planet crew to transition to the p.m. side.
Although Jupiter reaches opposition on March 8th, when it'll be closest to Earth and brightest for the year, it's nearly as impressive right now. Watch for the planet to rise high enough for a sharp, clear view by 9:30-10 p.m.
We greet the biggest planet with new enthusiasm each year in part because its constantly changing and often unpredictable weather means surprises in the telescope. Will a cloud belt go missing? What color will the Great Red Spot (GRS) be this season? While no major belts have disappeared (so far) this winter, I have good news on the GRS front. Instead of the usual pink, pale orange or tan color we've seen so often in the past dozen years, the Spot really looks red.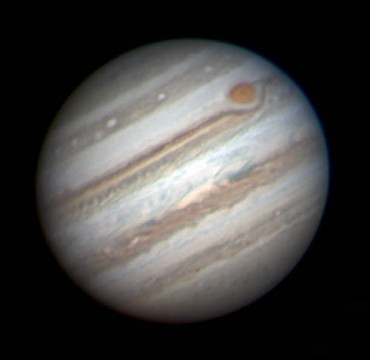 I observed it several nights ago in my 10-inch reflector astride the planet's central meridian (CM), an imaginary line crossing from north to south that exactly bisects Jupiter's globe. Though the Spot has shrunk considerably in the past few decades, I'm thrilled to report that its color this season resembles a cherry sucker. Australian amateur Anthony Wesley, avid Jupiter watcher and discoverer of the 2009 Jupiter impact event, concurred in an e-mail exchange earlier this week:
"It's very red this year and makes a nice change from the very pale orange we had a few seasons ago which made it almost invisible at the eyepiece," wrote Wesley in an e-mail.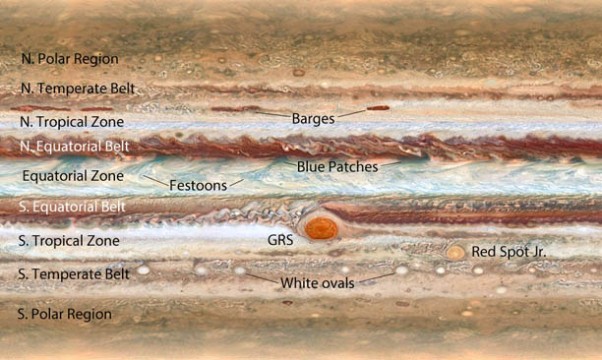 Jupiter has a lot to like. It's big, bright, and shows off at least two prominent cloud belts — the Northern and Southern Equatorial Belts — and four moons in even the smallest telescope. Larger scopes and higher magnification can tease out additional belts separated by pale "zones"; the Red Spot Hollow, a crisp indentation within the South Equatorial Belt; blue patches or clearings within the Equatorial Zone, also home to the plume-like festoons.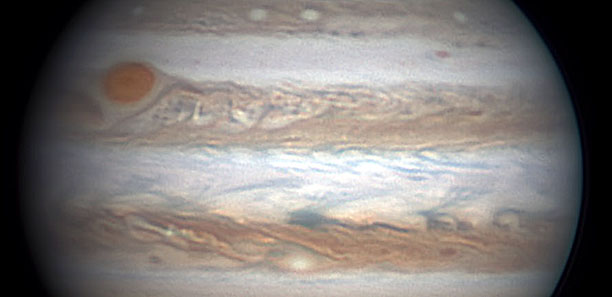 Occasionally one or more dark, elongated clouds called barges can appear strikingly red-colored or create the impression of a partial belt. Be on the watch for changes ... anywhere! The area following (east of) the Red Spot displays a curious "bubbly" texture, while Red Spot Jr., the result of the merger of three white ovals several years back, slowly drifts around the planet. In July 2006, it was "in conjunction" with the GRS; despite their proximity, both spots emerged unscathed.
Even at low power, Jupiter looks slightly oval. Its vast, gaseous globe is flattened by the planet's rapid rotation, which also causes its clouds to be drawn out in long, parallel stripes. Because sunlight illuminates the outer edge of the giant planet from a low angle, and we look through more of its atmosphere to see down to the cloud tops, Jupiter exhibits noticeable limb darkening.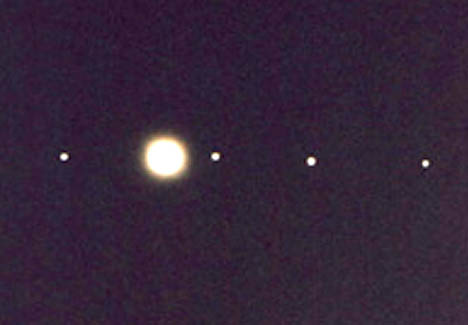 We can use this to our advantage when watching the four bright moons transit the planet. Io and Europa, being fairly reflective and small, often disappear from view when directly in front of Jupiter but stand out like tiny pearls against the dusky limb as they enter or exit the globe.
Watching shadows cast by the moons on Jupiter's cloudscape helps us to better picture the Jovian system in three dimensions with the Sun off to one side, the moons hovering above the planet, and their shadows projected below.
No two shadows are alike — Europa's looks only a little larger than a pinpoint; larger Ganymede as big as a pinhead. It's fun to imagine being in the shadow of a Jovian moon, watching a total eclipse of the Sun from the tops of Jupiter's blustery ammonia-ice clouds.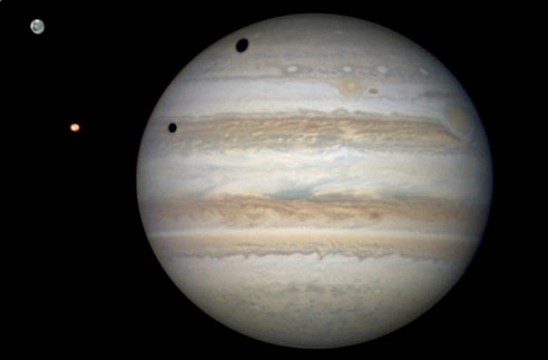 Moons also pass in and out of eclipse as they enter and exit Jupiter's shadow. If you plan your evening right, you can observe a bright moon slowly fade to invisibility as it undergoes an eclipse or magically reappear as it frees itself from Jove's shadow. Each of the four bright moons, Io, Europa, Ganymede, and Callisto, has a different period of revolution around the great planet, providing an endless supply of transits, eclipses, and just-plain-picturesque alignments.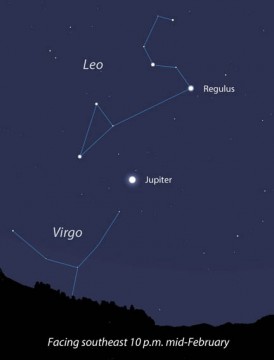 Because Jupiter takes a similar path around the sky as the moon, every year we're treated to several fine conjunctions; the next occurs on the evening of February 23, when the two will be just over 2° apart.
You can get find out when to expect transits and eclipses at Sky & Telescope's Jupiter's Moons site. To get the best views of the Great Red Spot, you'll need to know when it transits the planet's central meridian. No problem. Check out the GRS Transits page.
We'll get you started with shadow transits for the remainder of this month and rarer double transits visible next month in North America during convenient viewing hours. Times shown below are CST or CDT. Add 1 hour for Eastern, subtract 1 hour for Mountain and 2 for Pacific:
February
* Feb. 18–19: Europa shadow transit 10:38 p.m. – 1:27 a.m.
* Feb. 20: Io shadow transit 8:12 – 10:28 p.m.
* Feb. 27–28: Io shadow transit 10:06 p.m. – 12:21 a.m.
* Feb. 29–March 1 – Leap Night: Relatively rare shadow transit of Callisto 9:08 p.m. – 12:16 a.m. Only one visible for North America during March. Of the four moons, Callisto lies farthest from Jupiter, so the shadow it casts falls much farther from the center of the planet than closer-in Io and Europa. Watch for it in Jupiter's north polar region.
March
Double shadow transits only with two shadows on the disk at the same time. Times are Central Daylight:
* March 14–15: Europa shadow transit 8:46 – 11:13 p.m.; Io shadow transit 9:22 – 11:37 p.m.
* March 21–22: Io shadow transit 11:15 p.m. – 1:31 a.m.; Europa shadow transit 11:23 p.m. – 2:11 a.m.
* March 29: Io shadow transit 1:10 – 3:25 a.m.; Europa shadow transit 2 – 4:47 a.m.
Great Red Spot transit times:
Feb. 17 (9:27 p.m.), 19 (11:05 p.m.), 22 (12:43 a.m. and 8:34 p.m.), 24 (10:12 p.m.), 26 (11:50 p.m.) and 27 (7:41 p.m.)