China's premier space station, Tiangong 1, has a one-way ticket into the Earth's atmosphere later this month. See it before it's no more.
Update (March 23, 2018): The European Space Agency has narrowed down the timeline for Tiangong 1's reentry to sometime between March 30th and April 3rd, though the timing is still uncertain. Read more from the ESA here.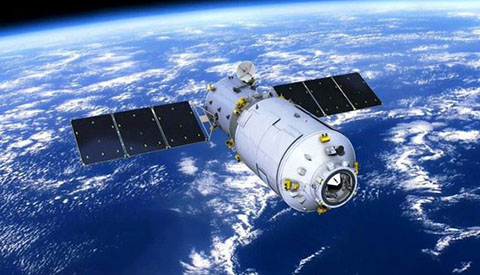 Don't look now, but a whole lotta metal will be falling out of the sky. Soon. And we're not talking meteorites. China's Tiangong 1 space station is staring down its final weeks with re-entry predicted sometime between March 24th and April 10th. Of late, the 8.5-ton spacecraft has been losing altitude at the rate of 6 kilometers a week from atmospheric drag. Although it's impossible to predict even an approximate landing site until hours before re-entry, Tiangong 1's orbital inclination makes anywhere between 43°N and 43°S fair game.
Launched in September 2011, Tiangong 1 (Chinese for "heavenly palace") was China's first space station. After several successful manned and unmanned missions, Chinese National Space Administration (CNSA) officials extended the spacecraft's life for two years until they lost telemetry in March 2016. By June of that year, amateur satellite watchers reported that the station was out of control, a fact that the CNSA finally conceded three months later.
The original plan was to de-orbit the space station with a controlled thruster burn for a safe breakup over the Pacific Ocean. But without telemetry, the craft can no longer be controlled, so re-entry depends entirely on the vagaries of atmospheric drag complicated by the effects of Sun-driven space weather.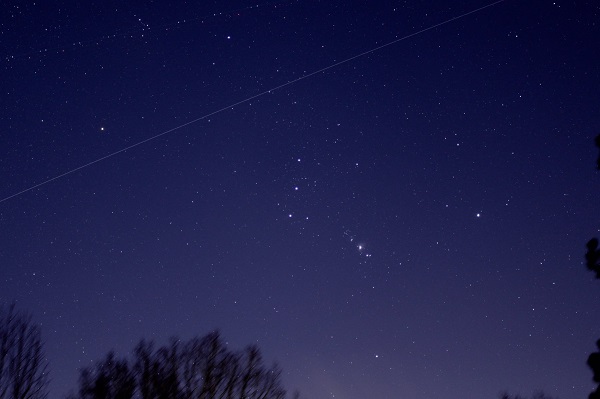 Not until hours before re-entry will we have a good idea of where heaven will meet earth. Although it can fall anywhere within the zone mentioned earlier, the California-based Aerospace Corporation predicts a higher probability in either of two narrow belts of latitude from ~39°N to 43°N and ~39°S to 43°S. In the southern hemisphere, these latitudes include sections of Chile, Argentina, Tasmania, and New Zealand. In the northern, Italy, Spain, and a strip of U.S. states from New York to California lie within this preferred path.
Chances are that any surviving fragments will fall in the ocean, but there's always a tiny possibility pieces could slam into the ground where they might be recovered. Getting hit by a human-made "meteorite" is exceedingly rare, with odds estimated at about one in a trillion. You're a million times more likely to win the Powerball jackpot. In all of spaceflight history only one person has ever been struck by space junk. That would be Lottie Williams of Tulsa on January 22, 1997. She was 48 at the time and out on an early morning walk when a metal fragment of a re-entering Delta II rocket struck her left shoulder with a glancing blow. She was not injured.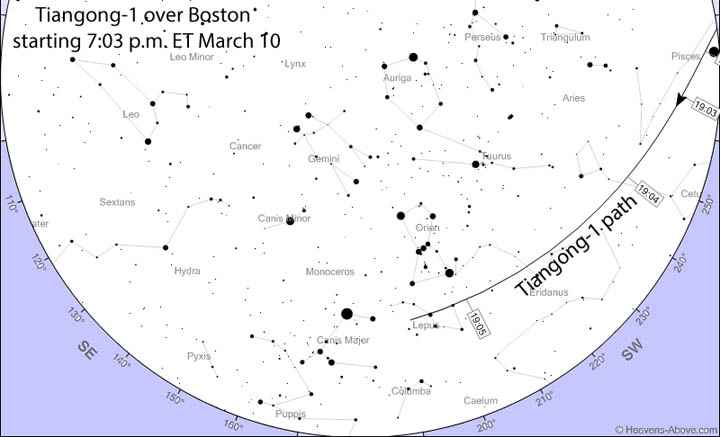 Before Tiangong 1 hits the drink, observers in the U.S. and other locations have several chances to see it. This week through the middle of next (about March 13th), the doomed station will make 1–3-minute-long passes during convenient evening viewing hours. Tiangong 1's magnitude will vary from as bright as 0.2 to as faint as 4 depending on the altitude of the pass. The higher, the brighter.
After the 13th (give or take), the satellite will move into the daytime sky and then reappear at dawn sky at the end of March. The dawn run concludes about April 10th. Should Tiangong 1 still be in orbit after that date, it will return to the evening sky in mid-April.
To find out when and where to look from your location, go to Heavens Above and login. If you're not registered, you can still click the Change Your Observing Location link in the column on the left side of the opening page to add your city. Then return to the opening page and click the Tiangong 1 link for a table of upcoming passes. If you see nothing listed for the period, click on the right-pointing arrow for the next set of passes. Try again if necessary until you see a list of times. When you click a date link, a map showing the spacecraft's path pops up. Because of its evolving orbit, pass times may vary a bit, so check back regularly. The space station will look just like a star moving from west to east across the sky.
Maybe, just maybe you'll get to see its transformation from a point of light to a slow-moving fireball when it finally plummets to Earth. If you're exceptionally lucky, a piece might just show up in your backyard. Leave it be, as experts believe there's still toxic hydrazine propellant on board.
Speaking of satellites, this is also the month that Humanity Star begins making evening passes from many northern hemisphere locations. Follow the same directions as you did for Tiangong 1 but click on the Humanity Star link to get times and maps. Despite initial predictions, the flashing satellite isn't expected to shine brighter than 4th magnitude. **Update: I got eyes on this satellite for the first time on March 10.1 UT, when I spotted it in binoculars just west of the Pleiades. Humanity Star was on schedule and exhibited bright, quick flashes of varying magnitude. I next lowered the binoculars and found it with just my eyes. The brightest flashes were about magnitude 2. Popped like a strobe!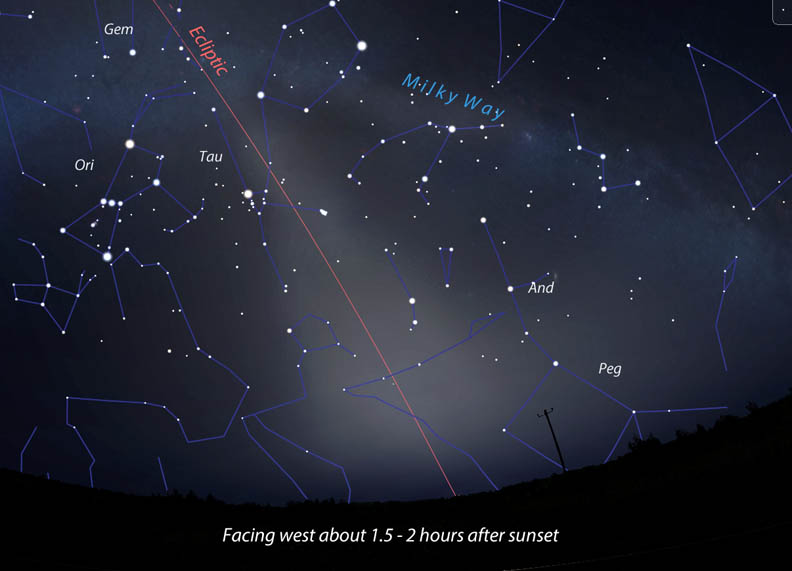 As long as you're watching for satellites, keep an eye out for the zodiacal light, especially if you have access to a dark sky. Evenings are moonless now and March through early April are peak times to see this big, fuzzy cloud of comet and asteroid dust. Face west from 1½–2 hours after sunset and look for a tapering cone of soft, diffuse light reaching up from low in the western sky past the Pleiades and through Taurus until it tickles the toes of the Gemini Twins. The cone is broader and brighter — at least as bright as the summer Milky Way — at its base and fades and tapers the higher you look.
Dust boiled off comets cycling around the Sun is the major contributor to the zodiacal light, but colliding asteroids provide material, too. The dust gathers in a vast cloud that extends at least to Jupiter and reveals its presence by scattering sunlight. Plan a drive to the country to see it best. Skies will be moonless now through March 18–19. Don't miss the sight of one of the largest entities in the solar system.