With Saturn to point the way, it's time to venture into the Kuiper Belt and pay a visit to Pluto.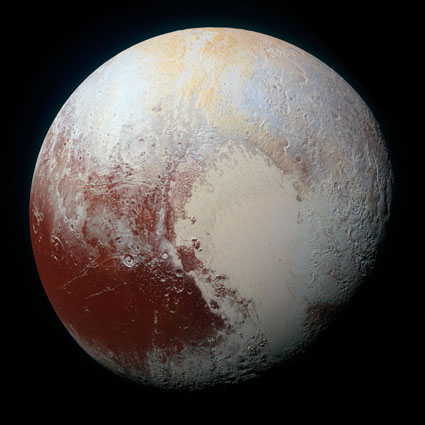 It felt good to see Pluto again. A 14th-magnitude mote of light holed up in starry Sagittarius, it's easy to ignore. Appearance-wise Pluto isn't much to look at, but I still find it one of most fascinating objects in the sky. And thanks to the New Horizons flyby four years ago, we can finally put a face on its pinpoint visage.
At just 2,370 km wide, or 68% the size of Earth's Moon, Pluto hosts an active, heart-shaped nitrogen-ice glacier that's bigger than Texas and Oklahoma combined, rugged water-ice mountains with peaks that soar to 6.2 km (20,000 feet), red snow, and an atmosphere where organic molecules scatter light to create a blue sky similar Earth's. Its five moons, thought to be born of an ancient collision between the dwarf planet and another Kuiper Belt body, give it a planet-like air. One of them, Charon, is almost half Pluto's size.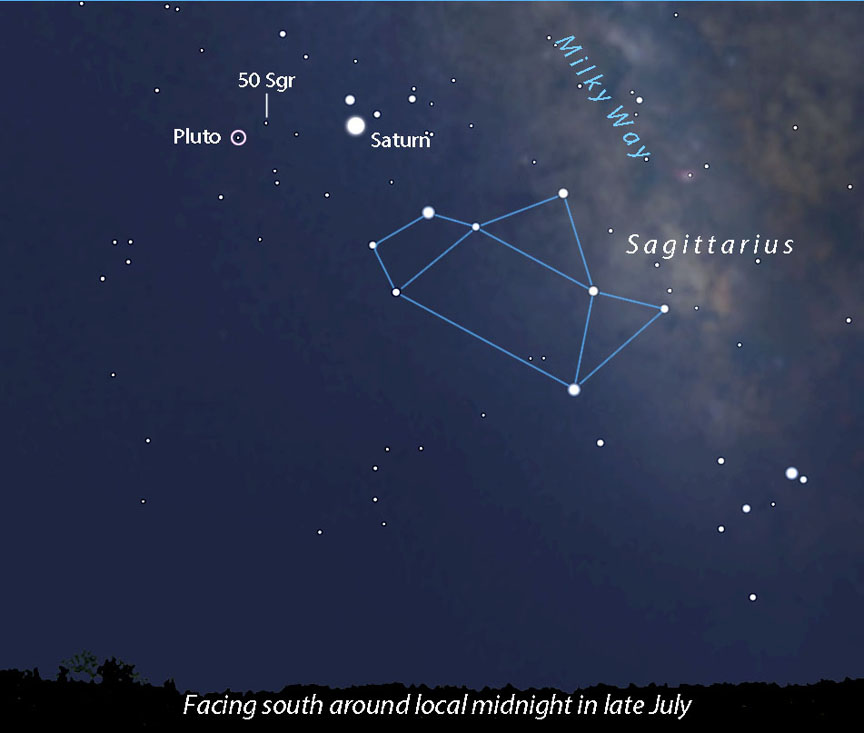 Five billion kilometers from the Sun, Pluto's average surface temperature is –229° C (–380° F), making it one of the coldest things you can look at on a sweltering summer night, the astronomical equivalent of a dunking your eye in a glass of ice water.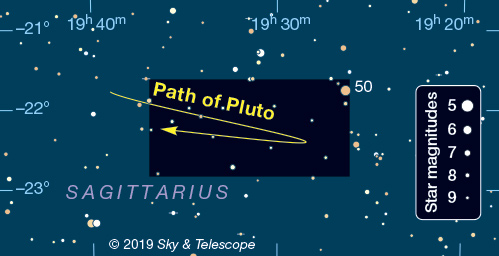 The Sun, Earth, and dwarf planet aligned at opposition on July 12th, but I thought it would be wise to give Pluto some time to climb out of the haze before making a visit. From mid-northern latitudes it culminates around 25° altitude near midnight local time late this month. Seeing is rarely crisp at this elevation, but if you keep at it, you're bound to score a night of good seeing. An 8-inch under dark skies is probably the minimum size scope you'll need to spot Pluto.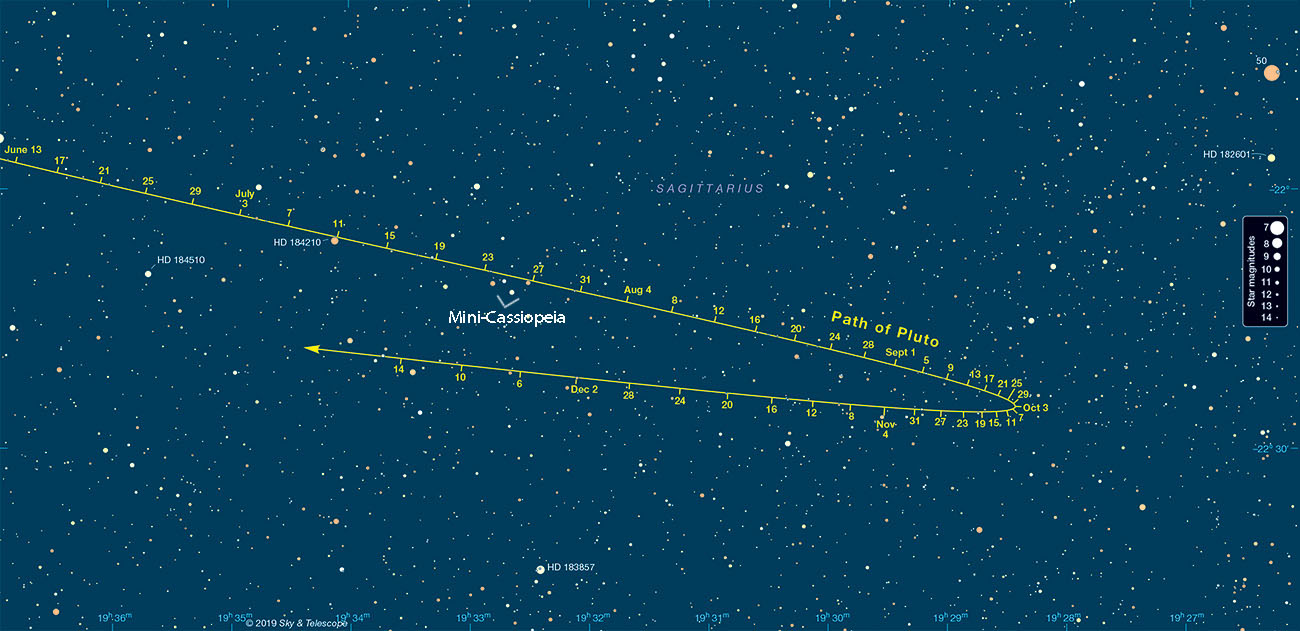 A good chart is essential to thread your way to the faint dwarf planet, currently shining at magnitude 14.2, but at least you have a bright, easy place from which to begin — Saturn. Pluto lies 4° almost due east of the planet, not far from the magnitude-5.5 star 50 Sagittarii. From Saturn you can slide to 50 Sgr and then make your way to Pluto via star-hopping using created-in-the-moment asterisms. I give them silly names to help me remember the way.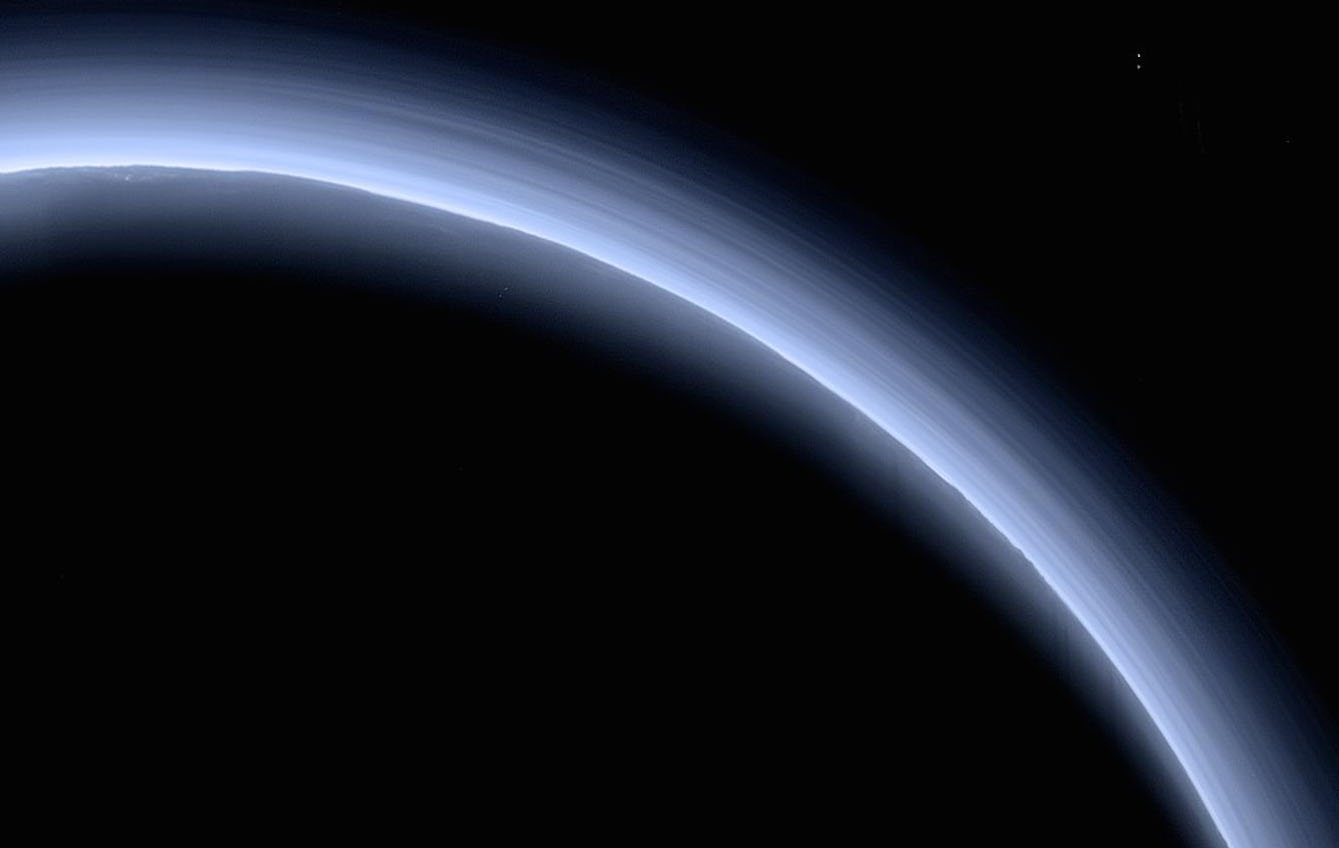 I observed Pluto most recently on July 22.2 UT in my 15-inch reflector at an altitude of 19° in mushy seeing with a magnification of 245×. With averted vision and patience I had no problem spotting the tiny stellar flicker. As with any faint, moving object, it's a good idea to check the next clear night to confirm your observation. Pluto doesn't move much, but it does move enough, about 1.5 arcminutes a day. At 200×, that's plenty to detect motion from one night to the next. When I dialed in Pluto some 48 hours later on July 24.2 UT, its westward movement was more than obvious.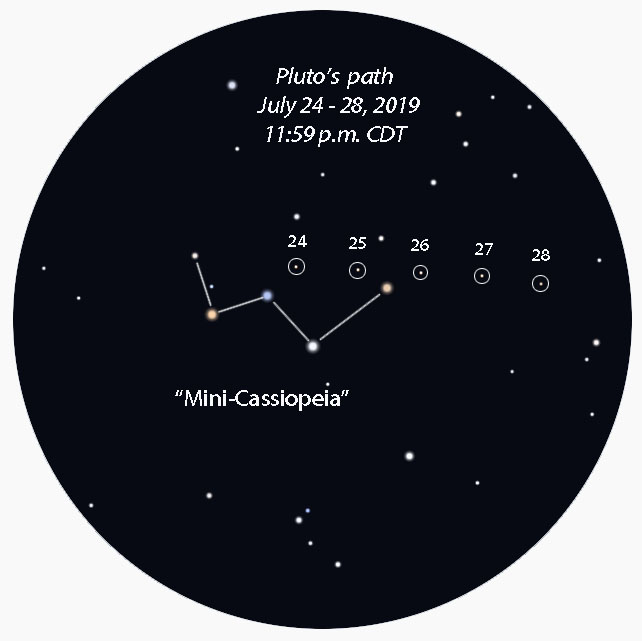 That's one of the pleasures of watching Pluto — seeing it move. First off, you know you've clinched the observation, but you also you get to go along for the ride. Inch-worming along each night, it will take Pluto 248 years to return to where you see it tonight. In the coming years the dwarf planet will continue to fade from its peak brightness of 13.7, achieved in the late 1980s when it was last closest to the Earth. Come 2114, when Pluto reaches aphelion, it will have moved 2.4 billion km further from the Sun and faded to magnitude 15.9. Pluto won't return to its current brightness until 2211. See it while you can!
You can either use the chart provided or plot its location using any number of star-plotting programs. Although Stellarium can't produce a path, it will show its nightly position accurately, and you can magnify the scene for easier star-hopping.
Good news for Pluto-watchers now through the end of July! The dwarf planet will pass near a relatively bright asterism of 10.5-magnitude stars shaped like the W of Cassiopeia, making this a prime opportunity to track its movement. Good luck in your quest to find this icy point of light, and let us know if you succeed.