After a string of four consecutive total lunar eclipses, West Coast residents get to see one that requires careful attention to appreciate.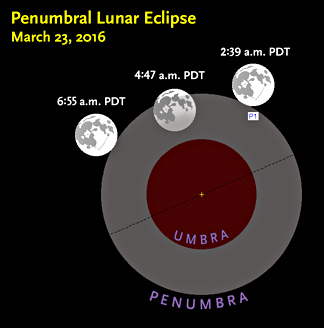 The total lunar eclipse that came and went last September 27th was widely viewed across North America. It marked the final act of a tetrad of four consecutive "blood Moon" eclipses that stretched over two years. But now we're in an umbral drought, as the next total lunar eclipse visible anywhere won't occur until January 2018.
So get used partials and "penumbrals." The latter occur when the Moon skirts through the outer fringe of Earth's shadow, the penumbra. Such will be the case on March 23rd. This penumbral lunar eclipse occurs during the full Moon two weeks after the new Moon involved in a spectacular total solar eclipse visible predominately in Indonesia.
At the moment of "greatest eclipse," at 11:47 Universal Time (4:47 a.m. Pacific Daylight Time) on the 23rd, about 77% of the lunar disk lies inside the penumbra. An astronaut on the Moon, looking back toward the Sun, would witness Earth jutting partly across the solar disk.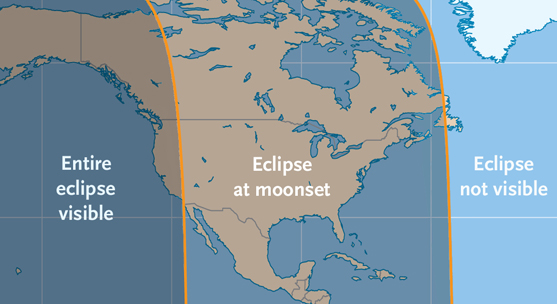 Here on Earth the entire lunar eclipse lasts 4¼ hours. It's observable from West Coast locations in the Pacific and Alaska time zones, easternmost Asia, most of Australia, and New Zealand.
Those in the remainder of the continental U.S. can, technically, see portions of the lunar eclipse before the Moon sets, but advancing predawn twilight will get in the way.
The Moon is crossing through the northern penumbra, so look for a dusky shading on the southern half of its disk. Don't bother looking near the event's beginning and end — you won't see any darkening until the Moon is most of the way into the penumbra. This corresponds to a window within about 30 minutes of the time of the event's maximum.