Some daily sky sights among the ever-changing Moon, planets, and stars.
More than a month after it erupted, the nova in the Sagittarius Teapot continues to fluctuate between about magnitude 4.5 and 6. (As of April 30th it had taken another downturn to about 6.) If it's a "slow nova," it could become even brighter this summer. It's well placed in the south just before the beginning of dawn. See article with charts and up-to-date light curve.
---
Friday, April 24
The Moon tonight rests on (or near) one side of a big, almost equilateral triangle: bright Jupiter to the Moon's upper left, Pollux upper right of the Moon, and Procyon to the Moon's lower left.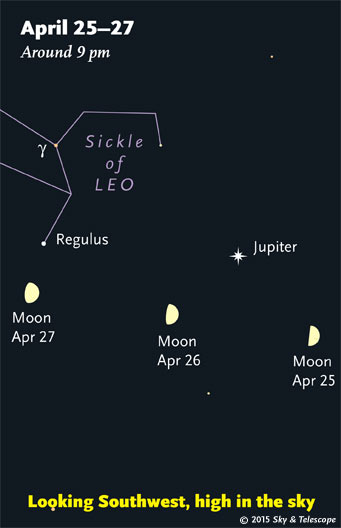 Saturday, April 25
First-quarter Moon (exact at 7:55 p.m. EDT). Jupiter shines closer to the upper left of the Moon this evening. As the night grows late, the sky turns to put Jupiter directly above the Moon. Although they may look close together, Jupiter is nearly 2,000 times farther away — and 40 times larger in diameter.
Sunday, April 26
After dark now the Big Dipper has turned to lie almost upside down; face east-northeast and look very high. Its handle arcs around toward Arcturus a little more than a Dipper-length to the Dipper's lower right.
Monday, April 27
The waxing gibbous Moon shines under Regulus this evening, as shown here.
Among Jupiter's moons, telescope users in the western half of North America can watch the shadow of Io eclipse Europa from 10:59 to 11:02 p.m. PDT. At mid-eclipse, Europa will be dimmed by 1.4 magnitudes.
(Now that Jupiter is far from opposition, we see shadows in the Jovian system falling far enough sideways that an eclipsed satellite and its eclipser appear widely separated in a telescope's view. So we can see the eclipsed satellite dimming by itself, uncontaminated by the light of the eclipser. The tables in Sky & Telescope for these events presume that the two satellites appear blended and give their combined magnitude. See Bob King's article Catch the Last Best Antics of Jupiter's Moons.)
Tuesday, April 28
Look very low in the northeast in twilight to catch the rising of Vega, the "Summer Star." By nightfall it's up in better view. Once Vega wins clear of the thick low air, it shines as the equal of Arcturus, the "Spring Star" high in the east very far to the upper right.
Wednesday, April 29
Far below the Moon at nightfall, and less far to the right of Spica, spot the springtime constellation Corvus: the four-star, sail-shaped Crow.
Thursday, April 30
Happy May Eve. As dusk fades, look for the Pleiades about 2° upper right of Mercury low in the west-northwest. Bring binoculars.
Friday, May 1
For May Day, Venus shines directly between the horn-tips of Taurus, Zeta and Beta Tauri (Elnath). It's closest to brighter Beta.
The Moon, two days from full, shines a few degrees above Spica this evening. Far off to their left or upper left is brighter Arcturus, pale yellow-orange.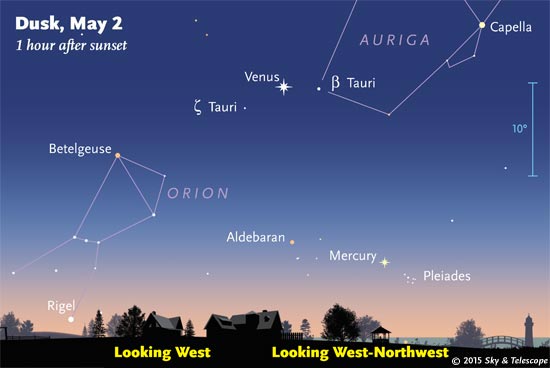 Saturday, May 2
May is here, but wintry Sirius still twinkles low in the southwest as twilight fades — off the left edge of the scene above. How much later into the spring can you keep Sirius in view?
__________________________
Want to become a better astronomer? Learn your way around the constellations. They're the key to locating everything fainter and deeper to hunt with binoculars or a telescope.
This is an outdoor nature hobby; for an easy-to-use constellation guide covering the whole evening sky, use the big monthly map in the center of each issue of Sky & Telescope, the essential guide to astronomy. Or download our free Getting Started in Astronomy booklet (which only has bimonthly maps).
Once you get a telescope, to put it to good use you'll need a detailed, large-scale sky atlas (set of charts). The standards are the little Pocket Sky Atlas, which shows stars to magnitude 7.6; the larger and deeper Sky Atlas 2000.0 (stars to magnitude 8.5); and once you know your way around, the even larger Uranometria 2000.0 (stars to magnitude 9.75). And read how to use sky charts with a telescope.
You'll also want a good deep-sky guidebook, such as Sue French's Deep-Sky Wonders collection (which includes its own charts), Sky Atlas 2000.0 Companion by Strong and Sinnott, the bigger Night Sky Observer's Guide by Kepple and Sanner, or the beloved if dated Burnham's Celestial Handbook.
---
This Week's Planet Roundup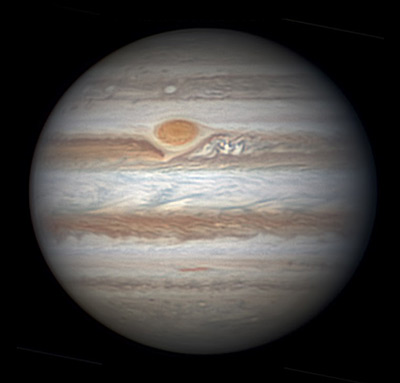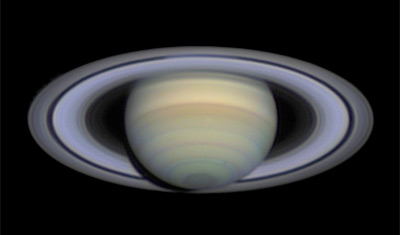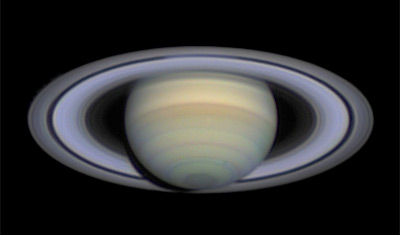 Mercury (about magnitude –0.6) is having a fine apparition in evening twilight. Look for it very far to the lower right of Venus. Mercury gets a little higher every day, but it's also fading.
Venus (magnitude –4.1, in Taurus) blazes in the west during and after twilight — the brilliant "Evening Star." It doesn't set in the west-northwest until nearly two hours after dark. In a telescope Venus is still small and gibbous, but each week it grows and thins as it approaches us along its orbit.
Mars (magnitude +1.4) is disappearing deep in the sunset, to the lower right of much brighter Mercury. Use binoculars or a wide-field scope to say goodbye to it at last.
Jupiter (magnitude –2.1, in Cancer) shines high in the south as the stars come out, and less high in the southwest after dark. It's the second-brightest point of light in the sky after Venus. In a telescope, Jupiter has shrunk to 38 arcseconds wide.
Saturn (magnitude +0.1, just above the head of Scorpius) rises around the end of twilight and is highest in the south around 1 or 2 a.m. daylight-saving time. Below or lower left of Saturn by 9° is orange Antares, less bright. The next brightest star in the area is Delta Scorpii (about half as far from Saturn). Delta Sco is now in its 15th year of outburst!
Uranus is deep in the glow of dawn.
Neptune (magnitude +7.9, in Aquarius) is low in the east-southeast at the beginning of dawn. The farther south you are, the higher it will be.
__________________________
All descriptions that relate to your horizon — including the words up, down, right, and left — are written for the world's mid-northern latitudes. Descriptions that also depend on longitude (mainly Moon positions) are for North America.
Eastern Daylight Time (EDT) is Universal Time (UT, UTC, or GMT) minus 4 hours.

__________________________
"This adventure is made possible by generations of searchers strictly adhering to a simple set of rules. Test ideas by experiments and observations. Build on those ideas that pass the test. Reject the ones that fail. Follow the evidence wherever it leads, and question everything. Accept these terms, and the cosmos is yours."
— Neil deGrasse Tyson, 2014.
---