Some daily sky sights among the ever-changing Moon, planets, and stars.
The nova in the Sagittarius Teapot, more than two months old, continues to vary between about magnitude 4.5 and 6.6, though with a general downward trend. As of May 29th it was about 5.9. See article with charts and a link to an up-to-date light curve.
---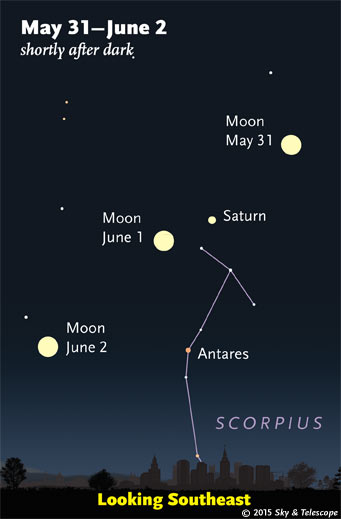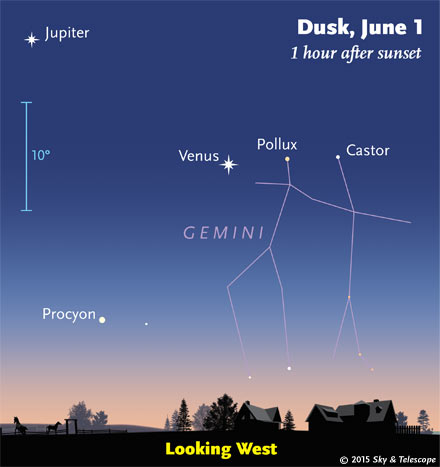 Friday, May 29
As the stars come out, you'll find Spica only a few degrees to the right of the Moon (at the time of dusk for North America). Watch the Moon draw farther away from it through the night.
Saturday, May 30
The Moon this evening shines almost halfway from Spica (to the Moon's upper right, by more than a fist at arm's length) to Saturn (down to the Moon's lower left). One fist below Saturn, you'll find fiery orange Antares.
Sunday, May 31
The Moon, in Libra, shines upper right of Saturn and Antares this evening.
With such a bright Moon in the sky, it's time to turn your scope from deep-sky objects to double stars. Try out a bunch of them in Serpens Caput using Sue French's Deep-Sky Wonders column, with chart and photos, in the June Sky & Telescope, page 56.
Monday, June 1
This evening and tomorrow evening, Venus lines up with Castor and Pollux to its right.
On the other side of the sky, the almost-full Moon shines left (east) of Saturn, which is just past opposition. Watch through the night as the Moon draws farther away from Saturn. Although they look like neighbors, Saturn is actually 3,500 times more distant.
Tuesday, June 2
Full Moon (exact at 12:19 p.m. EDT). The Moon rises around sunset and shines in the dim feet of Ophiuchus after dark. It forms a triangle with Antares to its right and steady Saturn farther to its upper right.
Wednesday, June 3
Two shadows on Jupiter. From 9:58 to 11:13 p.m. Pacific Daylight Time, Io and Ganymede are both casting their tiny, unequal black shadows onto Jupiter's face. And, Jupiter's Great Red Spot transits the planet's central meridian around 8:38 p.m. PDT. Good luck with all this; Jupiter is now almost as distant and small as it gets.
Thursday, June 4
"Cassiopeia" usually means "Cold!" Late fall and winter are when this landmark constellation is high overhead (seen from mid-northern latitudes), but even on hot June evenings it's lurking low. After dark, look for it down near the north horizon. It's a wide, upright W. The farther north you are the higher it'll appear. But even as far south as San Diego and Atlanta it's completely above the true horizon.
Friday, June 5
With June under way, the Big Dipper swings around to hang down by its handle high in the northwest during evening. The middle star of its handle is Mizar, with tiny little Alcor right next to it. On which side of Mizar should you look for Alcor? As always, on the side toward Vega! Which is now shining in the east-northeast.
Saturday, June 6
Now that there's about an hour of complete darkness between the end of twilight and moonrise, ambitious users of big scopes under very dark skies can try the challenge of the distant Corona Borealis galaxy cluster — a staggering 1.1 billion light-years away — using Howard Banich's guide in the June Sky & Telescope, page 60. The cluster's two brightest galaxies, a pair of giant ellipticals, are only magnitude 15.4.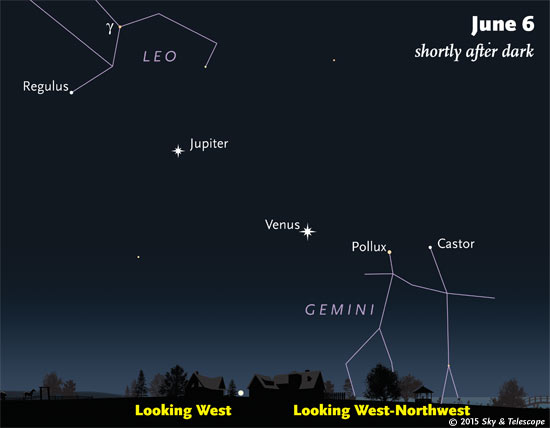 __________________________
Want to become a better astronomer? Learn your way around the constellations. They're the key to locating everything fainter and deeper to hunt with binoculars or a telescope.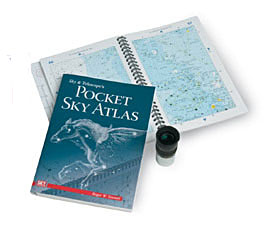 Once you get a telescope, to put it to good use you'll need a detailed, large-scale sky atlas (set of charts). The standards are the little Pocket Sky Atlas, which shows stars to magnitude 7.6; the larger and deeper Sky Atlas 2000.0 (stars to magnitude 8.5); and once you know your way around, the even larger Uranometria 2000.0 (stars to magnitude 9.75). And read how to use sky charts with a telescope.
You'll also want a good deep-sky guidebook, such as Sue French's Deep-Sky Wonders collection (which includes its own charts), Sky Atlas 2000.0 Companion by Strong and Sinnott, the bigger Night Sky Observer's Guide by Kepple and Sanner, or the beloved if dated Burnham's Celestial Handbook.
Can a computerized telescope replace charts? Not for beginners, I don't think, and not on mounts and tripods that are less than top-quality mechanically (able to point with better than 0.2° repeatability, which means fairly heavy and expensive). As Terence Dickinson and Alan Dyer say in their Backyard Astronomer's Guide, "A full appreciation of the universe cannot come without developing the skills to find things in the sky and understanding how the sky works. This knowledge comes only by spending time under the stars with star maps in hand."
---
This Week's Planet Roundup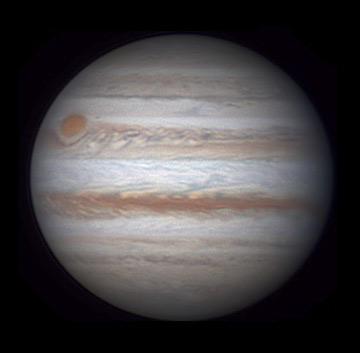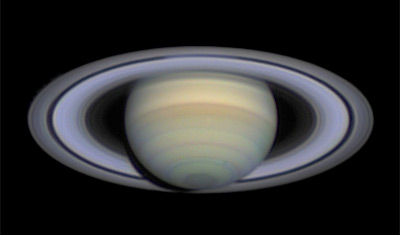 Mercury remains hidden in the glare of the Sun.
Venus (magnitude –4.4, at the Gemini-Cancer border) is the brightest point in the west during and after twilight. It doesn't set in the west-northwest until more than an hour after dark. In a telescope Venus is just about at dichotomy: "half-moon" phase.
Mars is lost in the sunset.
Jupiter (magnitude –1.9, at the Cancer-Leo border) shines to the upper left of Venus. These two brightest planets are closing in toward each other: from 23° apart on May 29nd to 17° apart on June 5th. They're on their way to a spectacularly close conjunction at the end of June.
In a telescope, Jupiter has shrunk to 35 or 34 arcseconds wide, nearly as small as it ever appears.
Saturn (magnitude +0.1, just above the head of Scorpius) is about a week past opposition. It's the southeast in twilight, higher after dark, and highest in the south by midnight. Some 11° lower left of Saturn is twinklier orange Antares, less bright. In a telescope, Saturn's rings are tilted a broad 24° from edgewise.
Uranus (magnitude +5.9, in Pisces) is low in the east as dawn begins to brighten.
Neptune (magnitude +7.9, in Aquarius) is in the east-southeast before the first light of dawn.
__________________________
All descriptions that relate to your horizon — including the words up, down, right, and left — are written for the world's mid-northern latitudes. Descriptions that also depend on longitude (mainly Moon positions) are for North America.
Eastern Daylight Time (EDT) is Universal Time (UT, UTC, or GMT) minus 4 hours.

__________________________
"This adventure is made possible by generations of searchers strictly adhering to a simple set of rules. Test ideas by experiments and observations. Build on those ideas that pass the test. Reject the ones that fail. Follow the evidence wherever it leads, and question everything. Accept these terms, and the cosmos is yours."
— Neil deGrasse Tyson, 2014.
---