Friday, August 22
Altair is the brightest star shining halfway up the southeastern sky after nightfall. Look to its left, by a little more than a fist at arm's length, for the dim but distinctive constellation Delphinus, the Dolphin. He's leaping leftward, just below the Milky Way.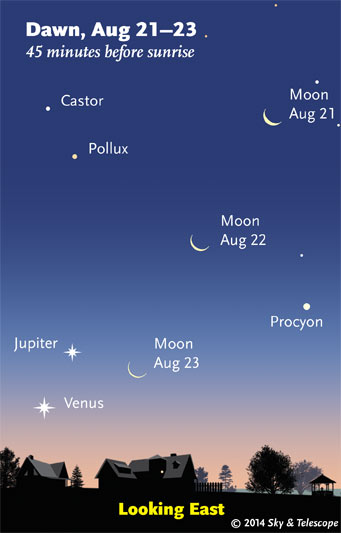 In Saturday's dawn, the thin waning crescent Moon forms an elegant triangle with Jupiter and Venus low in the east, as shown at lower right.
Saturday, August 23
August is prime Milky Way time. After dark, the Milky Way runs from Sagittarius and Scorpius in the south-southwest, up and left across Aquila and through the big Summer Triangle very high in the southeast and east, and on down through Cassiopeia to Perseus rising low in the north-northeast.
Sunday, August 24
Mars and Saturn are closest together this evening and Monday evening, separated by 3.4°. They're the same brightness but not the same color. And compare Mars's color to that of its rival Antares, not quite as bright, in Scorpius about 20° to the left. (See the last illustration below.) Mars will pass Antares by just 3° in late September.
Monday, August 25
Before moonlight comes back into the evening sky, take the opportunity to explore the dim nebulae, and the somewhat brighter star clusters, around Deneb and the North America Nebula in Cygnus, now nearly overhead. They're not easy; use Sue French's maps, drawing, photo, and article in the September Sky & Telescope, page 56, to pinpoint what you're looking for.
New Moon (exact at 10:13 a.m. EDT).
Tuesday, August 26
If you're in the Earth's mid-northern latitudes, bright Vega shines near your zenith just as night becomes fully dark. Whenever you see Vega most nearly straight up, you know that Sagittarius, with its deep-sky riches, is at its highest in the south.
Wednesday, August 27
The wide W pattern of Cassiopeia is tilting up in the northeast after dark. Below the W's last segment to the lower left, by a little farther than the segment's length, look for an enhanced spot of the Milky Way's glow if you have a dark enough sky. Binoculars will show this to be the Perseus Double Cluster — even through a fair amount of light pollution.
Thursday, August 28
The Great Square of Pegasus is now well up in the east as soon as nightfall is complete. It's larger than your fist at arm's length and currently stands on one corner. Seen from your latitude at your time, how close is the balance to perfect?
Friday, August 29
The Moon is coming back into the evening sky. Look for the waxing crescent low in the southwest in twilight, as shown below. Can you make out Spica twinkling beneath it? Binoculars help. Far to the upper left are Saturn and Mars.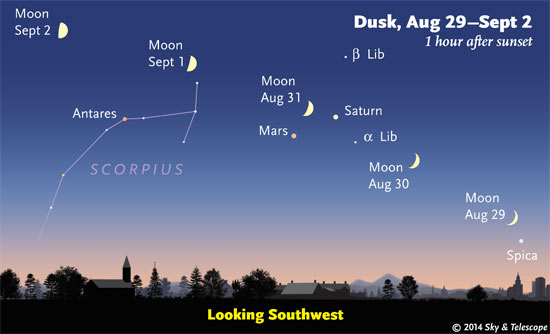 Saturday, August 30
The waxing crescent Moon now shines closer to Saturn and Mars, as shown here. Can you see little Alpha Librae inside the middle of the narrow triangle they make?
---
Want to become a better astronomer? Learn your way around the constellations. They're the key to locating everything fainter and deeper to hunt with binoculars or a telescope.
This is an outdoor nature hobby; for an easy-to-use constellation guide covering the whole evening sky, use the big monthly map in the center of each issue of Sky & Telescope, the essential guide to astronomy. Or download our free Getting Started in Astronomy booklet (which only has bimonthly maps).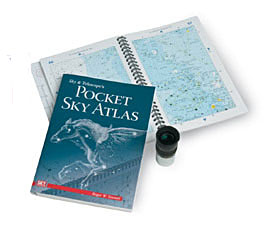 Once you get a telescope, to put it to good use you'll need a detailed, large-scale sky atlas (set of charts). The standards are the little Pocket Sky Atlas, which shows stars to magnitude 7.6; the larger and deeper Sky Atlas 2000.0 (stars to magnitude 8.5); and once you know your way around, the even larger Uranometria 2000.0 (stars to magnitude 9.75). And read how to use sky charts with a telescope.
You'll also want a good deep-sky guidebook, such as Sue French's Deep-Sky Wonders collection (which includes its own charts), Sky Atlas 2000.0 Companion by Strong and Sinnott, the bigger Night Sky Observer's Guide by Kepple and Sanner, or the beloved if dated Burnham's Celestial Handbook.
Can a computerized telescope replace charts? Not for beginners, I don't think, and not on mounts and tripods that are less than top-quality mechanically (able to point with better than 0.2° repeatability, which means fairly heavy and expensive). As Terence Dickinson and Alan Dyer say in their Backyard Astronomer's Guide, "A full appreciation of the universe cannot come without developing the skills to find things in the sky and understanding how the sky works. This knowledge comes only by spending time under the stars with star maps in hand."
---
This Week's Planet Roundup
Mercury is deep in the sunset.
Venus (magnitude –3.9) and Jupiter (a sixth as bright at magnitude –1.8) shine low in the east-northeast during dawn. Jupiter is the upper one. They're drawing farther apart each morning: from 5° apart on August 23rd to 12° by the 30th. Jupiter is moving higher, and Venus is gradually sinking a little lower.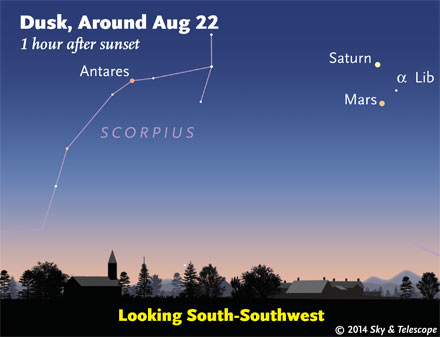 Mars and Saturn, both magnitude +0.6, glow in the southwest at dusk, finally having their conjunction. Mars is the lower one. They'll be just 3½° apart from August 23rd to 26th, then will widen again slowly. Compare their colors.
In a telescope, Mars is just a tiny 7 arcseconds wide. Saturn's dimmer globe is 17 arcseconds wide, and its rings span 38 arcseconds from end to end.
The fainter star just to their right is the wide binocular double Alpha Librae, magnitudes 2.8 and 5.2.
Uranus (magnitude 5.8 in Pisces) and Neptune (magnitude 7.8 in Aquarius) are well placed in the southeast and south after midnight. See our Finder charts for Uranus and Neptune online or in the September Sky & Telescope, page 50.
---
All descriptions that relate to your horizon — including the words up, down, right, and left — are written for the world's mid-northern latitudes. Descriptions that also depend on longitude (mainly Moon positions) are for North America.
Eastern Daylight Time (EDT) is Universal Time (UT, UTC, or GMT) minus 4 hours.
---
"The universe is full of magical things patiently waiting for our wits to grow sharper."
— Eden Phillpotts, "A Shadow Passes," 1918
---