Download this month's Sky Tour podcast for a guided tour of the evening sky's adieu to Jupiter and Saturn and for tips on spotting some early-winter constellations.



This episode is sponsored by Celestron, manufacturer of high-quality telescopes and an industry leader in developing exciting optical products with revolutionary technologies.
LISTEN HERE:

Podcast: Play in new window | Download
Subscribe: Apple Podcasts | Android | Email | Google Podcasts | Stitcher | Spotify | RSS | More
---
For a fascinating naked-eye tour of the major sky sights in December evening skies, play or download this month's Sky Tour episode.
December is well known to stargazers because of the solstice, which this year comes at 11:19 p.m. Eastern Standard Time on the 21st. Virtually every culture has celebrated the winter solstice as a seasonal "turning point," a sign that brighter, longer days lie ahead. But it also marks the longest stargazing night of the year.
This month is also known for the annual Geminid meteor shower, which peaks on Saturday, December 14th. Ordinarily astronomers can count on the Geminids to give us a pretty good show, maybe one meteor per minute from a really dark location. But this year the Moon is nearly full, so its light will wash out the faintest Geminids.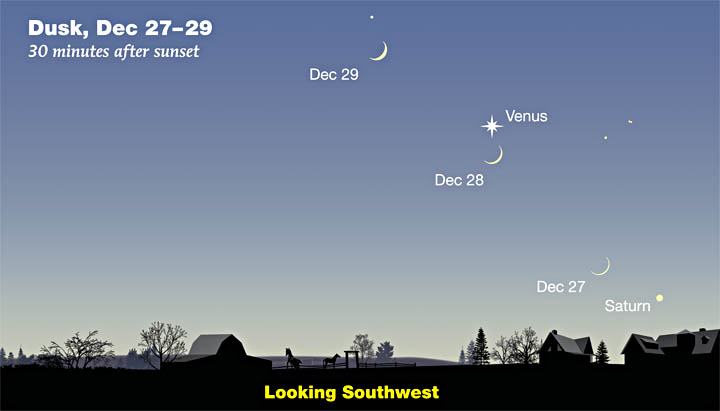 As December begins, Jupiter is nearly lost from view along the southwestern horizon in evening twilight and sinking fast. Saturn, not far away, will soon disappear as well. But Venus is ascendant, and it pairs up beautifully with much dimmer Saturn on the 10th and 11th. And just after sunset on Saturday, December 28th, Venus and a razor-thin crescent Moon will be just 1° apart.
Around 8 p.m. early in December, and by 6 p.m. at month's end, you can take in what S&T columnist Fred Schaaf calls a "tower of brilliance" that starts near the horizon and climbs all the way to overhead. All the stars and constellations involved are easy to spot — even in a light-polluted sky — but to find out what's involved you'll need to listen to this month's podcast!