The Sky Tour astronomy podcast for May 2019 starts with meteors created by Halley's Comet and then helps you find the best stars and constellations in the evening skies of late spring.


This episode is sponsored by Celestron, manufacturer of high-quality telescopes and an industry leader in developing exciting optical products with revolutionary technologies.
LISTEN HERE:

Podcast: Play in new window | Download
Subscribe: Google Podcasts | Spotify | Stitcher | Email | RSS | More
---
This month's Sky Tour tells you where and when to look for meteoric particles shed by Halley's comet, guides you to three planets in the evening sky, and lets you discover key stars and constellations in the evening skies of late spring.
Each year in early May, planet Earth glides across the orbit of Halley's Comet, and when that happens, we run into rocky grit shed by the comet centuries ago. Those bits of Halley slam into our atmosphere at 66 kilometers per second — 148,000 miles per hour — and create the "shooting stars" of the Eta Aquariid meteor shower.
The Eta Aquariids can only be seen in the hours before dawn, but other celestial sights await you in May's evening skies. Use our Sky Tour podcast to track down the planets Mars, Jupiter, and Mercury. Then revel in the stars of late spring.
One key constellation is Leo, the Lion, and its brightest star, Regulus. Look for Leo high in the sky at this time of year. Regulus sits at the bottom of a chain of stars, called the Sickle, shaped like a backward question mark.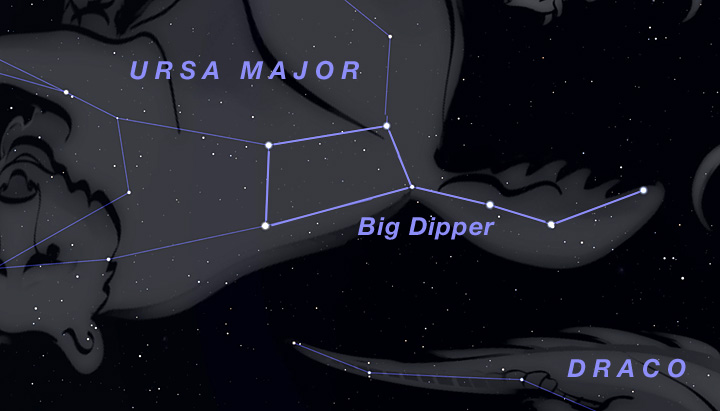 Then turn northward and look nearly overhead to find the Big Dipper. It's positioned upside down, as if pouring celestial soup into an imaginary pot. With our narrated Sky Tour as your guide, you'll learn why some stargazers refer to the Big Dipper as the "Swiss Army knife of the sky." You can even use it to tell what time it is.
To find out where and when to spot all these sky sights and many more, play or download this month's episode.